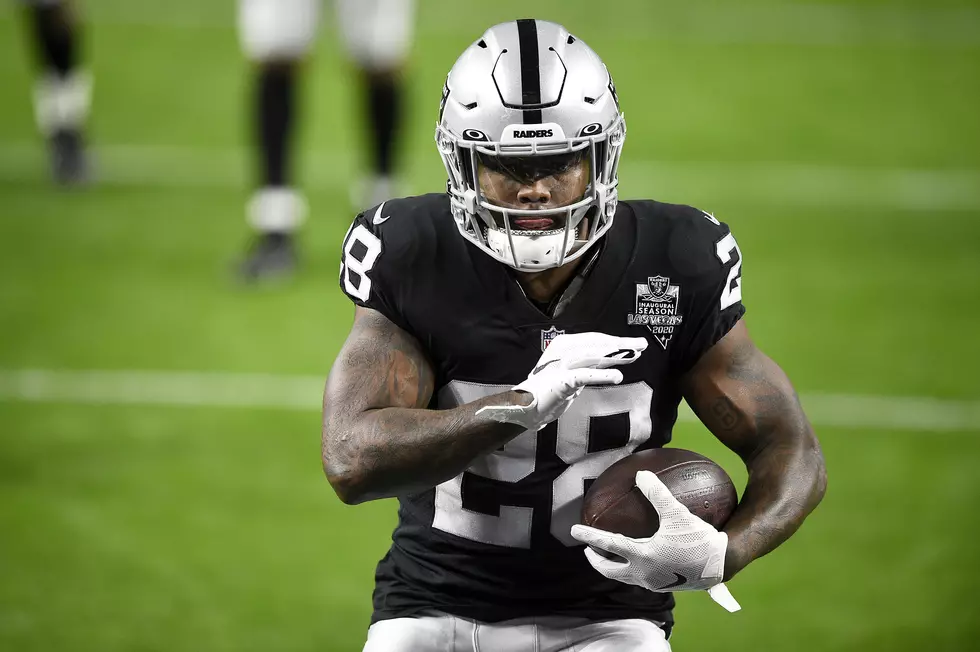 Josh Jacobs Seeking New Contract Before Training Camp
Getty Images
Josh Jacobs is one of the best running backs in the National Football League. Ever since being drafted by the Las Vegas Raiders in the 2019 NFL Draft, Jacobs has been a consensus top-five running back in the NFL alongside Derrick Henry and Nick Chubb. Coming into his fifth season as a professional player, Jacobs wants a new contract and has told the Raiders organization that he will not attend training camp.
Coming out of Tusla, Okla., Jacobs was a four-star recruit in the Class of 2016. Instead of going to Missouri or Purdue where he would most likely start as a freshman, Jacobs decided to enroll at The University of Alabama. During his time in Tuscaloosa, Jacobs competed against Derrick Henry, Damien Harris, Bo Scarborough, Brian Robinson Jr., and Najee Harris to earn reps at running back.
Jacobs was never the featured running back but he became a fan-favorite for making multiple clutch plays to help Alabama win National Championships. During his time at The Capstone, Jacobs ended his career with 1,491 rushing yards,  571 receiving yards, and 21 touchdowns.
The Las Vegas Raiders during the Jon Gruden/Mike Mayock era was a long three years for Raiders fans. From trading Kahlil Mack to drafting bust after bust, Raiders fans could not catch a break. The one move that worked out during this era for the Raiders was drafting Jacobs in the first round of the 2019 draft.
In four seasons with the Raiders, Jacobs has 4,740 yards, 40 touchdowns, and three 1,000 yards seasons. His best season came in the 2022 season when Jacobs ran for 1,653 yards (the most of any running back in the 2022 season), averaging 4.9 yards a carry, and scoring 12 touchdowns.
On the outside, it seems like a no-brainer that the Las Vegas Raiders should pay Jacobs whatever he wants, but the NFL is a business. In the modern-day NFL, most running backs' best years or prime years are their first four years. Giving a running back massive contracts rarely works and this is why most NFL teams are hesitant.
One of the few successful extensions was with Derrick Henry and the Tennessee Titans. In 2020, Henry signed a four-year, $50-million extension and since this contract, Henry has gone from a top-ten running back to the best running back in the entire NFL. To contrast this, Ezekial Elliot signed a six-year, $90 million extension with the Dallas Cowboys after four great seasons. After the contract, Elliot never won a rushing championship and is now a free agent after being cut by the Cowboys.
Jacobs is not the only person looking for a long-term contract with his team. Saquon Barkley is also looking for a long-term extension with the New York Giants. Both men are giving ultimatums to their teams saying give us a contract or we do not show up to training camp.  The Raiders have until Monday to get a deal done but until then, the clock is ticking.
Highest Earning Bama Pros of All-Time
The University of Alabama is known for constantly cranking out world-renowned athletes, but who of the best active or former pro players have the highest career contract earnings?
Alabama A-Day 2023