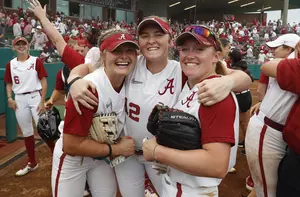 Kaylee Tow Wins NCAA Elite 90 Award
Crimson Tide Photos / UA Athletics
Alabama sophomore Kaylee Tow was announced as the winner of the prestigious NCAA Elite 90 award, presented at the Women's College World Series team banquet Tuesday evening.
"We are so proud of Kaylee and her academic accomplishments," UA head coach Patrick Murphy said. "She has an outstanding academic record through her first two years at Alabama. It amazes me to see such great success on and off the field."
The Elite 90 award recognizes the student-athlete with the highest cumulative grade-point average among the championship field for each of the NCAA's 90 men's and women's championships across its three divisions.
Tow is the 16th Alabama athlete to win the award since its inception in 2010 and the first since gymnast Lauren Beers earned her third-consecutive honor in 2016. Ten different athletes have earned the honor 16 times, with Tow as the first for softball. The 16 awards are second all-time, just behind Stanford's 18.
Tow has a 4.00 cumulative GPA as a marketing major, earning President's List distinction in each of her four semesters in Tuscaloosa. On the field, she sports a .320 batting average across 64 starts and tied the single-season school record with 66 walks.
For the latest information on the team, follow @AlabamaSB on Twitter, BamaSB on Instagram and Alabama Softball on Facebook. General athletic news can also be found at UA_Athletics on Twitter and Instagram and AlabamaAthletics on Facebook.