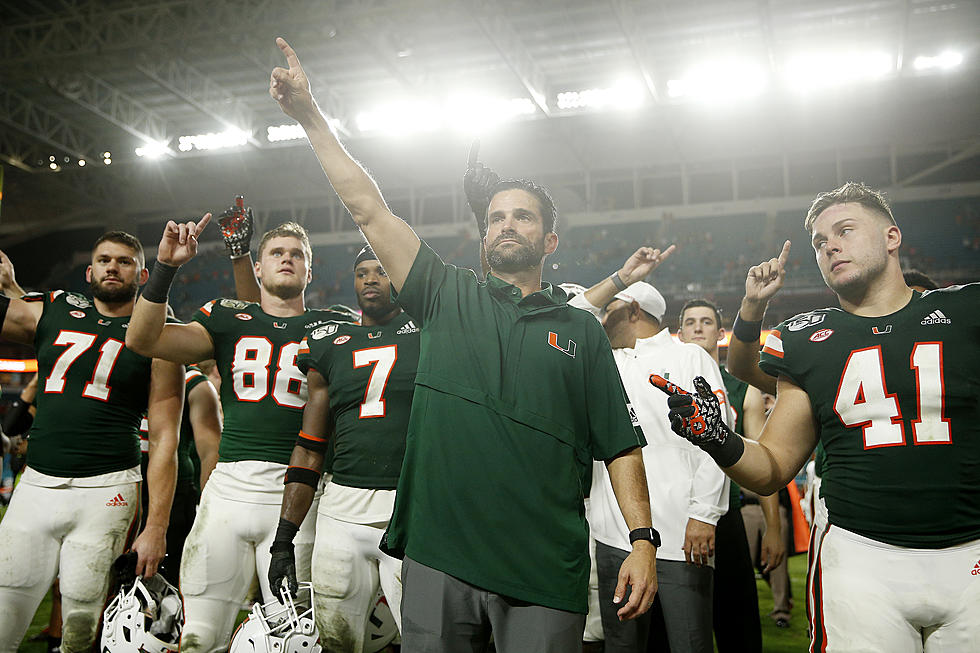 Know Thy Enemy: 5 Miami Hurricanes to Watch vs. Alabama
Getty Images
The Alabama Crimson Tide watches film and practices the whole week, making sure to know the opposition inside and out. There can be no surprises on game day.
Soon Alabama will take the field yet again in pursuit of victory, this time against the No. 14 Miami Hurricanes of the ACC led by head coach Manny Diaz.
You know the Crimson Tide's roster inside and out. Now get to know the Hurricanes that factor into this weekend's matchup the most.
D'Eriq King, Quarterback
Returning from an ACL injury suffered in the Cheez-It Bowl against Oklahoma State, D'Eriq King leads the Miami Hurricanes as the unquestioned leader and all-around best player on the roster. King is known for his unmatched athleticism and versatility with the ball in his hands.
Heading into a 6th (yes, 6th) collegiate season, King has thrown for 7,611 yards and 73 touchdowns to just 15 interceptions on a 63% completion percentage. He's rushed for just under 2,000 yards and 32 touchdowns with 61 receptions and three receiving touchdowns as well. He's a playmaker in every sense of the word, and a winner to boot.
In his second season in Miami, King aims to lead the Hurricanes back to a prominant place in the postseason. Now that he's fully recovered from his knee injury, the task to make good on those efforts begin September 4 in Atlanta. As great of a player as King is, as his numerous endorsements support, he'll need all the help he can get from the other players mentioned here to overcome Alabama in Week 1 and the other contenders in the ACC in the following weeks.
Zion Nelson, Left Tackle
One of the most well-respected left tackles in the country, Zion Nelson will have his hands full Saturday afternoon with the Alabama edge rushers. Nelson has seen steady improvement in his career now entering his third season as the starting blindside protector. With Will Anderson and Christopher Allen set to be his first test of the 2021 season, the Hurricanes will have to hope for his greatest improvement yet.
Standing in the way of that improvement has been an undisclosed injury during training camp. Manny Diaz assured reporters Monday Nelson is "ready to go," against Alabama.
Nelson is one of a full five starters on the offensive line returning for Miami in 2021, a squad with a college football record 190 starts between them. That said, it's unlikely in those 190 starts the Hurricane offensive line has seen a pass rush the likes of the 2021 Crimson Tide. Nelson's performance against Anderson and Allen could be the biggest dictator in how close of a contest fans will experience in Mercedes Benz Stadium.
Charleston Rambo, Wide Receiver
If Alabama has any competition for best use of the Transfer Portal, it's from Miami. Three of the players featured on this list are Transfer Portal acquisitions, Charleston Rambo being the newest addition. Though the Hurricanes return experience at the wide receiver position, Rambo steps in as a potential number one option in the passing game.
The 6'1"-185lb wideout carries over 76 receptions for 1,180 yards and nine touchdowns in his previous three seasons at Oklahoma. He's a lanky receiver with strong route running skills and deceptive length despite his listed height.
Being the number one option means he'll likely battle with Josh Jobe for most of the day in Atlanta. If Jobe plays up to his renewed expectations, it could be a tough outing for King's top weapon.
Bubba Bolden, Safety
Miami's defense is weaker in the front seven, but in the defensive backfield the Hurricanes' best defensive player, Bubba Bolden, helps make up for any clear weaknesses.
Bolden earned a full-time starting position in the 2020 season and balled out with 74 tackles, 6.5 for loss, a sack, an interception and an ACC-leading four forced fumbles.
With an apparant weakness at off-ball linebacker for Miami, Bolden's versatility across the defensive backfield will be called upon throughout the contest. He will have to contribute heavily in the run game and intermediate passing game if the 'Canes are to slow down a revamped Alabama offense.
Andres Borregales, Kicker
What's in a name? For Andres Borregales, it's continuing the legacy his brother, Jose, laid before him.
Jose was a Lou Groza winner and the first-team All-ACC and All-American place kicker in 2020 and set tied the Miami field goal distance record at 57 yards.
No sweat, right? Andres is a true freshman, so there might be some sweat. After all, if the game is closer than the Vegas experts believe (the spread is 18.5 on FanDuel at the time of writing) a lot of pressure will be squared on the right leg of the younger Borregales.
The 2021 Alabama Football Schedule in Photos
Alabama's Top 10 Athletes - Fall 2021
The Alabama Crimson Tide boasts an extremely successful athletic department with amazing athletes playing multiple sports. The top 10 athletes include national champions, an Olympic athlete, SEC champions and various record holders.
Alabama Football's Second Fall Scrimmage
The Crimson Tide was back at it on Saturday in Bryant-Denny Stadium. The Tide was more focused on execution of the offense and defense as the Tide is two weeks away from playing Miami in the season opening game.
Iconic Photos From Alabama's 18 National Championships
Claimed or recognized, no FBS football program has more national championships than the Tide. Look back on all 18 titles in Alabama history with these photos.