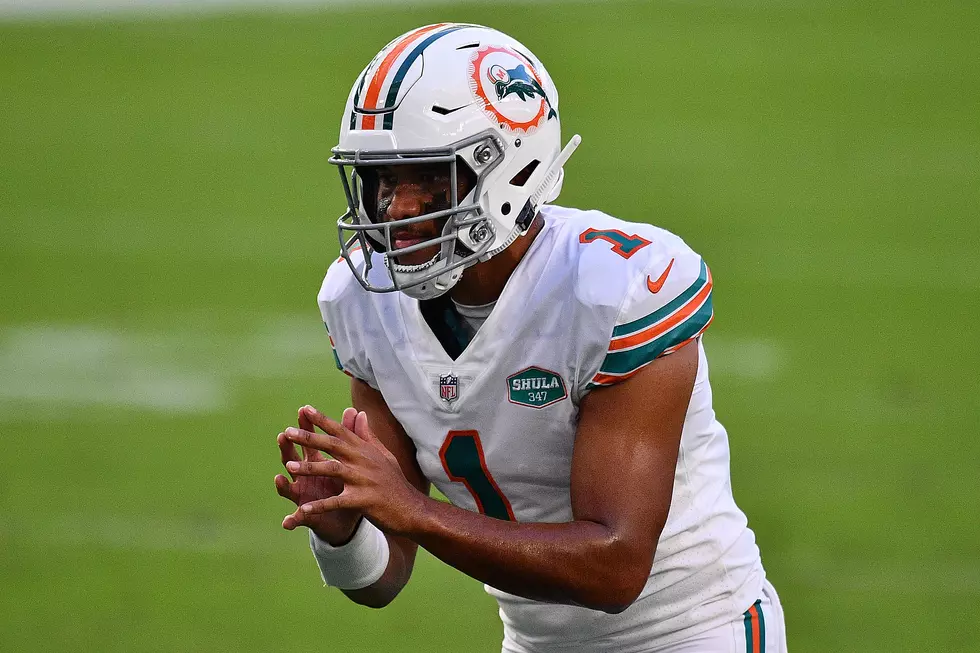 Latest on Tagovailoa's Status vs. Burrow-less Bengals
Getty Images
Tua Tagovailoa's NFL career has gotten off to a roller-coaster start to say the least. Despite heading into Denver 3-0 with just one turnover on his resume, Tagovailoa left the Mile High City defeated, on the bench and with a nagging injury.
Tagovailoa missed last week's 20-3 win over the New York Jets with a thumb injury on his throwing hand. Many were skeptical of the injury as head coach Brian Flores said after the Broncos loss Tagovailoa was benched for performance reasons. However, it was revealed the thumb injury happened in practice.
Nevertheless, Flores assured Tagovailoa remains the starting quarterback so long as he is healthy. Still, the 5th overall pick is questionable heading into a Week 13 matchup with the Cincinnati Bengals.
However, practice trends don't favor the Samoan Southpaw. He's been limited in practices throughout the week. He'll have to hope his thumb is ready to go Sunday, as Flores has already designated Tagovailoa's status as a game-time decision.
If Tagovailoa can't go, the Bengals-Dolphins game would lose all of its luster for many SEC fans. When Tagovailoa was named the starter, the anticipation of a Joe Burrow-Tua Tagovailoa rematch was palpable. Sadly, Burrow's 2020 season was ended two weeks ago in Washington when an unfortunate sack left the Heisman Trophy winner and National Champion of a year ago with a gruesome knee injury.
Ironically, Tagovailoa and Burrow were slated for their NFL rematch the same week as the reschedule matchup between their alma maters, Alabama and LSU.
Tagovailoa relates to devastating injuries more than most, and reached out to his Tiger rival after the diagnosis.
"When I heard about Joe's injury, I reached out to him. Injuries like that, they are never fun," Tagovailoa said on Wednesday. "You never wish that on anybody. I got to reach out to him and I know he would love to be able to go out there and compete against us. That's tough. I just sent him my prayers and whatnot. I wished him the best as well."
Though the Bengals aren't a great team, even with a healthy Burrow, the Dolphins desperately need a win to stay in playoff contention with a tough four game stretch to close the season.
With the Chiefs, Patriots, Raiders, and Bills on deck, Tua Tagovailoa could really use the opportunity to get back into a rhythm this Sunday.