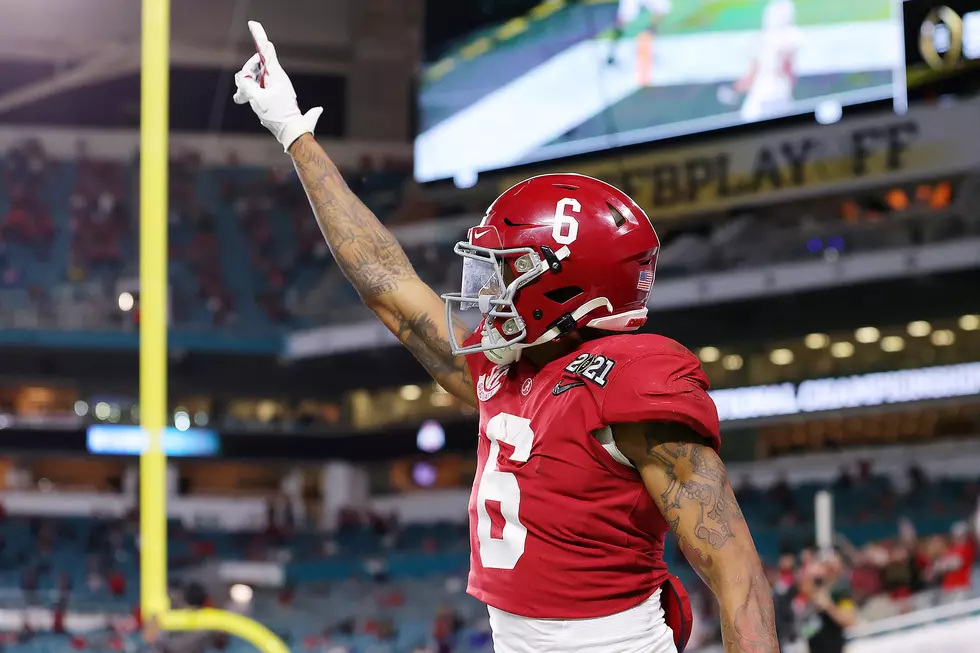 McShay Shakes Up Landing Spots for 6 Tide Prospects in New Mock
ESPN's Todd McShay released his latest mock draft of the 2021 NFL Draft Tuesday and while he kept the same six Crimson Tide players in the first round, the locations are quite different.
With the entire first round set, McShay also started using trades in this version, which impacted two Alabama prospects directly. We'll take a look at what changes McShay used this go around and why these destinations may or may not be ideal for the next batch of Bama pros.
It should be noted that for the second time, and just as Mel Kiper, Jr., followed as well, McShay placed six Alabama players in the first round which is two more than Alabama has ever seen selected in program history to begin an NFL Draft. Miami currently holds the record for most players selected in the first round with six.
Read More: McShay Mocks Six Tide Prospects in Round One of NFL Draft
7th Overall: Detroit Lions - DeVonta Smith, WR
V 1.0 - 3rd Overall to the Miami Dolphins
DeVonta Smith's size continues to be the deciding factor for many analysts on whether he or LSU's Jamar Chase should be the first wide receiver selected in the 2021 NFL Draft. That was the case for McShay in his second mock draft as Chase goes 6th overall to the Philadelphia Eagles.
"Chase vs. Alabama's DeVonta Smith is a tough call, but I think Chase might have slightly better traits and certainly more size at 6 feet, 200-plus pounds," McShay said in his analysis.
Still, the Heisman Trophy winner in 2020 is still flying high in the top-10 of the draft, which is always a positive.
The Lions recently traded away Matthew Stafford for Jared Goff and a ton of future draft picks. Meanwhile, the starting receiving corp of Kenny Golladay, Marvin Jones and Danny Amendola are all free agents to be. As such, the Lions are going to need to load up on weapons for Goff.
The fit isn't terrible, even if Detroit has a history of not taking advantage of generational talent. Regardless of whether names like Golladay return, at the very least new head coach Dan Campbell and Goff would equally be excited to watch the Slim Reaper in action into the future.
8th Overall: Miami Dolphins (via mock trade with CAR) - Jaylen Waddle, WR
V 1.0 - 17th Overall to the Las Vegas Raiders
McShay shoot Jaylen Waddle into the first round to be reunited with Tua Tagovailoa in Miami after having Carolina trade up to the third pick for a quarterback.
McShay points out in his analysis that Tagovailoa was the worst quarterback in the league when targeting receivers last year and that was in large part due to the Dolphins' receiving corp being one of the worst in the NFL. Waddle doesn't project as a tradition number one like Chase or even a new age number one like his former teammate Smith, but he would inject some much needed excitement into the floundering Miami offense.
The idea of reuniting Tagovailoa with one of his former receivers is a rather popular idea, one that most Alabama fans, especially those who followed Tagovailoa to South Beach with their fandom, would welcome all the same. Regardless, for Tagovailoa's sake, it's imperative the Dolphins find a wide receiver with its first pick, regardless of Tagovailoa's past relationships.
As for Waddle, his success could be wholly determinant on if he can be a feature player who continues to get the ball in open space in new and unique ways. Miami, with an overhauled offense, could be just the place.
9th Overall: Denver Broncos - Patrick Surtain II, CB
V 1.0 - 10th overall to the Dallas Cowboys
One pick sooner, Patrick Surtain II comes off the board in the top-10 once again for Todd McShay.
McShay didn't sound fully convinced that Surtain would actually head to Denver when the clock starts in April as needs at quarterback and defense as a whole could sway the team, the point stands that Denver is in need of a cornerback. Starters AJ Bouye and Bryce Callahan are at the end of their respective contracts, and even if both return, Bouye himself isn't getting any younger.
The Broncos are one of the biggest question marks in the league in general, let alone the draft. Whether or not the team decides to role with Drew Lock determines everything and even then the team feels like it's teetering between playoff contender and basement dweller.
Surtain is a great corner, but until the situation is resolved at quarterback, it'd be easy to understand why some Alabama fans would rather see him in Dallas with Trevon Diggs as McShay previously mocked.
12th Overall: Chicago Bears (via mock trade with SF) - Mac Jones, QB
V 1.0 - 21st overall to the Indianapolis Colts
If there's one thing Alabama fans can enjoy about McShay's projections, it's that he is adamant that Mac Jones is a first round quarterback.
Here he has the Chicago Bears trading up to the 12th selection to take the fifth quarterback in the first round.
Interestingly, the Bears are one of a handful of teams that appear to be in play for Philadelphia Eagles quarterback Carson Wentz. That potential trade could happen any day now, and would turn this whole mock on its head. To be fair though, Chicago absolutely needs to find its answer at quarterback.
That answer probably wouldn't be Mac Jones in this scenario though. One of the biggest hinderances in Jones's draft profile is his lack of mobility, and that becomes a serious problem if he's put behind an awful offensive line. Chicago year in and year out has poor offensive line units and with such a jump in draft position, the team would lose assets for the next few seasons to help protect Jones in this scenario.
Enter your number to get our free mobile app
30th Overall: Buffalo Bills - Najee Harris, RB
V 1.0 - 28th Overall to the Pittsburgh Steelers
This isn't the first time we've seen Najee Harris projected to the Buffalo Bills, Kiper did so in his first mock, and it likely won't be the last.
This one one that makes too much sense until free agency shakes up the league and the draft itself is underway.
McShay points out that Harris would make a formidable Big 3 with quarterback Josh Allen and wide receiver Stefon Diggs. With a strong offensive line and suitable weapons to fill in the gaps, he has a strong point. Harris's strength and endurance to take on a lot of carries plays to his and the future of the Bills offense.
If Harris were selected by Buffalo, maybe that whole argument against elite backs making the Super Bowl goes away, seeing as Buffalo is going to be a contender for some time.
32th Overall: Tampa Bay Buccaneers - Christian Barmore, DT
V 1.0 - 24th overall to the Tampa Bay Buccaneers
The only selection that stays the same for the Crimson Tide prospects between both of McShay's mock drafts is Christian Barmore.
The marriage makes sense; fresh off a Super Bowl victory and key pieces headed to the free agent market in the defensive front spells the need for Barmore's services.
"But luckily Barmore is still on the board as Day 1 gets ready to close down shop, and he provides the Buccaneers with versatility along the line, a developing pass-rush skill set and power run-stopping," McShay said.
Fans of Barmore should be excited about this landing spot as he will be in a prime position for success playing next to Veta Vea, an equally nasty and powerful defensive lineman.
---
If you have an ESPN+ account, you can check out McShay's full 2021 first-round mock draft here.
2021 Alabama Crimson Tide Record Book