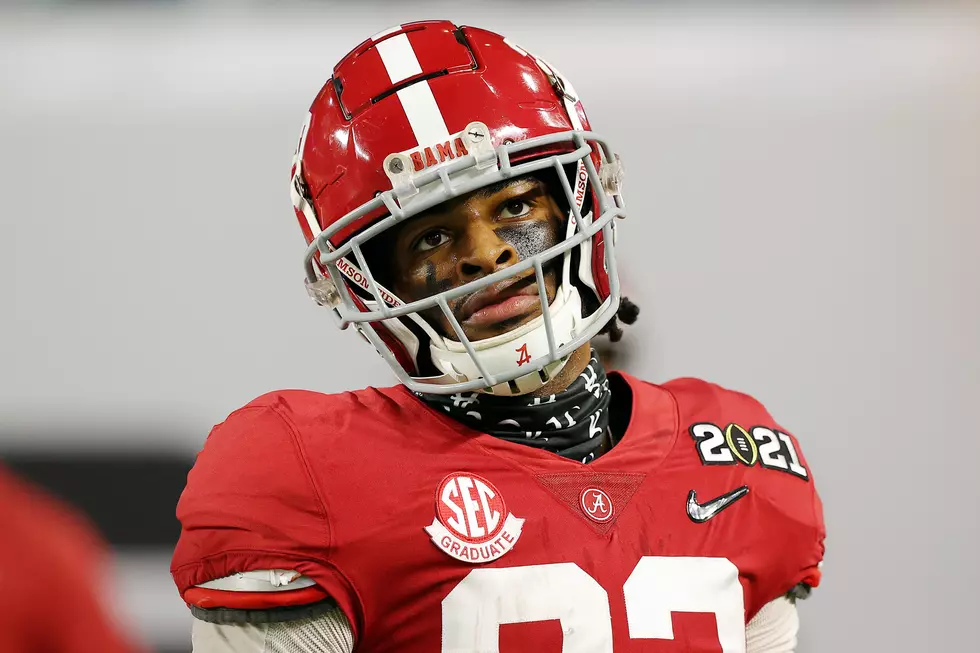 This Stat Says Henry, Jacobs & Harris Won't Be Winning Super Bowls
Getty Images
It's really no secret the NFL has become a pass-first league in which the top quarterbacks in the league often determine which teams have the greatest chance at hoisting the Lombardi Trophy. Still, the fact that top running backs are seemingly banned from winning it all is not something the league could have anticipated.
It's true, over the past 12 seasons, the Super Bowl's leading rusher didn't make more than $2 million if he was a running back, as this tweet shows.
Though LeGarrette Blount and Leonard Fournette are household names, neither is considered a top-5, let alone a top-10 running back at the time of their respective Super Bowl appearances. That fact is evident in each rusher's salary.
The only player to lead the game in rushing and make more than Fournette or former Ravens tailback Ray Rice was actually wide receiver Percy Harvin who torched the Denver Broncos in Super Bowl XLVIII.
It's becoming more and more apparent in the NFL that top running backs don't win Super Bowl.
Enter your number to get our free mobile app
For the 2020 season, only five of the top 10 leading rushers (running backs only) even made the playoffs: Titan Derrick Henry, Bear David Montgomery, Colt Jonathan Taylor, Packer Aaron Jones and Brown Nick Chubb. Only Chubb played for a team to win a playoff game this year.
For the Super Bowl matchup, Buccaneer Ronald Jones II ranked 11th in rushing for the 2020 NFL season while rookie Chief Clyde Edwards-Helaire ranked 17th (both, again, against only running backs.) However, Jones didn't lead his team in yards or carries in Super Bowl LV. Fournette finished with 16 carries, 89 yards while Jones finished with 14 carries for 61 yards. Meanwhile, Edwards-Helaire had just nine carries for a solid 64 yards.
While the rushing attack is still important, Super Bowl LV still provides an example of not paying for one feature guy. Yes, Fournette and Edwards-Helaire are first-rounders and Jones a second-rounder, none is considered a feature back and get their touches based on circumstances.
As for feature backs, the last player to finish in the top-5 of rushing to play in the Super Bowl was Todd Gurley with the Rams in Super Bowl LIII. The Rams lost and Gurley now plays for the Atlanta Falcons. The last player to finish in the top-10 in rushing and win the Super Bowl was Marshawn Lynch with the Seahawks, but again, he didn't lead the team in rushing in the Big Game.
The last player to finish in the top-10 in rushing, win the Super Bowl, and lead his team in carries and yards was Corey Dillon with the 2004 New England Patriots.
Again, it's not so much the idea of running the ball as the negative, that's still important. Since Dillon and the Patriots outrushed the Eagles in Super Bowl XXXIX, the team that has more rushing yards is 10-6 (the Patriots and Falcons both ran for 104 yards in Super Bowl LI.)
The problem seems to stem from top running backs being taken in the first round or getting a lucrative second contract.
There have been eleven first-round running backs to start in the Super Bowl since 2004, only six since 2010 and only Marshawn Lynch went more than once. Only twice did first round backs meet in the Super Bowl, this year (Fournette and Edwards-Helaire) and in Super Bowl XL when Shaun Alexander's Seattle Seahawks fell to Jerome Bettis's Pittsburgh Steelers.
Still, in so many of these instances, including Bettis, Thomas Jones for the Bears, and even Fournette, those players are outliers for not being feature backs.
The fact remains that today's premiere players at the running back position -- Cowboy Ezekial Elliott, Giant Saquon Barkley, Viking Dalvin Cook, Saint Alvin Kamara, Panther Christian McCaffery, and yes, even Derrick Henry and Raiders bell cow Josh Jacobs -- are not contributing to postseason success.
It's not talent holding these fantastic players back though, it's their salaries.
In reference to the tweet that sparked this column, since 2009, only Henry in 2019 made it to a conference championship, and only twice in those scenarios the leading rusher as the highest paid running back.
Out of the backs listed above, five of which are the highest paid backs in the league, only Derrick Henry has won more than one playoff game.
So why does this spell doom for Henry, Jacobs and future NFL star Najee Harris?
Well, Henry broke the most crucial rule: signing a big contract. Henry signed a four-year, $50 million contract extension to stay in Tennessee last off season. What may play into Henry's favor is that he doesn't eat up too much for the Titans while the team has locked down other vital positions. Henry accounts for 7.2% of Tennessee's salary cap in 2021, 6th most on the team. Meanwhile, four of his starting offensive lineman and quarterback Ryan Tannehill are accounted for among the top 11 salaries on the team.
That said, the Titans barely have over a million dollars in cap space this offseason.
As a first round pick and a vital piece of his team's smashmouth offense, Jacobs likely has three more year on his rookie contract to have play out before he signs that all-important second contract. Whether that means Las Vegas's Super Bowl championship window is closing or not has to be played out. Still, the odds remain out his favor, especially since the Raiders have yet to post a winning record since his arrival.
As for Harris, the history is simply against him, unless his career actually turns disappointing. Take Leonard Fournette, whose career rapidly went downhill after the 2018 AFC Championship and yet three years later, he's a Super Bowl champion for another team making far less money.
Harris's odds of winning a Super Bowl seem to plummet if he's selected in the first round of this year's draft as so many expect him to be.
Alabama fans can do naught but simply hope for the best from three of the best backs in recent memory.
Fun-ish fact: Eddie Lacy, Mark Ingram, TJ Yeldon and Trent Richardson played in a combined three conference championships, but none made it to the Super Bowl. At least the Bama Factor appears to somewhat be in Henry, Jacobs, and Harris's favor.
It's hard not to feel bad for running backs in the NFL these days. No position has a shorter shelf life in sports, meanwhile the great ones no longer make enough an impact in turning teams around to justify taking them high in the draft. Therefore those that do get drafted high are forced to watch their teams struggle. And on the flip side, those that do make a noticeable impact and sign a second contract often handicap their teams and are almost forced into an early retirement.
Take Adrian Peterson, arguably the greatest running back career this side of the millennia and he played in just five playoff games, winning only one in 2009, toward the very beginning of his career. Peterson has spent the past four seasons with four teams, three of which he finished the season with, none of which made the playoffs.
That's the nature of the NFL now, though. Travis Ettiene and Najee Harris would be unquestionable first-round picks 15 years ago, instead of fringe first-rounders likely to go in the second.
Though, going in the second round may be the blessing in disguise. In a running backs NFL it's either get paid or win rings. There's not much room for those seeking to do both.
2021 Alabama Crimson Tide Record Book