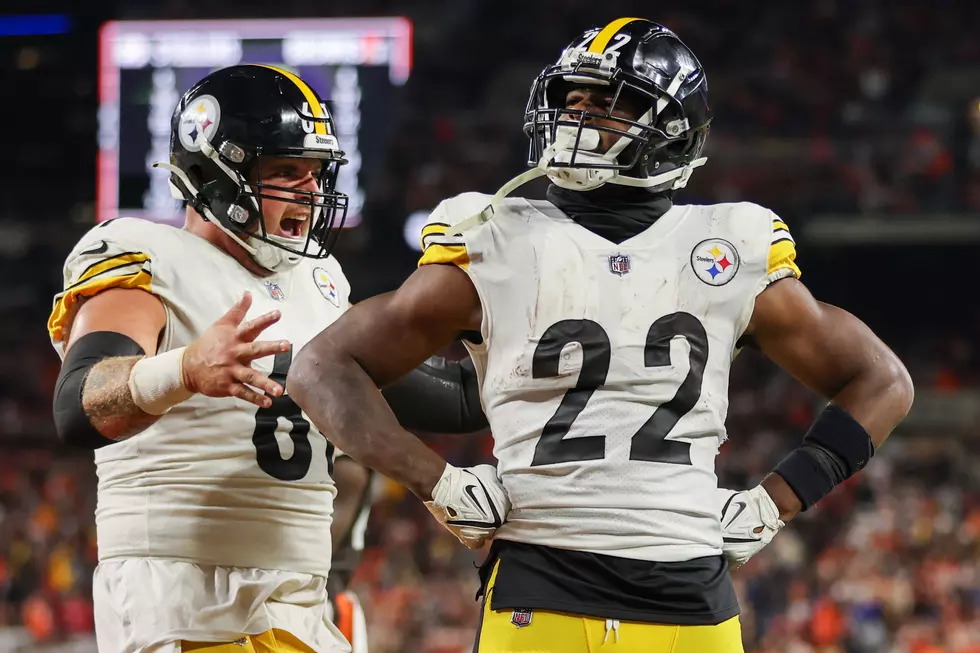 Najee Harris Discounts Dawgs National Championship
Getty Images
The Pittsburgh Steelers are scheduled to play the Indianapolis Colts on Monday Night Football to conclude Week 12. It's been a challenging season for the Steelers who have been offensively challenged throughout the year. Second year running back Najee Harris met with the media to give his thoughts on playing the Colts, ho are also struggling, and a bit of his college pride slipped out.
Harris, a first round pick out of the University of Alabama in the 2021 draft is teammates with Minkah Fitzpatrick, J.C. Hassenauer and Levi Wallace, former Alabama Crimson Tide players, but he's also teammates with 2022 first round pick George Pickens, who went to Georgia.
Pickens claimed his NFL transition was easier for him, due to the first-round picks he played with while at the University of Georgia. Harris is quick to point out that the majority of the staff in Athens came from Tuscaloosa and the first round picks that he played with at Alabama.
Harris is always laid back, even with the media, he let a few choice words fly when talking about Georgia's recent win over Alabama in the 2021 National Championship Game, which Pickens was a part of making one reception for 52 yards.
Harris believes, like many, that if the Crimson Tide receiver Jameson Williams had not gotten injured than Alabama would have emerged victorious.
Nonetheless for Harris, he was a part of one of the most memorable games in the Alabama vs. Georgia rivalry. He helped the Crimson Tide win the 2017 National Championship as a freshman by leading Alabama in rushing against Georgia.
Pickens may have his championship, but Harris has two, having also won in 2020, decimating the Ohio State Buckeyes.
The second year running back has 550 yards and three touchdowns on the ground and has 28 receptions for 138 yards and two scores through the air while the Steelers are 3-7 entering Monday Night Football and in the cellar of the AFC standings.
2021 SEC Championship Game Alabama vs. Georgia
The Alabama Crimson Tide defeated the No. 1 ranked Georgia Bulldogs 41-24 to win the 2021 SEC Championship.
Alabama Basketball vs North Carolina - PKI 2022
Deontay Wilder's Most Devastating Knockouts
Tuscaloosa's own Deontay Wilder has certainly earned his nickname, "The Bronze Bomber," throughout his impressive career.