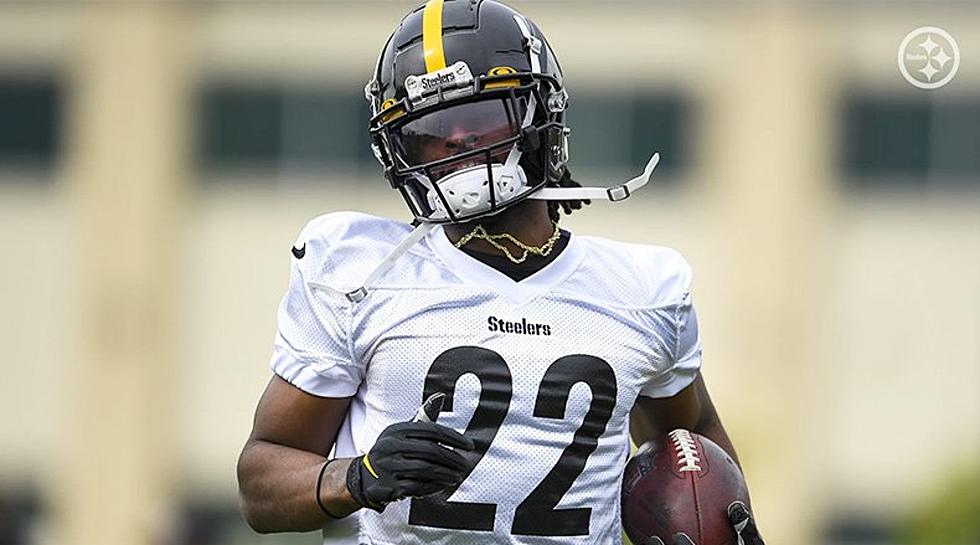 Nate Burleson is a Believer in Najee Harris
Photo courtesy of @PFF_College on Twitter
Good Morning Football's NFL analyst Nate Burleson, a former NFL wideout, hitched his horse to the Najee Harris wagon Monday morning.
Burleson has made quite the name for himself in recent years for accurate predictions through bold analysis. During a segment of the NFL Network's morning program, Burleson said he thought Najee Harris could be "the guy" for the Pittsburgh Steelers.
"I'll go with the guy I felt like slid in the draft, and that's Najee Harris," Burleson said. "The Steelers averaged the fewest rushing yards per game in 2020. This is the Pittsburgh Steelers. This isn't old-school Steelers football."
Burleson mentioned Harris was an elite talent in college and he'll bring a revival to the Steelers' trademark, smashmouth offense.
"If Jerome Bettis was The Bus, we're giving out nicknames today, got the Slim Reaper with DeVonta Smith... I feel like he might be the Greyhound Ground and Pound. He can put the team on his back and carry them as far as he needs to."
Harris was drafted with the 24th overall pick in the 2021 NFL Draft and is expected to carry a heavy workload as Burleson suggests. The Steelers did finish last in yards and yards per attempt and 27th in rushing touchdowns. The writing was on the wall all along that Harris would be drafted by Pittsburgh. Now that it's a reality, how Harris performs is all that's left to discover.
Burleson believes Harris's impact won't just be impressive on a rookie scale, but with respect to other big-time performers in the NFL, including the back who once held the career rushing title at Alabama before Harris began his career: Derrick Henry.
"He's going to have a Derrick Henry-like impact on the Pittsburgh Steelers," Burleson added later in the program, expanding upon his faith in Harris's ability.
"I'm just a big fan of this guy. And I felt like he was overlooked, even though he was dominant, dominant in college. And I try to convince people who want to argue, 'Well, he was playing as a bigger back in college. It's not college anymore.' He was at Alabama. He was playing against the best of the best. When you're a grown man in Alabama, and you're making other college players, who are also league individuals, look like high schoolers, you're going to do the same thing once you get into the league."
The biggest difference between Harris and Henry outside of playstyle is the opportunity to contribute. In Henry's rookie season he was primarily a backup to DeMarco Murray. Harris won't have to wait behind anyone in his rookie year. If he's capable of providing the same impact Henry has for the past three seasons, the Pittsburgh Steelers become a much more dangerous team in the twilight of Ben Roethlisberger's career.
Alabama Crimson Tide All-Time Rushing Leaders
PHOTOS: Alabama Celebrates #18
Crimson Tide's NFL Draft First-Rounders During Saban's Tenure
Take a look back on the Crimson Tide's first round selections under head coach Nick Saban.