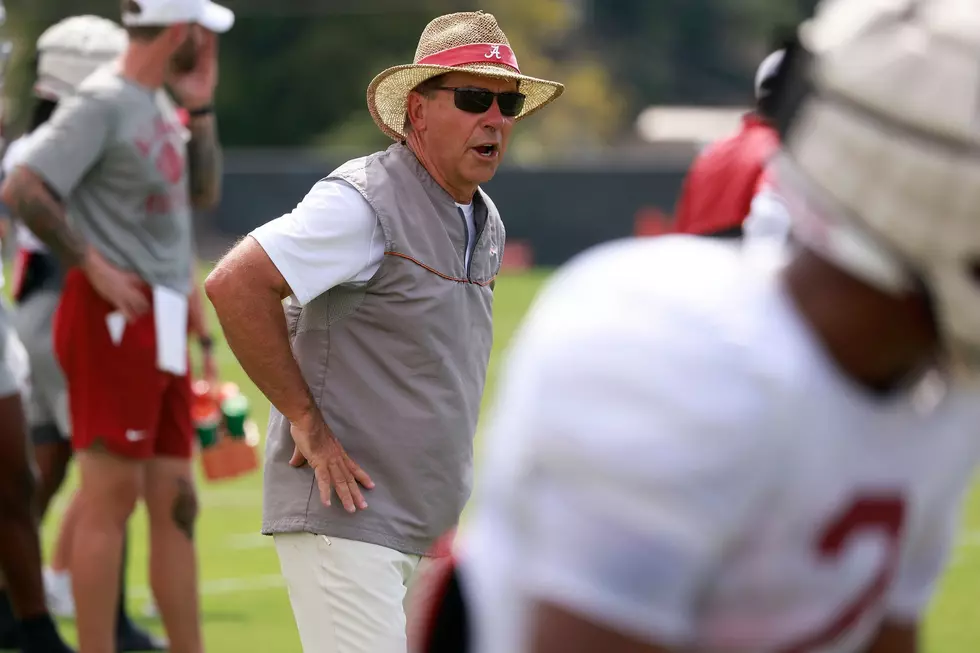 Nick Saban Discusses Texas Preparations in First Press Conference of the Week
Crimson Tide Photos / UA Athletics
The Crimson Tide will be hitting the road this week for a matchup against the Longhorns and former Alabama offensive coordinator Steve Sarkisian.
In Nick Saban's press conference, he began by discussing last week's game against Utah St.
"I think we showed elements of Alabama football in terms of how physical we were, the toughness we played with, the intensity we had," Saban said.
"We made a couple really explosive plays in the running game, but the down-in and down-out consistency to have positive runs and not have negative plays was not what we want it to be and something that we want to improve on," Saban said.
However, he did say he was not at all disappointed in the way they played against Utah St.
Regarding the team preparing for Sarkisian's familiarity with Alabama, Saban did not seem worried or bothered.
"We've played several teams now that kind of know us, but you act like we don't know them."
He says that just because someone knows how you play does not mean they will beat you. Just because you know them does not mean you can beat them either.
"It kind of comes down to how you execute."
Furthermore, Saban said Sarkisian is a very bright guy, very well organized, and did an outstanding job when he was here.
"He has a really good understanding of what he wants to do on offense against certain things on defense and he tries to implement those in the game," Saban says.
Saban made a few comments on Texas' team, such as Quinn Ewers and Bijan Robinson. He said QB Quinn Ewers is a "very, very talented passer."
Saban mentioned that he has a good understanding of the game with a very strong arm.
"I think he threw a ball like 55 yards, pretty much on the money, in the last game and I know that's probably his first game playing." He said he thinks Ewers played extremely well in the game and will continue to make progress.
Bijan Robinson "can do everything," Saban says. "He's got speed, he's got power, he's a very instinctive runner that sets up his blockers well, has a burst and got great hands - a good receiver."
The game will be available to watch on Saturday, Sept. 10 at 11 a.m. local time on FOX.
Alabama Football's Annual Lake Day - 2022
Take a look at the fun Nick Saban and his players had on the annual Alabama Lake Day!
2021 SEC Championship Game Alabama vs. Georgia
The Alabama Crimson Tide defeated the No. 1 ranked Georgia Bulldogs 41-24 to win the 2021 SEC Championship.
The Anti- Alabama Team
Alabama has lost 23 games while Nick Saban has been in charge. These athletes were pivotal in helping to secure a rare victory for their teams.