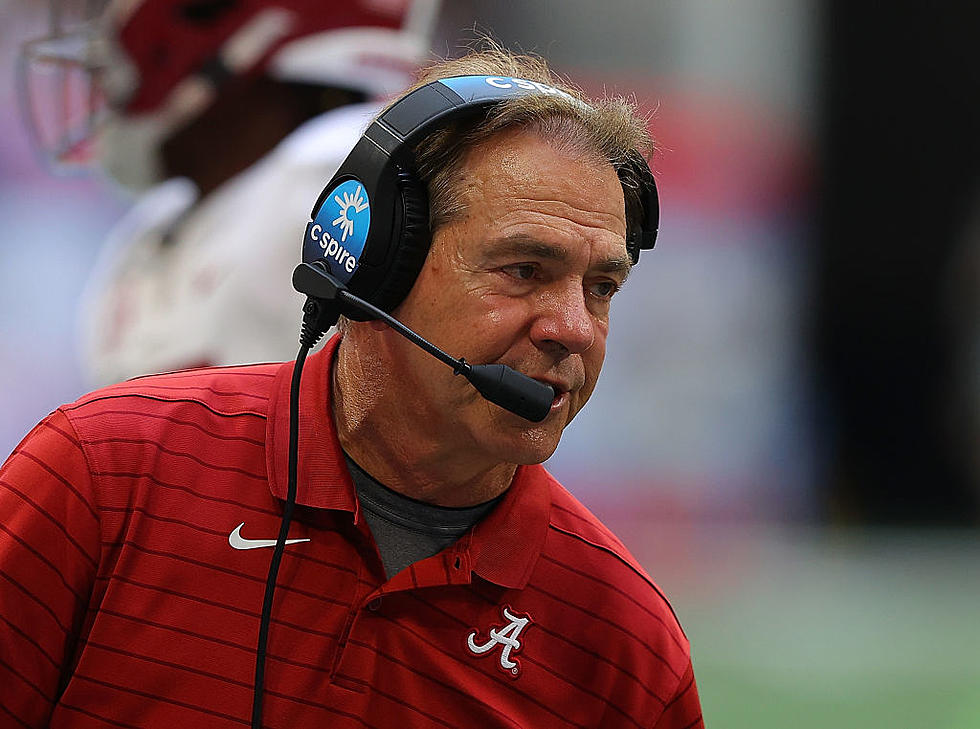 Nick Saban Wants Improvement in the Red-Zone
Nick Saban in Atlanta last Saturday during Alabama's season opener against Miami.
After the Crimson Tide's season opener against Miami this past Saturday there is no doubt that Alabama is headed towards another promising season under legendary head coach Nick Saban. Despite their dominating win against 'The U' on Saturday, Saban is being classic Saban with his win hungry mindset. During his post game interview in Atlanta, Coach Saban mentioned that he needed to see improvement in the red-zone.
The young sophomore quarterback Bryce Young (no pun intended) most definitely proved to the team that he is their guy as the starting quarterback for the offense. Young set new program records by throwing for 344 yards and four touchdowns in his first career start, a 44-13 win against Miami that was settled midway through the second quarter. Fans probably found it hilarious to hear Coach Saban critiquing the offenses' capabilities in the red-zone after dominating the field against Miami. At the end of the day, Saban is the key reason behind this team's success over the years, and his critical attention to the team's performance is what makes it so much more special to watch.
Despite the offenses' struggle in the red-zone on Saturday, placekicker Will Reichard was having a jolly ol' time. Reichard went 3/3 against Miami, nailing a 51 yard field goal in the second quarter to secure the Tide 3 points. His current streak of 14 field goals remains the longest streak in the country. Reichard has proven to be a very reliable placekicker for the Tide, which is something Saban hasn't had in a long time.
The Tide's offense will have another shot at improving their red-zone efficiency this Saturday against Mercer in Bryant-Denny Stadium. This game should be a good one for the team in order to prepare for the following game against Florida.
Alabama Football's Record Against the SEC & Other Major Opponents
The Alabama Crimson Tide is 929-331-43 all-time in college football. See how the records fall against the Tide's SEC rivals and other top programs in the nation.
Meet The 2021 Alabama Offense
The 2021 Alabama offense only brings back three returning starters from the 2020 squad. Get ready for the new season by getting familiar with this year's Crimson Tide offense.
Starting Alabama Quarterbacks Under Nick Saban
Here is every quarterback that has started for the Crimson Tide under Nick Saban.
Top Offensive Lineman in Saban Era