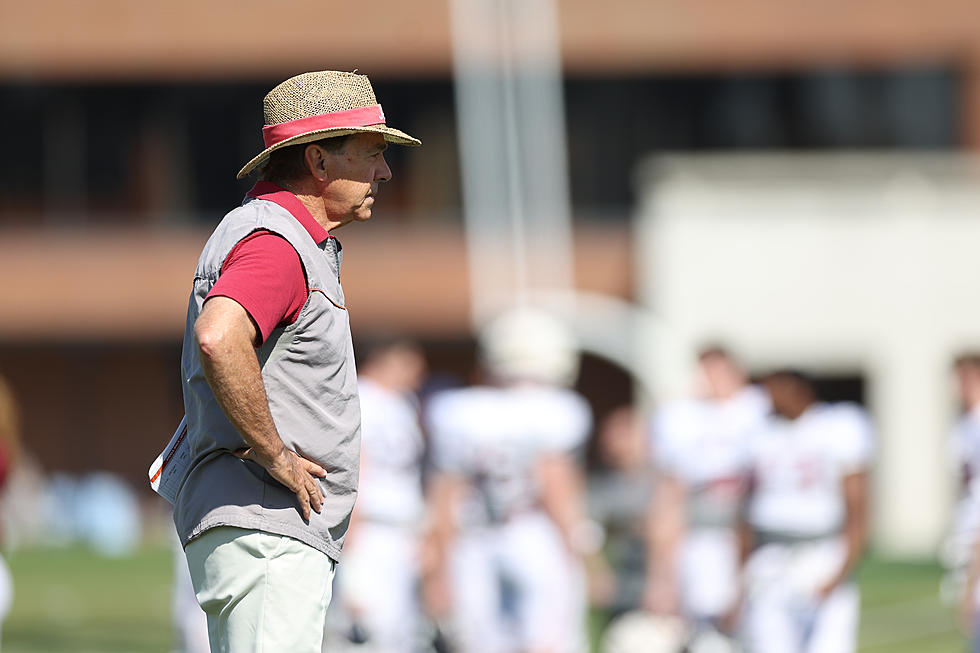 No, Alabama is Not Going to the Portal For a Quarterback
Crimson Tide Photos / UA Athletics
The college football offseason is a perfect time for completely unfounded rumors to gain traction because there's nothing else to talk about. If you're a mere message board poster, one of your inane ramblings may just become a hot topic of conversation around the college football universe.
Multiple users on 247 Sports' "Inside The U" message board have been peddling the notion that Miami quarterback Tyler Van Dyke is going to transfer to Alabama because Paul Finebaum claimed that Nick Saban isn't happy with the progress the four scholarship quarterbacks on his roster are making.
Let me be the first (or 17th, who knows) person to say that simply will not be happening.
The source of those rumors the SEC Network host peddles are unknown, but they likely originate from the assessment of folks who have had the opportunity to see practice. And those who have seen practice have seen only one thing for certain - quarterbacks that are not named Bryce Young.
All this is is a group of fans looking to create some hype about the 'Canes' starting quarterback. If the world thinks Saban wants you, suddenly people believe in you, and it's been a while since there was much to be excited about regarding the Miami football program.
If Saban brings in a portal quarterback, let alone if he starts a portal quarterback after spending two years developing Jalen Milroe, one year on Ty Simpson, and bringing in both Eli Holstein and Dylan Lonergan, it will spell disaster for the GOAT's ability to recruit elite passers out of high school.
Why come to Alabama if Saban has a proven track record of letting guys ride the bench just to bring in someone else when their time comes? Why should you believe that he's actually going to help you develop if he gave up on Milroe and Simpson? These are the questions that will be asked in living rooms after he and his staff leave a visit.
This year's team is one of the youngest Saban has ever had, which means, contrary to what John Q. Fan may think, he is not in a "win now" situation. Saban has won six national championships since 2007, one every two and two-thirds years. Saban's seat isn't in the slightest bit warm.
Bringing in Van Dyke would send Milroe and Simpson right to the portal. Possibly Holstein, too, who looks to be a stud. It would likely send Julian Sayin looking for another program and eliminate Alabama from in-state all-star KJ Lacey's consideration.
Van Dyke will be spending the 2023 college football season wearing orange and green. Book it.
The opinions expressed in this piece are those of the author, Aidan Dollins, alone, and not those of Tide 100.9. 
Highest Earning Bama Pros of All-Time
The University of Alabama is known for constantly cranking out world-renowned athletes, but who of the best active or former pro players have the highest career contract earnings?
Alabama vs Maryland - NCAA Tournament Round 2
First Day of Spring Football Practice 2023
Photos from the first day of spring football practice, March 20, 2023.