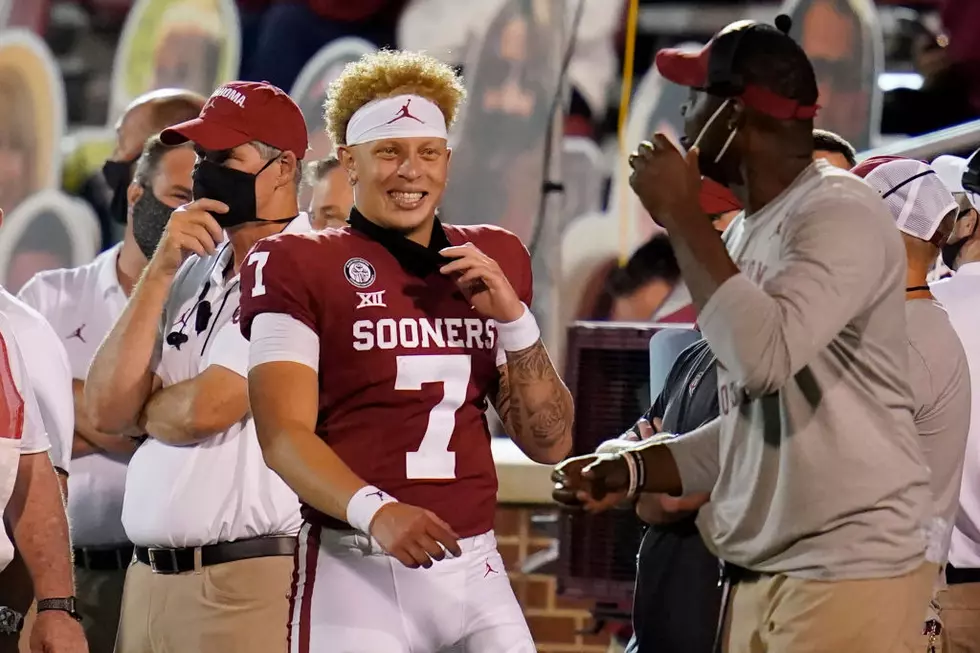 Oklahoma Prevails In The Battle Of The Red River
Oklahoma's starting quarterback, Spencer Rattler celebrating on the sideline.
Oklahoma defeated the No. 22 Texas Longhorns in one of college football's biggest rivalry games Saturday afternoon. The rivalry known as "The Red River Showdown" or "The Battle of the Red River" took place at the Cotton Bowl this weekend.
Like all rivalry games, it was quite the matchup, ending in a quadruple overtime. Many expected that this game wouldn't be as close as it was, with the Oklahoma Sooners being unranked.
Defense seemed to slowly get better for both teams throughout the game, but Oklahoma's defense gained the upper hand in the end.
Oklahoma kept the lead over Texas for the entirety of the first half with Spencer Rattler leading their offense with three passing touchdowns, one rushing touchdown, and 209 yards passing. Oklahoma wide receiver Drake Stoops, son of former head coach Bob Stoops, scored the game's final touchdown in overtime to seal the deal for the Sooners.
Texas quarterback, Sam Ehlinger played very well throughout the game, scoring four of the six touchdowns by Texas and passing for 297 yards.
All eyes were on red-shirt freshman Spencer Rattler during this game. He is a Heisman hopeful quarterback for Oklahoma in the future and he certainly has the potential to be just that. Many expect Rattler to be the next Kyler Murray and his athleticism and vision as a quarterback definitely compare.
In an interview with Oklahoma's head coach Lincoln Riley two weeks before the game, Riley spoke about how dangerous Rattler can be for their opponents defense.
"He needs to get more comfortable in the pocket and focus on keeping his head," said Riley. Despite the doubt, Rattler is only getting started at Oklahoma and could definitely be Oklahoma's next Heisman winner in the near future.
Oklahoma's win against the Longhorns is a big one, putting their record at 2-2 for the first four weeks. Regardless of their record, there is still a lot of season left for both teams.
Enter your number to get our free mobile app
The Hater's Guide to Ole Miss