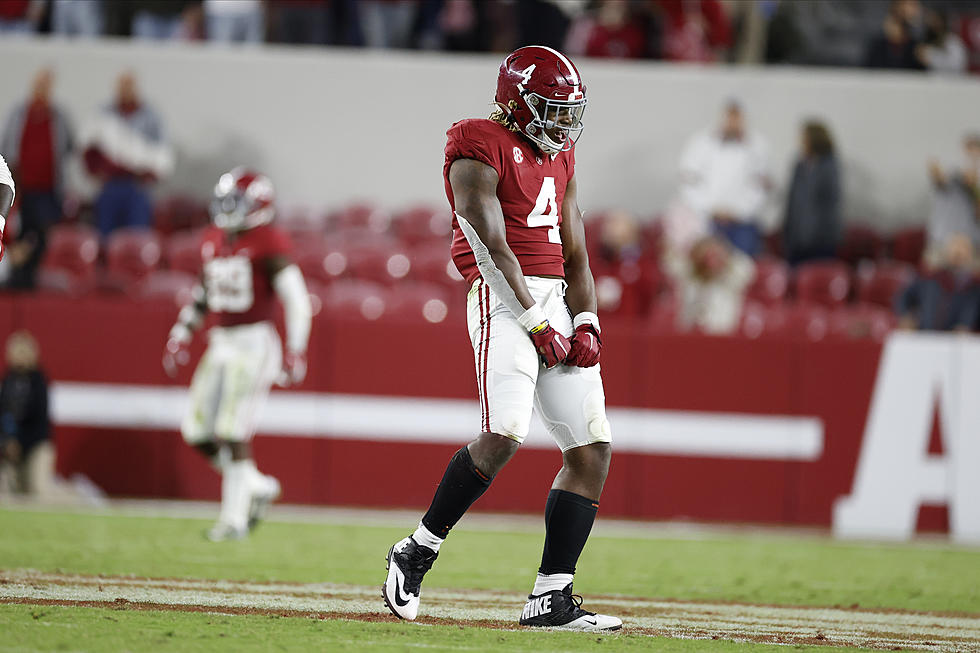 Predicting the Crimson Tide Defense A Day Depth Chart
Crimson Tide Photos / UA Athletics
While the Crimson Tide offense will see a pretty sizable turnover heading into the 2021 season, the same can not be said for the defense. Alabama returns eight starters for defensive coordinator Pete Golding, a luxury he hasn't enjoyed on such a scale in his tenure.
Still, the loss of Patrick Surtain II as the shutdown corner, the interior disruption of Christian Barmore and the leadership of Dylan Moses will be missed.
The depth of the Crimson Tide defense will be quite the story line, so a quick preview of what fans can expect to see this Saturday is in order.
Interior Defensive Line
Phidarian Mathis | DJ Dale | LaBryan Ray
Justin Eboigbe | Tim Smith | Byron Young
Stephon Wynn | Jamil Burroughs | Jah-Merien Latham
Phidarian Mathis is unavailable due to injury and LaBryan Ray might be limited on Saturday for his injury history. Still, both men are the most experienced players on the defensive front who have displayed the most leadership traits.
That being said, the Crimson Tide defensive line has great depth, as DJ Dale, Justin Eboigbe and Byron Young have all seen serious playing time over the past two seasons and provided a level of play to garner some excitement in place of Mathis or Ray.
Meanwhile, Tim Smith is the unicorn that sort of replaces the role of Christian Barmore as a player who can disrupt the play from any spot along the line, but he still has some learning to do schematically.
Add in Stephon Wynn and Jamil Burroughs have made the most of their time, the Crimson Tide front is solid through and through. While the hope is that Ray can remain healthy and be the superstar player he's shown he can be, the depth on the interior should provide great insurance for the defense.
EDGE
Chris Allen | Will Anderson
King Mwikuta | Drew Sanders
Chris Braswell | Jarez Parks
The edge rushers in Alabama's 3-4 scheme quickly turned from a debilitating weakness into its greatest strength over the 2020 season.
Chris Allen and Will Anderson have been widely reported as having picked up right where the left off in 2020 as possibly the two best looking players on the entire team this Spring. The two combined for 13 sacks last year (seven for Anderson) but don't be surprised if that number doubles. Being that the offensive line is banged up, it wouldn't be too shocking to see Anderson and Allen have a quick day Saturday.
Backups King Mwikuta and Drew Sanders saw the bulk of their time in 2020 on special teams, but both relatively firm in their spots as the reserve edge rushers. A Day will be an excellent opportunity for both to show how they grown in their position and push to create a rotation for the pass rushers in 2021.
Linebackers
Christian Harris | Jalen Moody
Shane Lee
Demouy Kennedy | Quandarrius Robinson
The depth at middle linebacker is a bit more concerning than other positions defensively. The play of star Christian Harris helps in calming nerves, but overall, the battle between Jalen Moody and Shane Lee to line up next to Harris is one to watch with a sharp eye.
While Moody will likely take the seniority share of the snaps, Lee could make a stamp as a run stuffer to buy himself some playing time.
While the Crimson Tide world waits to see the decision of Henry To'o To'o, Pete Golding will have to work with what he has. Demouy Kennedy and Quandarrius Robinson are the presumptive names to watch for reserve snaps and special team work once the season begins, so their A Day could be vital in fending off any unexpected contenders.
Cornerback
Josh Jobe | Jalyn Armour - Davis | Malachi Moore
Ga'Quincy McKinstry | Ronald Williams | Brian Branch
Brandon Turnage | Jahquez Robinson | Marcus Banks
The cornerback position is one of the more difficult to predict, though there is plenty of talent across the board. Josh Jobe returns to man one outside position, but who takes over the opposite side is the big question that settles the rest of the pieces in the puzzle.
Malachi Moore showed a fantastic freshman season in 2020, but that was as a slot cornerback, called the "Star" position in Saban's scheme which is a safety-slot corner hybrid position in nickel packages. Moore could feasibly move to the outside cornerback, but that would create a situation where his position would have to be filled. As such, it's not expected to happen when he returns from injury. If that were the case though, it would likely be Brian Branch at star, who saw action in dime packages in 2020 and performed remarkably for a freshman as well. Branch is handling the star duties this Spring and will start there on A Day.
The wild card in the defensive backfield is Qa'Quincy McKinstry, the number one player in the state of Alabama in the 2021 recruiting class. McKinstry is ready, and expected, to contribute right away. He'll have to fight through Jalyn Armour-Davis and Ronald Williams, two large and highly respected candidates, to snag a starting outside role. The star position may be too stacked if Moore stays inside for "Koolaid" to find a spot there.
We may see some interesting combinations on Saturday, especially since Malachi Moore, the most important integer in the equation, is unavailable all Spring. Regardless, the Crimson Tide sports a tremendous defensive backfield and should feel more than comfortable with the talent outside.
Safety
Jordan Battle | Demarcco Hellams
Daniel Wright | Brian Branch
Kristian Story | DJ Douglas
Similarly to the inside linebackers, it's a three man race for two positions and Jordan Battle has secured one of them. Though mostly interchangeable in the scheme between free and strong Demarcco Hellams and Daniel Wright paired together for much of the 2020 season alongside Battle.
Still, Wright will see his primary role in the rotation as the third man. However, Brian Branch is another name to watch in the deep middle of the field in this regard. Remember the Star and "Money" (the dime equivalent of star) are safety-slot corner hybrid spots which means Branch has the versatility to move back if needed in case of injuries or targeting ejection.
Kristian Story has played well this Spring after transitioning from a high school quarterback. Story should see solid snaps on A Day, which will be important for him to fight off freshmen safeties Terrion Arnold and Khyree Jackson.
---
There's our prediction. With practices being closed, information is hard to come by. A Day will certainly give us a clearer picture of the offense's pecking order at each position. With the opportunities A Day presents and a more active Summer on the way, the 2021 Crimson Tide is beginning to take shape.
Be sure to check out the offensive depth chart prediction ahead of A Day too!
Read More: Predicting the Crimson Tide Offense A Day Depth Chart
Alabama's Top 10 Athletes: Spring 2021
2021 Alabama Crimson Tide Recruiting Class Signees