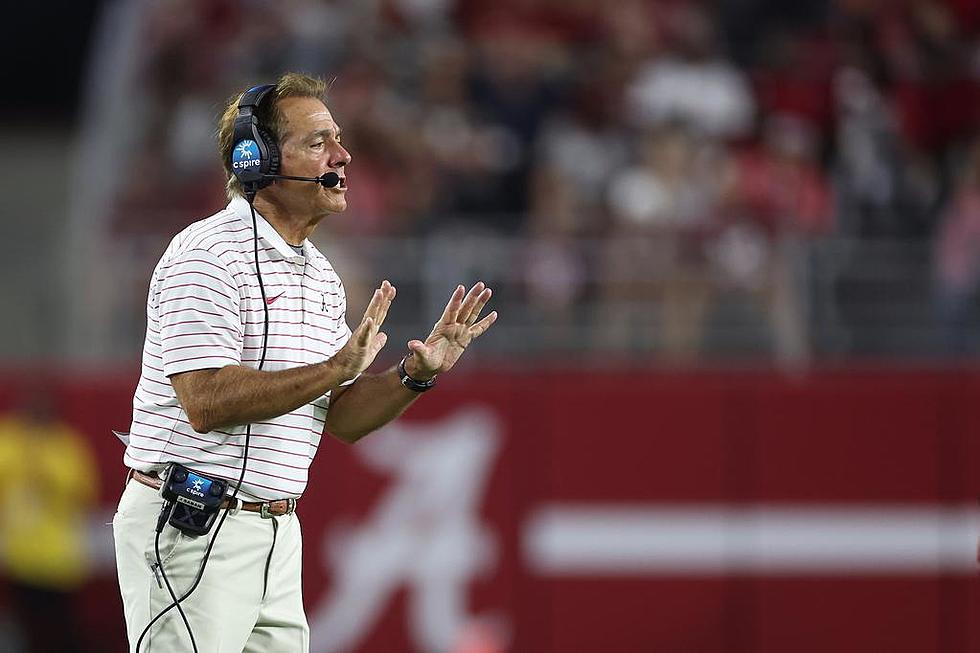 Saban Saw Things He Liked in Ole Miss Win
Crimson Tide Photos / UA Athletics
Alabama finished the game on a 21-3 run to defeat Ole Miss 24-10 Saturday at Bryant-Denny Stadium, showing signs of life and hints of the way things used to be under Nick Saban. Here's a look at what the Tide coach had to say about the big SEC win over Lane Kiffin and his Rebels.
Opening Statement
"I told the players that it was important for them to believe in each other. There's a component in that."
"Try to play with discipline. Try to play with the toughness and physicality we want to play with as a team."
"Eliminate the 'my bad's' that have been critical in us being successful."
"I thought the team did a fantastic job of that in the second half. The guys played hard and physically and got off the field  on third down."
"First half, we lost yards and took points off the board. Those are the kind of lessons we want to teach our team so they can continue to get better week in and week out."
"The guys competed hard. These guys are hard to play against. I'm really pleased."
"I thought Jalen [Milroe]  played really well. He got fooled on the interception. He got a little dinged up but he'll be fine. He showed leadership, made some throws and explosive plays."
On the turnover
"That's  the one thing guys learn. He probably got a little affected by the first interception in the Texas game. You're a point guard. You can't turn the ball over. You have to trust and execute."
On third quarter toughness plays like the Jam Miller hit that was called targeting:
"I think the momentum shifted in the game for us. The energy went up. That was demonstrated by how we continued to play the rest of the game. "
On Deontae Lawson's injury
He's got a sprained ankle and is day to day. It's a pretty good one and nobody knows how long it will take [to heal]."
On the running game
"I think we know we've got to create balance on offense. We've got to be more efficient in the passing game. We had too many sacks that were drive stoppers. You've got to say ahead of the sticks. That's what we've got to continue to work on."
On patience with Milroe
"You've got to take advantage of lessons.  I meet with the quarterback on Monday and Thursday. You're trying to teach in a way that will impact them in a positive way."
"It takes a lot of patience when you score five touchdowns and have them called back."
On the touchdown drive to answer the Ole Miss field goal:
"That changes the game a lot when it's a two-score game in the fourth quarter. That drive was THE drive that was the difference in the game."
On what he learned about his team Saturday:
"I also think they need to learn about themselves on when they do things correctly, dominate their box, play with discipline and eliminate the negative plays. Don't waste e failing. How you respond is very important."
On the mix-up on downs:
"Most of the downs the guy that marks the ball will signal first down. He marked the ball and put his hand down and we assumed it was short. We called a quarterback sneak. The chains didn't move until we were snapping the ball. The referee said he signaled first down but the guy spotting the ball did not."
"We did not think the guy made a first down. It was a miscommunication. It was bad on our part. If we weren't going fast we would have recovered [and noticed]."
On the left tackle job:
"I'll be glad to tell you Monday after I watch the film. I can't tell you now. We wanted to play both guys  [starter Kadyn Proctor and backup Elijah Pritchett] today to see how they did and we will evaluate when we watch the film."
On the crowd
"Great crowd today. They created a lot of positive energy, and we want to thank them for that."
The Crimson Tide is now 3-1, 1-0  SEC and will travel to Mississippi State next week for an 8 p.m. CT kick against the Bulldogs in Starkville.