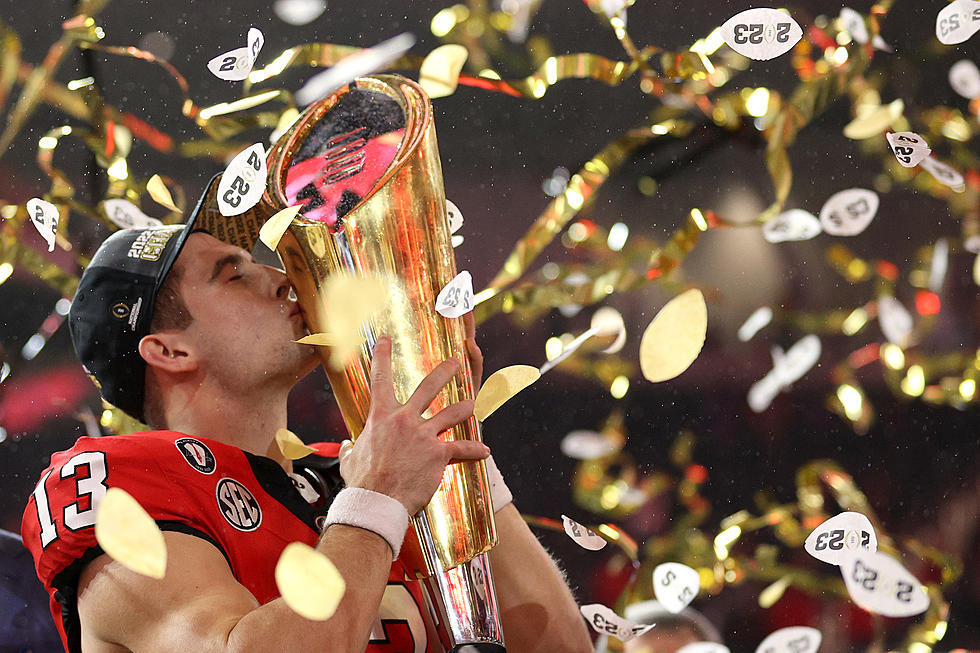 Saban Touts New NIL Center on 'Hey Coach'
Getty Images
Nick Saban, Eli Gold and media guest co-host Chris Low of ESPN appeared on the weekly "Hey Coach" radio show on CTSN Thursday night in Tuscaloosa. Here's a look at what Saban had to say in the roughly 40 minutes he spent on the show.
His time was limited due to a first of its kind NIL center ribbon cutting being held at Bryant-Denny Stadium.
Here's what Saban had to say on several topics, including NIL:
On the new Alabama Advantage Center at Bryant-Denny Stadium
"It really is a facility for opportunities in Name, Image and Likeness. They've got computers to help facilitate NIL and guys can go there and do a podcast for NIL.
"We're the first to have it. It's a first-class thing for our program and will help in recruiting."
On if he would have had NIL at Kent State as a player
"I don't think there was anybody at Kent State that would get NIL. The fear of failure was a tremendous motivator. I think guys now are more challenged because they have more but in that, they can't lose their hunger because you go to college to enhance your career as a football player."
On Monte Kiffin, Lane's dad
"When you grow up around ball like Lane did with his dad being a defensive coordinator you learn a lot about the game. It's a challenging game for you now on defense and we look forward to the challenge. You find out what you are and what you're not.
"Good offensive coaches understand defense. If you're playing a certain coverage, they know what patterns can beat it. I think Lane does a lot of that. They will clap and not clap and then do something else.
"I've been around some offensive coaches that believe in their system, but the really good guys adapt their system.
"Confidence and preparation help you prepare."
On preparing for the Ole Miss offense
"First of all, pace of play. Routine and rhythm created comfort and confidence. They're gong nine thousand miles an hour and you're trying to just get the call. The multiple formations are challenging and they do a good job running and passing. That makes it difficult to defend. "
On the team staying motivated
Legendary former Tide manager and Tide 100.9 caller Colin "Big C" Maguire brought up historic slow starts at Alabama and voiced his continued support of the struggling Tide.
Saban: "Everyone is motivated internally, but this day and age a lot of motivation comes externally.
READ MORE: Game Day Forecast + Hourly Temp Guide for Alabama vs. Ole Miss
There's a lot of criticism and players hear it.
"I told the players when Micheal Jordan got in the Hall of Fame, he had three special guests: the coach that cut him in high school, the coach that benched him and the player that replaced him. He used those things to motivate him."
"We tell our players to let things affect them in a positive way."
On the team's confidence right now
"The team has done a good job preparing for the game. I have confidence in them. I believe in them. There's a lot of negative vibes out there that people can't get affected by.
"If you look at our executing and when we've not been able to execute, we've got eleven guys doing what they're supposed to do. When we don't you don't' have as good a play.
"There isn't any 'My bads.' You don't get re-dos's. Is that an excuse?  I hate hearing a player say, 'My bad.'"
On recruits seeing former Bama players doing well in the NFL
"That's huge. It speaks volumes about the culture of our program starting with the resources provided by the administration, so we're able to attract good players. We've also done a good job developing those players.
"When you can talk about having the greatest number of guys playing in the NFL that enhances your recruiting.
"Most of the recruits have those expectations. Expectations are great if you're doing the things you need to do to accomplish them. I want them to have those kinds of goals."
On defending Ole Miss' offense
"That's going to be a challenge. One of the things that's difficult is to prepare your players in practice. You show the scout team a card with the play and the protections but when you try to go fast the players on the scout team don't get the play right.
We use two offensive scout teams back-to-back against the defense. That's a little more realistic and that's how we try to prepare."
On Ole Miss quarterback Jaxson Dart
"He is a tough guy. He runs well and physical and he's a very good passer. They have two good running backs and then you have the quarterback runs. That creates an extra gap you have to defend."
On the return of guard Tyler Booker
"He's the leader of the offensive line group. He's a communicator and that helps the people around him play well. He does a good job of that.
"We moved him to left guard because we have an inexperienced left tackle.
When he didn't play last week that didn't help that position. When you lose a leader and a vocal guy that impacts the whole group."
On the Tide offensive line vs. Ole Miss pass rush
"They're athletic up front. They do a good job pass rushing and having pressures and simulated pressures, which is when they rush someone you didn't expect.
"[Former Bama DC] Pete [Golding's] got them playing well. They've got a sound system.
"We have to protect the quarterback better. There's been too much pressure and we've got to get the ball out quicker."
On the transfer portal and quarterbacks
"I think it's changed the game tremendously. The really good teams have a more difficult time because you lose depth but if you're building a program it lets you get players from another resource. It brings more parity."
Saban's Final Word
"I think some people want things to happen, other people wish things would happen and other people make things happen. Our fans need to make it happen with positive energy to support the team. It's big that we have an atmosphere to help our players have success in our game."
Alabama hosts Ole Miss at 2:30 p.m. CT Saturday. The game can he heard on both Tide 100.9 and 95.3 The Bear.
Iconic Photos From Alabama's 18 National Championships
Claimed or recognized, no FBS football program has more national championships than the Tide. Look back on all 18 titles in Alabama history with these photos.