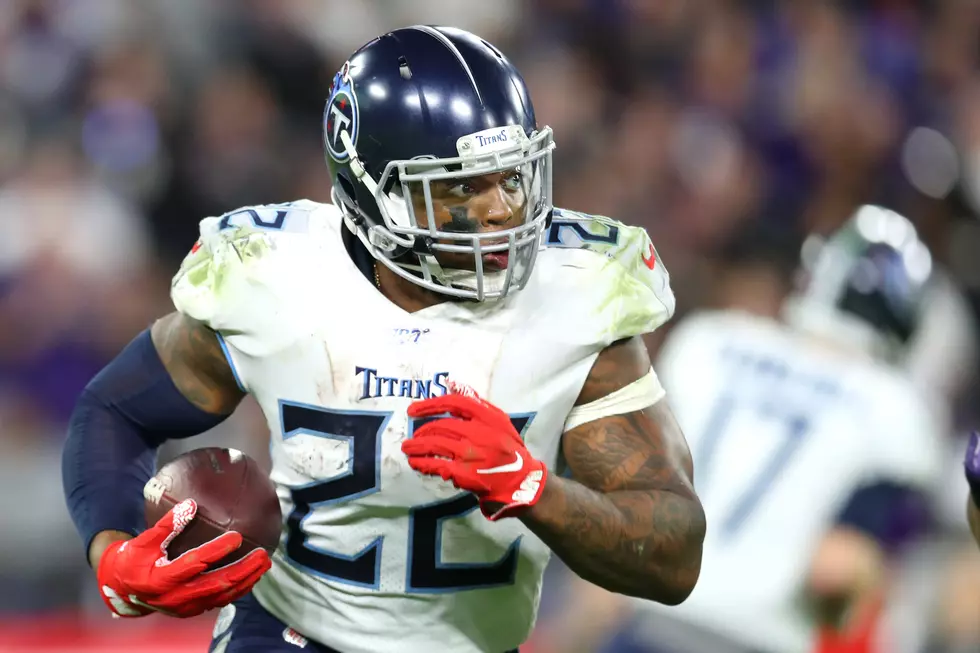 The Definitive 2021 All-Alabama NFL Team
Getty Images
The Alabama Crimson Tide has an NFL-leading 53 active players rostered across 28 NFL franchises heading into Week 1 of the 2021 season. That number drops from 57 in 2020, but still features some of the league's most elite talents.
Read More: The Definitive 2020 All-Bama NFL Team
Here is the definitive starting lineup for the 2021 All-Alabama NFL team.
* Just like last year, we will not be including players who opted out or are on the injured reserve expected to miss the entire season.
Quarterbacks
TUA TAGOVAILOA, Miami Dolphins
JALEN HURTS, Philadelphia Eagles
The starting quarterback for the All-Alabama NFL team is Tua Tagovailoa of the Miami Dolphins. Tagovailoa had a rough rookie season with COVID-19 disrupting the learning aspect of transitioning to the NFL while also still battling back from his terrifying hip injury. Still, Tagovailoa set a new franchise record for most pass attempts to start a career without an interception.
In year two, Tagovailoa is seen as more confident and comfortable in his role with the Dolphins and is looking to rebound in a big way.
Despite the trials of his rookie season, Tagovailoa remains the best Alabama quarterback in the NFL. However, Jalen Hurts is getting his first shot as the full-time starter for the Philadelphia Eagles in 2021 as well. We'll give Hurts the backup spot for now, but with guys like DeVonta Smith helping him out, don't be surprised if Hurts makes an even bigger leap in his own second season.
Running Backs
DERRICK HENRY, Tennessee Titans
JOSH JACOBS, Las Vegas Raiders
NAJEE HARRIS, Pittsburgh Steelers
Derrick Henry is the best running back in the NFL. Sure, other guys are more versatile, but no one is putting up the Hall of Fame-caliber stats Henry has through the past two seasons. It wasn't enough that Henry was the first back in over a decade to lead the league in rushing in back-to-back seasons, but he went and eclipsed 2,000 yards despite needing 200+ in the final week of the season.
Josh Jacobs has arrived in his own regard as well. Las Vegas brought in fellow Crimson Tide star Kenyon Drake to help lessen the load, but that doesn't change Jacobs's status as a workhorse running back. There's still room for him to climb into elite status, but his play drives the success of the Raiders anyway, and that's enough on its own.
We'll throw in a third back for fun, because who doesn't love Najee Harris? Harris is expected to revive the Steelers horrid rushing attack from a year ago. The Steelers' offense is designed this season to run through him meaning he'll have plenty of opportunities to showcase his immense talent.
Wide Receivers
JULIO JONES, Tennessee Titans
CALVIN RIDLEY, Atlanta Falcons
AMARI COOPER, Dallas Cowboys
JAYLEN WADDLE, Miami Dolphins
Narrowing the Alabama Crimson Tide receivers to just four is no easy feat. Now that all four Ryde Outs are in the league alongside fellow all-stars Julio Jones, Calvin Ridley and Amari Cooper, there's a ton of talent at this position from Alabama.
That said, the elder statesman Jones still gets the nod as our number one option. He may have battled injuries last year, but there's new life for the "Jet" as he lands in Tennessee with Derrick Henry.
Calvin Ridley takes over the number one void left by Jones in Atlanta, but there's no questioning if he's ready for the spotlight. Ridley was top-10 in nearly every statistic last year and with Jones out of town, Ridley is ready to eat even more targets.
Amari Cooper gets a raw deal from the national side because his teams haven't been successful. Still he shined in 2020 despite Dak Prescott missing most of the season. With youngster CeeDee Lamb drawing more attention, Cooper will still be a top-tier weapon for the Cowboys this year.
Choosing among the Ryde Outs was most difficult. Jerry Jeudy's struggles stem from the quarterback situation. Henry Ruggs's struggles came down to him being the only viable threat in the outside passing game. DeVonta Smith faces that same hurdle in his rookie season.
Jaylen Waddle doesn't have any of those concerns. His biggest obstacle is the number of receivers on the Dolphins roster, but his speed and athleticism can't be contained to any sideline or bench. Waddle has the best opportunity of the four to catch the nation's attention while catching passes from a reliable arm. That said, all four should bring something special to the NFL in 2021.
Tight Ends
OJ HOWARD, Tampa Bay Buccanneers
Unfortunately, Irv Smith Jr.'s meniscus injury was more serious than expected and he'll be lost for the season in Minnesota.
That leaves OJ Howard as the only Alabama tight end on an active roster, making him our defacto tight end. That's not a slight on Howard. He's an excellent player, but his opportunities have been lacking due to depth at the position in Tampa Bay and nagging injuries.
Last year, Howard tore his Achilles and was lost for the season, making a third season out four in the league he's finished on injured reserved.
This is a critical season for Howard in Tampa. He'll have to fight for targets and make the most of them as they come.
Offensive Line
Left Tackle
JEDRICK WILLS, JR., Cleveland Browns
A two-time Bama Pro of the Week as a rookie in 2020, Jedrick Wills made the transition from right tackle to left look much easier than it is. He protected Baker Mayfield as he put up his best statistical performance of his career and opened holes in the Browns' dominant rushing attack.
The shoes to fill as the next franchise left tackle in Cleveland were massive, as Joe Thomas put up a Hall of Fame career through some tough seasons for the franchise. Wills is well on his way to proving he's the guy the Browns can rely on for the next decade; a decade that looks to be much more enjoyable for the Dawg Pound.
Still, there's room for improvement, having given up four sacks and committed 11 penalties. Regardless, there's no denying Wills is the best left tackle from Alabama in the NFL today.
Left Guard
BRADLEY BOZEMAN, Baltimore Ravens
Bradley Bozeman is a steady professional. He's headed into his fourth year in the league and has performed admirably for the Baltimore Ravens as Lamar Jackson has grown into a superstar with one of the league's most potent run games.
He committed just two penalties and allowed only two sacks in 2020 at left guard.
Bozeman moves to center for the Ravens in 2021, but after three steady seasons at left guard, we'll keep him at left guard for our team.
Center
RYAN KELLY, Indianapolis Colts
Ryan Kelly remains one of the NFL's top centers. He commands one of the best offensive lines in the league too, which allowed just 19 sacks with the immobile Philip Rivers in the pocket, the lowest among any quarterback who started all 16 games.
That will be a difficult number to replicate in 2021, but he remains not only an elite offensive lineman but one of the best Bama Pros in the NFL today.
Right Guard
LANDON DICKERSON, Philadelphia Eagles
Unfortunately, the Alabama Crimson Tide doesn't have a starting guard heading into the season. We already had to cheat a bit to move Bozeman back to left guard, but we'll have to hit the second string for the right side.
Technically we'll also be moving Dickerson to right guard from left, but the position is much more interchangeable than tackle. Of the backup guards from Alabama though, there are none better than Landon Dickerson.
Dickerson's ACL tear is all that stood between him and the first round. The Philadelphia Eagles moved up in the second round to grab their future center and will likely have him play some guard before he takes over for Jason Kelce.
So long as Dickerson stays healthy, there's little doubt he won't become just as popular on the field in the NFL as he is for his off-field antics.
Right Tackle
ALEX LEATHERWOOD, Las Vegas Raiders
In 2020, Jedrick Wills moved from right tackle to left. In 2021, Alex Leatherwood will move from left to right.
He's the lone starting right tackle from Alabama, so he fills the spot easily, but it's not undeserved. The 17th overall pick in the 2021 NFL Draft is highly thought of in the Raiders organization.
He'll be blocking for Josh Jacobs and Kenyan Drake, both of whom can do wonders in making Leatherwood's job just a bit easier.
Special Teams
In a blindsiding move to Alabama fans, JK Scott was released by the Green Bay Packers after a below-average season in Green Bay last year. As such, Alabama won't be fielding a starting punter, kicker or long snapper.
Here's hoping Scott finds his way onto another roster soon as fans await Will Reichard to enter the league and Thomas Fletcher to take over in Carolina as the long snapper.
Interior Defensive Linemen
JONATHAN ALLEN, Washington Football Team
Da'RON PAYNE, Washington Football Team
RAEKWON DAVIS, Miami Dolphins
Jonathan Allen and Da'Ron Payne are the cornerstone pieces to the Washington Football Team defense as well as our All-Alabama NFL Team. Don't expect these two to drop off anytime soon with the talent surrounding them in the Capital.
As for our newcomer, Raekwon Davis, he burst onto the scene at nose tackle for the Dolphins. The 2020 second-round racked up 40 tackles, one for a loss, in rotational action. He's expected to have a monster sophomore season. Back in June, Dolphins beat reporter Cameron Wolfe told me on Off The Edge "he's got a chance to be the second-best player on that defense." No pressure.
Edge Linebackers
TERRELL LEWIS, Los Angeles Rams
In his rookie season, Terrell Lewis recorded just five tackles. Two of them were sacks.
He moves into a starting role in Los Angeles in year two to start the season. The Rams employ a strong pass rush, which should give him ample opportunity to make a sudden impact.
Unfortunately, Lewis is the only edge linebacker from Alabama on an active roster, leaving our All-Alabama NFL Team short-handed on defense.
Off-Ball Linebackers
CJ MOSLEY, New York Jets
DONT'A HIGHTOWER, New England Patriots
Both of these veteran linebackers from the AFC East opted out of the 2020 season and return to bolster their respective defenses after poor showings last year. They both instantly take their rightful places as our off-ball linebackers for the All-Alabama NFL Team.
Cornerbacks
MARLON HUMPHREY, Baltimore Ravens
TREVON DIGGS, Dallas Cowboys
PATRICK SURTAIN II, Denver Broncos
Marlon Humphrey is one more elite season away from being truly discussed as the best cornerback in the game. His run defense is unmatched across the league, as is his ability to create turnovers.
Trevon Diggs returns for his second season with the Dallas Cowboys after a stellar rookie campaign. In 12 games he hauled in three interceptions while allowing just 54% of the targets sent his way to be completed. He allowed five touchdowns, which isn't ideal. If he can clean that up though, he's well on his way to being a featured piece of a growing Cowboys defense.
Patrick Surtain gets the call as our third corner after a stellar preseason that was kickstarted with a pick-six. That one doesn't count, but with all the elite talent on the Denver defense, he'll get his chances to make impact plays in the pass-happy AFC West.
Safeties
MINKAH FITZPATRICK, Pittsburgh Steelers
LANDON COLLINS, Washington Football Team
The safety tandem goes untouched from 2020, as Minkah Fitzpatrick mans the deep third while Landon Collins aids in run support as a strong safety.
Fitzpatrick's first full season in Pittsburgh wasn't perceived at the same level of success, but his stats match up with his first 14 games for the Steelers.
As for Collins, his 2020 season was ended by a torn Achilles. His role as a leader will keep him on the field, but the talent of the Washington Football Team could eat into his stats, especially if his injury impacted his ability as he enters his seventh season.
Crimson Tide's NFL Draft First-Rounders During Saban's Tenure
Take a look back on the Crimson Tide's first round selections under head coach Nick Saban.