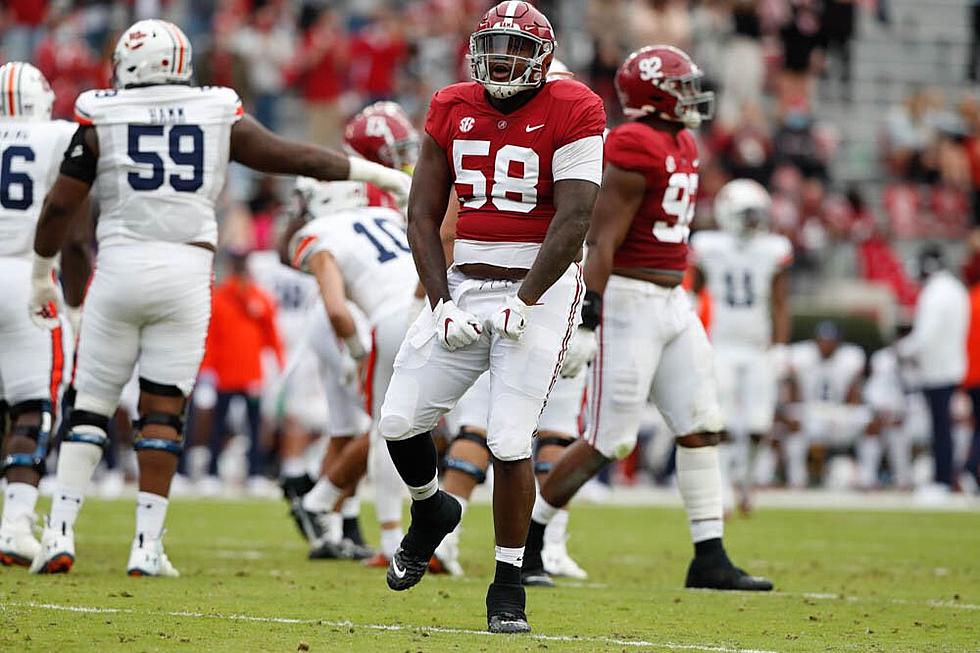 The Joe Will NFL Mock Draft 1.0
Photo courtesy of @Chris_Bmore4u on Twitter
With NFL Free Agency this week, I thought it would be fun to do a mock draft for the first round of the 2021 NFL Draft. 
Keep in mind that if Russell Wilson and Deshaun Watson get traded, it'll throw a wrench in this entire mock. 
There is some movement in this with teams trading up and down, but I didn't include the exact draft picks that would be forfeited.
#1 Jacksonville Jaguars- QB, Trevor Lawrence, Clemson 
There's not much debate about who Urban Meyer will take with the first pick, passing on a player like Lawrence would be foolish. Gardner Minshew is a fan favorite with his mustache and mannerisms but doesn't have the tools to be a franchise QB in Jacksonville.
#2 New York Jets- QB, Zach Wilson, BYU
The Jets could keep Darnold and go the route of drafting Penei Sewell, but that wouldn't make sense considering they took Mekhi Becton with the #11 pick in last year's draft.
#3 Miami Dolphins- OT, Penei Sewell, Oregon
The third pick is far too early to take a WR like Ja'Marr Chase or Heisman Trophy Winner DeVonta Smith. Austin Jackson and Robert Hunt were shaky in their rookie seasons, take the sure-fire player Sewell and fix your line so that Tua Tagovailoa can blossom.
#4 (TRADE) Carolina Panthers- QB, Justin Fields, Ohio State 
The Panthers gave Bridgewater a three-year, $63 million deal with a $15 million signing bonus and $33 million guaranteed. In his first year, he left a lot to be desired, 15 Touchdowns and 11 Interceptions are pretty brutal. They don't have to necessarily move on from him immediately,  just take Fields and let him develop for a year. He's going to be a perfect fit in Matt Rhule's offense alongside Christian McCaffrey. 
#5 (TRADE) San Francisco 49ers- QB, Trey Lance, North Dakota State
Nothing personal against Jimmy G, just a business move for Kyle Shanahan. Lance has skyrocketed up draft boards recently and impressed a lot of teams in his pro day this week. Shanahan needs a mobile QB like Lance who can provide the offense with a spark. 
#6 Philadelphia Eagles- TE, Kyle Pitts, Florida
It comes down to Kyle Pitts or WR Ja'Marr Chase, either way, it's a win-win situation for Nick Sirianni and GM Howie Roseman. Pitts is listed as a 6'6 240lb TE, however, he moves like a WR. Zach Ertz is on the way out, giving Jalen Hurts a chance to shine with Pitts as a security blanket for comfort. Also, keep in mind Pitts is from Philadelphia, so this would be the ultimate homecoming for the city of brotherly love.
#7 Detroit Lions- WR, Ja'Marr Chase, LSU
The Lions opted not to use their franchise tag on WR Kenny Golladay, hanging Jared Goff out to dry. This is a no-brainer pick for a team whose top target on the roster is Danny Amendola.
#8 Atlanta Falcons- CB, Patrick Surtain, Alabama
Atlanta trades back and gets a lockdown corner, who they've been searching for years to get.  They took Isaiah Oliver in the second round of 2018 and surprisingly took AJ Terell in 2019, so what? Third times a charm, take Surtain and watch your defense blossom. 
#9 Denver Broncos- CB, Caleb Farley, Virginia Tech
I'll never understand why mock drafts have the Broncos taking a QB, Lock's been in the league for a couple of years and shown flashes of greatness. He's got a plethora of weapons around him, trust the process and give him another year to get it together. The team just recently released CB AJ Bouye, take Farley and bolster your secondary
#10 (TRADE)  New England Patriots- WR, DeVonta Smith, Alabama
This is a dream come true for Bill Belichick, trading up five spots to get one of the best WR's in Alabama history. 
#11 (TRADE) Miami Dolphins- WR, Jaylen Waddle, Alabama
Tua gets to reunite with his explosive former teammate at Alabama. Had Waddle not suffered an ankle fracture he most likely would've been drafted a lot higher.
#12 Cincinnati Bengals- OT, Rashawn Slater, Northwestern
Many fans will be upset that they passed up on reuniting Joe Burrow and Chase. Even if the Bengals lose AJ Green to free agency, they still have Tyler Boyd and Tee Higgins. Sewell was gone by the time they had their pick, nevertheless, they still got a stud offensive lineman opposite Jonah Williams to protect  Burrow for years to come.
#13 Los Angeles Chargers- OT, Christian Darrisaw, Virginia Tech
One of the only weaknesses on this team comes on the offensive line. Darrisaw is incredibly athletic and fits the scheme that Joe Lombardi and company will try to input. 
#14 Minnesota Vikings- DE, Kwity Paye, Michigan
I pride myself on being original and not being basic, so this pick goes against everything I stand for. I'm going to have to go with what seems like 99.9% of the mock drafts and pick Paye for the Vikings. Even though the team just signed Stephen Weatherly to a one-year deal, Paye is versatile and can wreak havoc on opposing offensive lines. 
#15 Dallas Cowboys- CB, Jaycee Horn, South Carolina.
Dallas is loaded on offense with Prescott, Zeke, Cooper, and Lamb. Chidobe Awuzie and Jourdan Lewis are set to be free agents and with limited cap space, I doubt either one will re-sign. Jaycee Horn is my favorite player in this draft class and possesses the physical tool and aggressive instincts to be a star at the next level.
#16 Arizona Cardinals- OT, Teven Jenkins, Oklahoma State
At 6'6 320lbs Tevin Jenkins was an absolute brawler at Oklahoma State. Drafting him will fill the void at tackle with Kelvin Beachum likely leaving in free agency.
#17 Las Vegas Raiders- LB, Micah Parsons, Penn State
Before the season many draft analysts had Parsons pegged as a top 5 pick, but opting out and some off-the-field concerns will have him slide into the mid-first round. From a pure athlete standpoint, there's nobody better than Parsons, he fits the prototypical LB in today's NFL. Similar to Tampa Bay Bucs LB Devin White, he can cover sideline to sideline while also filling a gap or blitzing when he's asked. 
#18 New York Giants- LB, Jeremiah Owusu-Koramoah, Notre Dame
JOK is a heat-seeking missile at the LB position. Blake Martinez has been solid for the G-men and they have depth with Lorenzo Carter and Oshane Ximines, though Koramoah gives you an explosion that neither one of those players can give.
#19 New York Jets- WR, Rashod Bateman, Minnesota
You made the right decision choosing your franchise QB at #2, now give him a big target to work with downfield.
#20 Chicago Bears- OT, Elijah Vera-Tucker, USC
Vera- Tucker is plug-and-play at guard or tackle, his quick feet and power will be useful for the Bears.
#21 Indianapolis Colts- ED, Jayson Oweh, PSU
Oweh is pretty raw but has tremendous upside potential, he ran a 4.38 in Penn State's pro day. 
#22 Tennessee Titans ED, Azeez Ojulari, Georgia
It's unlikely that Clowney re-signs with the Titans, look for them to get Ojulari who had 8.5 sacks for Kirby Smart's defense this year.
#23 Washington Football Team- QB, Mac Jones, Alabama
Washington was in a tough spot at #19 with their top LB and OT targets off the board. By trading back a few spots they're able to grab Jones, a smart player who will be a leader on the offense. 

#24 Pittsburgh Steelers- OT, Samuel Cosmi, Texas 
I've seen quite a few mock drafts that have the Steelers taking Najee Harris or Travis Etienne at this spot. The problem with doing that is that you're still going to have to find someone to replace both tackles when Alejandro Villanueva and Matt Feiler walk in free agency. Drafting an OT is a safe pick, but the right one to make. 
#26 Jacksonville Jaguars-CB, Asante Samuel Jr, FSU
We all grew up watching Asante Samuel Sr, now we get the pleasure of watching his son play in the league. Samuel Jr. is one of the most underrated prospects in this year's class. He didn't garner much hype because of FSU's defense being an absolute dumpster fire, but still, he managed to ball out in Tallahassee
#27 Baltimore Ravens- WR, Kadarius Toney, Florida
The Ravens have Lamar Jackson putting up video game highlights every game, except they lack a true threat at WR. Marquise Brown is a solid number two option if you give him a little bit of help. 
#28 New Orleans Saints- WR, Elijah Moore, Ole Miss
Emmanuel Sanders won't return, and Michael Thomas barely played in 2020 due to injuries and disciplinary actions. The Saints miss out on all their top QB options, so they give Taysom Hill a young weapon to take some pressure off his shoulders.
#29 Green Bay Packers-LB, Zaven Collins, Tulsa
If you watched the NFC Championship game two things were obvious for the Packers. They lack a true presence manning the middle of their defense, and they need some help at WR. The 2020 Chuck Bednarik Award winner can provide them with what they need on defense, then they can address a WR in the second round.
#30 Buffalo Bills - OT, Dillon Radunz, North Dakota State
Radunz had an impressive week at the Senior Bowl and solidifies the Bills running game. 
#31 Kansas City Chiefs- DL, Christian Barmore, Alabama
The Chiefs just cut both starting tackles and most people would assume they would look to replace them through the draft. Wrong, they'll handle it in free agency and will beef up their defensive line with Barmore. 
#32 Tampa Bay Buccaneers- ED, Gregory Rousseau, Miami
Even though they resigned Shaq Barrett, they still need to get younger on the d-line Rousseau had an impressive 2019, his 15.5 sacks were the second in the country, only Chase Young had more sacks.