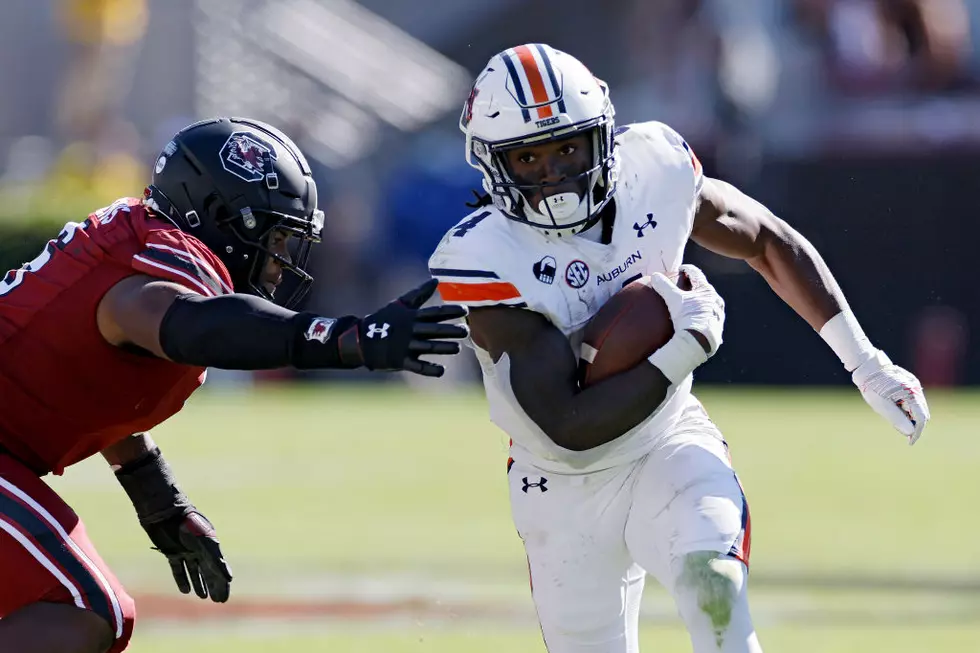 The Tigers Hit the Road to Play Ole Miss
Getty Images
The Auburn Tigers are looking for redemption after last weeks loss to the South Carolina Gamecocks. The Tigers will travel to Vaught Hemingway Stadium at Hollingsworth Field to play Ole Miss Rebels. The Rebels have not won any home game so far and the Tigers have not won any away games.
Auburn and Ole Miss have met on the field 43 times. The Tigers holds a 33-10 advantage against the Rebels.
Both Auburn and Ole Miss are in the same boat as both need a confidence boost as each team takes the field after disappointing losses.
The inconsistent offense from the Tigers was evident when they played the South Carolina Gamecocks. QB Bo Nix threw interceptions slowing the Tigers pace and giving the Gamecocks just what they needed to help take the lead.  This sent Auburn head coach Gus Malzahn back to make a new plan.
Auburn is used to having a strong running game, but is still trying to find its footing with new offensive coordinator Chad Morris. Shaun Shivers has missed the last three games bringing in a true freshman Tank Bigsby. Bigsby has been a shining light for the Tigers putting together back to back 100 yard games.  He could just be what the Tigers need since QB Bo Nix is struggling this season.
Bo Nix completed 57.6 % of his passes his freshman year. During this season so far Nix has decreased with a 54.9 % of pass completion.
Malzahn discussed Bo Nix progression from last season to 2020 season on the "Tiger Talk" radio show. "I'm a head coach that oversees all three areas... As far as Bo's concerned, You can see this is a different offense and there's some different things we're doing."
Ole Miss appeared to have a top offense but that was no comparison to the Arkansas Razorbacks defense. The Razorbacks forced seven turnovers including Rebels QB Matt Corral who throw multiple killer interceptions. The Rebels first year head coach Lane Kiffin was aggravated on the sidelines through out the game.
Kiffin will be transitioning three offensive players to defense for the game against the Tigers. The only player to be named so far is freshman player Marc Britt, who was a wide receiver and will be playing safety.
The Rebels defense is giving up 580 yards per game. Ole Miss is right behind Memphis for the second to worst defensive line. The Rebels defense are allowing 47 points per game. If the Tigers O-line can use Bigsby to break though the Rebels defense this could create a win for the Tigers. This also would create another great rushing day for Bigsby.
The Auburn Tigers will travel to play against the Ole Miss Rebels at noon.
Enter your number to get our free mobile app
The Hater's Guide to Ole Miss