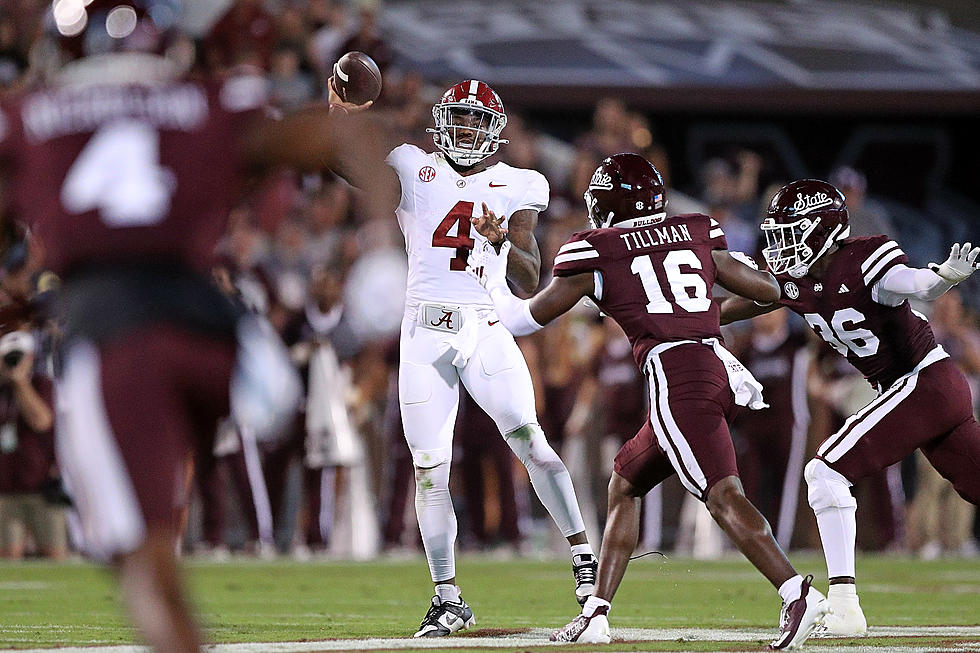 Tide Players Reflect on Big SEC Road Win
Getty Images
The Alabama defense stepped up in a big way in the Crimson Tide's 40-17 road win over Mississippi State Saturday. Meanwhile, the offense ran for 193 yards including 69 net from quarterback Jalen Milroe. Here's a look at what some Milroe and some Bama defenders had to say following the game in Starkville
Quarterback Jalen Milroe
On Jase McClellan's 63-yard performance:
"Jase is a dog, He balled today. And when we have a great running back like that, it takes a lot off of the passing game. So he does a great job for us. He did great today."
On the botched snap Alabama recovered
"Miscommunication on our end. I could have been louder for our center, so that was on me."
Trezmen Marshall, linebacker
On Chris Braswell's pick six
"Now he's going to say he's faster than me. He probably hit a high number on the GPS to get in the end zone. It was amazing."
Chris Braswell, linebacker
On his big pick six
"It was great. It was fun to be able to score and celebrate with my teammates on the sideline, everybody hyping me up. [...] I kind of [saw] the ball got tipped [so I] just put my hands out there, caught it. Honestly, I thought I was gonna get tackled, but I was like 'Nah, I'm not gonna get tackled.'"
"Honestly, I thought I was going to get tackled, so I covered the ball. But then I was like, 'Nah, man, you're not taking me down, I want this touchdown,' so I threw him off and ran to the end zone."
On the progress of the defense
"We're playing good. There are a lot of things we need to clean up. We're not where we want to be. We can get better. There's always room for improvement."
Safety Jaylen Key
On the attitude of the defense
"We don't like to give up points at all. That always hurts us when we give up points as a defense. "We're trying to bring that culture where guys should be scared to even play against us.
"We've got a goal coming into the game to get those turnovers. We need them every game. We need it every game. Those turnovers are huge — they change the momentum of the game."
Top Stories from the Tuscaloosa Thread (9/18 - 9/25)
11 of the Top Stories published by the Tuscaloosa Thread during the week of September 18th, 2023)
Gallery Credit: (Stephen Dethrage | Tuscaloosa Thread)