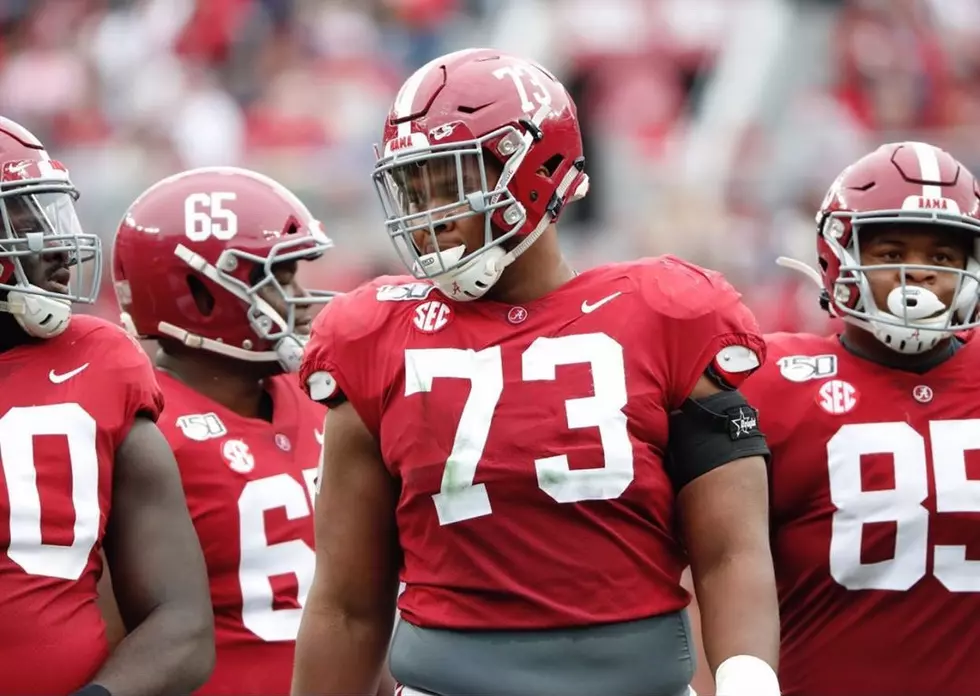 Top Alabama Football Questions, No. 9: Offensive Line Shakeup
Photo courtesy of @ENeal73 on Twitter
Enter your number to get our free mobile app
Alabama football fall camp began on Monday afternoon after several weeks of uncertainty about the viability of this college football season. Many questions about testing, player safety, a college football semi-bubble, etc. have yet to be answered, but this series will focus on the most pressing on-field questions for the Crimson Tide in 2020.
I narrowed down the top-10 questions I'd like to ask coach Nick Saban entering fall camp, and I'll reveal two per day, Monday through Friday. Make sure to check back to Tide1009.com throughout this week to read up all on 10.
9. "When Alex Leatherwood had to play guard for a year because your tackle spots were set, you called it a 'sacrifice.' Do you view Evan Neal's situation the same way?"
Neal came to Alabama last year with plenty of hype as a 6-foot-7, 5-star offensive tackle from football powerhouse IMG Academy. Both of Alabama's tackle spots were filled, though, by returning starters Alex Leatherwood and Jedrick Wills Jr. Leatherwood decided to return for his senior season, but Wills was drafted by the NFL's Cleveland Browns in April, opening the door for Neal to potentially kick out to right tackle.
Saban said before the Citrus Bowl last year that he believes Neal, who started all 13 games at left guard, has a "bright future." Leatherwood said he saw "significant improvements" over the course of Neal's freshman year. He would know better than anyone, having also come to Alabama as a 5-star offensive tackle from Florida before making a temporary move to guard in 2018.
In his first season back at his more natural tackle position, Leatherwood was named to the All-SEC First Team. A similar leap could be in store for Neal if he moves to right tackle in 2020. In that case, sophomore Darrian Dalcourt would be the most likely candidate to step in at center, and Landon Dickerson would move back to one of the guard spots.
Check back Tuesday morning for No. 8, a question about a potential position change for one of Alabama's experienced defenders.
Enter your number to get our free mobile app
Alabama 2020 Offensive Players