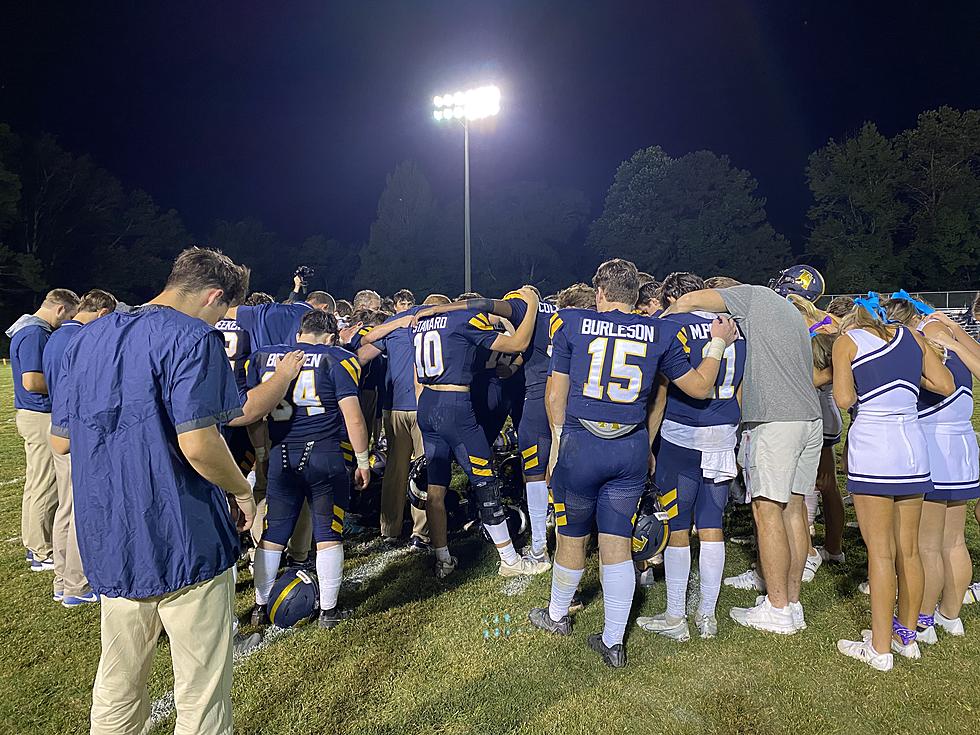 Tuscaloosa Academy Bounces Back Against University Charter
Kim Rankin
---
The Tuscaloosa Academy Knights (4-2, 2-1) defeated the University Charter Trail Blazers (2-3, 0-2) 42-20 on Thursday night.
"We were sloppy at times, we tried to play a lot of guys. We gave up some big plays in the passing game, we gotta correct, but I'm proud of the win, proud of the kids, bouncing back. Wasn't the prettiest win, but it was a short week and we'll be looking forward to this off week," said Tuscaloosa Academy head coach Josh Wright.
Tuscaloosa Academy got on the board first, scoring 21 fast points. The first score came on the team's first drive of the night. Quarterback Preston Lancaster threw a 32-yard bomb to Ellis Hamiter to put the Knights up 7-0.
The second score came on the next drive, as the Knights went 47 yards in five plays. The possession was capped off by a seven-yard touchdown pass from Lancaster to Nic Evans to put Tuscaloosa Academy up 14-0. 
James Stanard was the star of the third touchdown, recording three receptions for 37 yards, including the five-yard score to put the Knights up 21-0. 
University Charter put points on the board late in the second quarter with a 24-yard touchdown pass from quarterback Andayvean Bell to Andrez Bell to make it a 21-6 ballgame. 
Tuscaloosa Academy scored one more time before half on a touchdown set up by both sides of the ball. The Knights defense blocked a Trail Blazers punt, setting the offense up at the 13-yard line, then Lancaster threw a 13-yard touchdown pass to Kaleb Colgrove to make the score 28-6 halfway through. 
The Knights scored 14 unanswered in the second half. The first touchdown was on the first drive of the third quarter. Lancaster ran in the two-yard touchdown and the second was a six-yard touchdown from Lancaster to Colgrove to make the score 42-6.
University Charter responded with 14 unanswered of its own. The first touchdown was a pass to Jaron Jackson and the second was a pass to George McRae to make the final score 42-20.
"We're gonna enjoy the win tonight and get ready to go back to work on Monday" said Wright.
Next week, Tuscaloosa Academy has a BYE and University Charter travels to R.C. Hatch.
For more content on high school football from Kim Rankin, follow her on X/Twitter at @kmrankin1 and don't forget to visit Tide1009.com for daily content and access to our newsletter.
---
Tide 100.9's high school football coverage is brought to you by Freddy's Frozen Custard and Steakburgers.