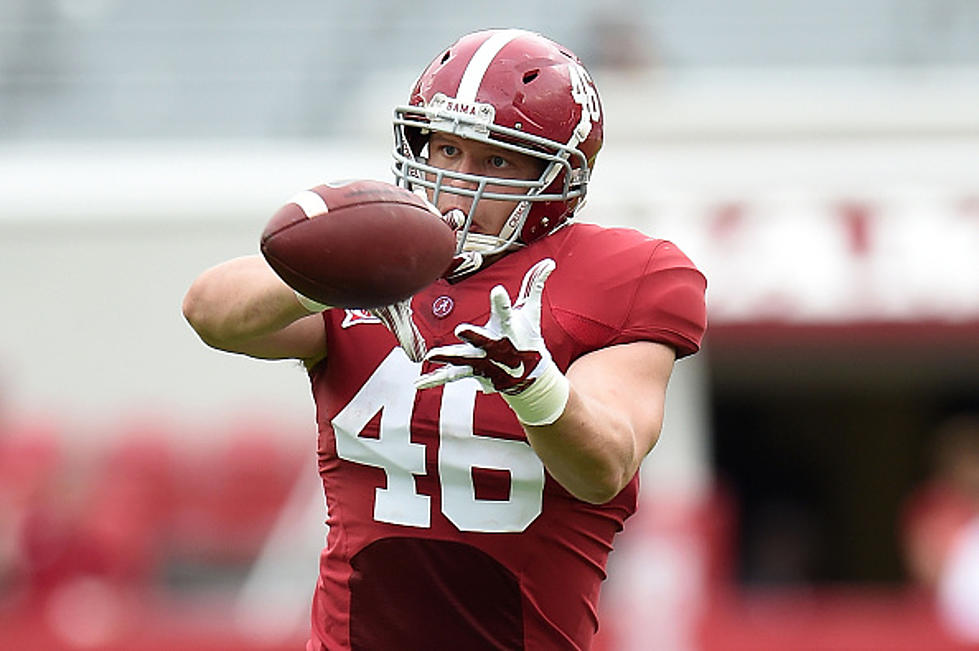 46 Days Away from Bama Kickoff: Michael Nysewander
(Photo by Stacy Revere/Getty Images)
Each day counting down to Alabama's Week 1 matchup with Utah State, I will highlight one former player whose jersey number coincides with the amount of days until the game. Kickoff is only 46 days away, so let's take a look at former Crimson Tide tight end Michael Nysewander. 
Michael Nysewander, or "Highway 46" as he was known by Bama fans, joined the Crimson Tide in 2011 as a walk-on from Hoover High School. After spending several seasons on the scout team, the hard-nosed tight end worked his way into the special teams rotation and eventually found himself as a key member of Alabama's National Championship team in 2015.
Now, Nysewander was not the typical tight end. Rather than overt athleticism or the ability to use his body as a means to get open, "Highway 46" was a blocker through and through. His sheer willingness to attack defenders in the open field made him one of the most effective lead blockers of the Saban era and potentially program history.
His most memorable season came with Alabama's 2015 national title run. Though the senior hauled in just a single reception the entire year, his impact was felt nearly every time he stepped on the field. While Derrick Henry was racing to the endzone, Nysewander could frequently be found punishing a would be tackler.
Across his five-year career with the Crimson Tide, the Hoover native was a member of three national championship teams, a feat that few in program history have ever achieved.
Now, Nysewander resides in Oxford, MS with his wife, Alexandra, and his son. The former Bama bulldozer accepted a role as a senior analyst on Lane Kiffin's s Ole Miss staff in 2020 and has remained in that role since.
Stay locked in to Tide1009.com for the countdown to Alabama football. Check out the rest of the list here.
Iconic Photos From Alabama's 18 National Championships
Claimed or recognized, no FBS football program has more national championships than the Tide. Look back on all 18 titles in Alabama history with these photos.
Highest Rated Recruits of the Saban Era By Year
Check out Alabama's highest-rated recruit from each Crimson Tide recruiting class during the Nick Saban era.