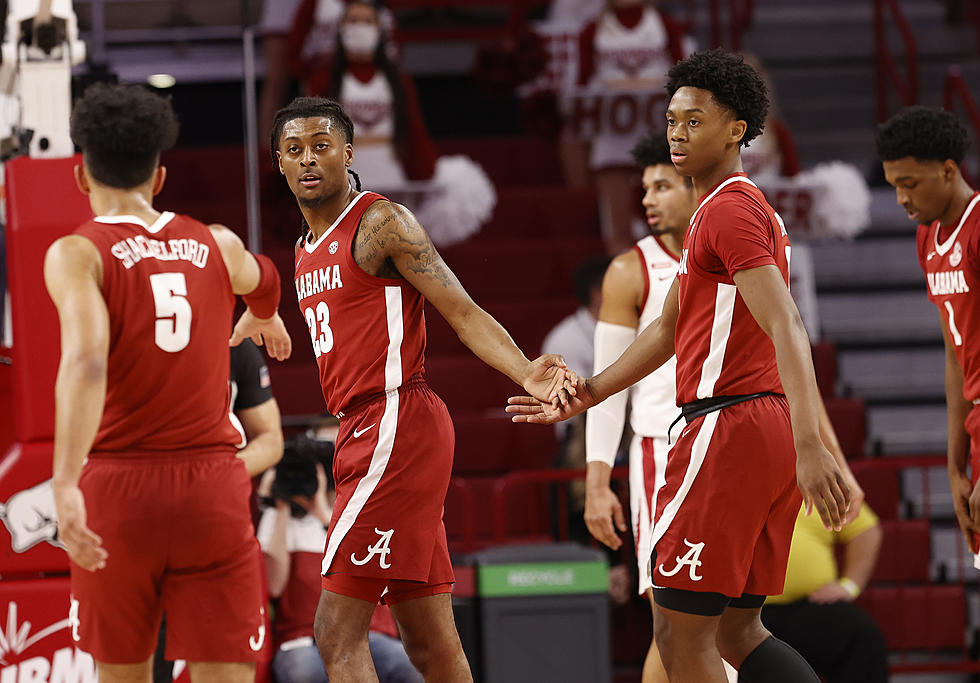 5 Possible Bama March Madness Opponents That Could Cause Problems
Crimson Tide Photos / UA Athletics
Following their 80-79 SEC Championship victory over the LSU Tigers (18-9), the No. 6 Alabama Crimson Tide (24-6) were awarded a two-seed in the upcoming NCAA Tournament. Sitting near the top of the "East" bracket, the only team seeded higher than 'Bama is one-seeded Michigan (20-4).
This two-seed means a Saturday matchup with 15-seeded Iona (12-5) led by coach Rick Pitino. Not only will the Crimson Tide need to look out for the Gaels, but here are five other opponents in the East bracket that Tide fans need to keep on their radar.
#1 Michigan Wolverines (20-4):
In the dogfight that was the Big Ten this year, Michigan managed to walk away with the top seed for this quadrant of the bracket. The Wolverines have remained in the top four in the AP poll since the end of January.
By scoring around 76 points per game, the Wolverines are sure to score first and score often, especially in their first-round matchup against either Mount Saint Mary or Texas Southern. If Michigan and Alabama win their games leading up to this potential matchup, the two teams would meet in the "Elite 8."
Best Wins: 2-seed Ohio State 92-87 (Feb. 21), 2-seed Iowa 79-57 (Feb. 25), and 9-seed Wisconsin 77-54 (Jan. 12)
Worst Losses: Minnesota 75-57 (Jan. 16), 1-seed Illinois 76-53 (March 2), and 2-seed Ohio State 68-67 in the Big Ten Tournament
#3 Texas Longhorns (19-7):
For the first time in team history, the Texas Longhorns won the Big 12 Tournament. This comes after an impressive 11-6 conference record. Not only did Texas look dominant in their conference tournament, but they seem to be hitting their stride at just the right time.
The Longhorns will have a first-round matchup with the 14-seeded Abilene-Christian Wildcats. If Texas can carry this momentum and end up meeting 'Bama, it will be in the "Sweet 16."
Best Wins: 4-seed Oklahoma St. 91-86 in the Big 12 championship, 3-seed Kansas two times (79-77, 68-59 in OT), and 6-seed Texas Tech in the conference tournament 67-66
Worst Losses: Texas Tech twice during the regular season (84-59, 75-72), 1-seed Baylor 83-69 (Feb. 2), 4-seed Oklahoma St. 75-69 in 2 OT (Feb. 6)
#4 Florida State Seminoles (16-6):
It's the understatement of the century to say that the ACC had a down year. From Duke canceling its non-conference schedule to the Blue Devils and Virginia withdrawing from the ACC tournament, the normally-dominant conference had a rough year.
Florida State, which won the 2019-20 ACC regular-season title and was expected to make a deep run in the 2020 NCAA Tournament, seemed to stay in stride. The Seminoles only lost five conference games. Along with the fact that that the team is averaging almost 79 points a game, Florida State is rolling. Still, FSU fell short in the ACC title game.
The Seminoles will take on UNC-Greensboro in the first round, but if they take care of business, they could potentially meet Alabama in the "Elite 8."
Best Wins: 4-seed Virginia 81-60 (Feb. 15), 8-seed North Carolina 69-66 in the ACC tournament, Boston College 93-64 (March 3)
Worst Losses: 9-seed Georgia Tech twice (76-65, 80-75), Notre Dame 83-73 (March 6), 8-seed North Carolina 78-70 (Feb. 27)
#7 UConn Huskies (15-7):
UConn is traditionally one of the best teams in basketball. Now, in the recently reincarnated Big East, all seems right in the world of college basketball. The Huskies' defense has only been averaging 64.6 points per game, which has translated to only six conference losses this season.
Unfortunately, a below-average Seton Hall team, which is only averaging around 71 points a game, hung 80 points on the team in early February. UConn's struggles have slightly carried into March, which might be a problem in their first-round matchup with Maryland, but if the Huskies can win, they could be a force to be reckoned with.
If UConn manages a victory against the Terrapins, then they could be facing Alabama in the Round of 32.
Best Wins: 5-seed Georgetown twice (98-82, 70-57), 6-seed Southern Cal 61-58 (Dec. 3)
Worst Losses: Creighton 59-56 in the Big East tournament (also lost twice to them in the regular season), 5-seed Villanova 68-60 (Feb. 20), Seton Hall 80-73 (Feb. 6)
#8 LSU Tigers (18-9):
LSU is the lone team with a previous matchup against Alabama- three in fact. Earlier in the season, Alabama rewrote the SEC history book when the Crimson Tide made a record-breaking 22 three-pointers. In the rematch, 'Bama beat the Bayou Bengals by 18 points.
UA saw a whole new LSU team in the SEC Tournament title game. Led by Trendon Watford, LSU only lost by one point. The Tigers are in full-throttle mode right now, and while their path to Alabama is full of challenges, a fourth meeting between the two could be deadly for Alabama.
If LSU can take down 9-seed St. Bonaventure, then they could possibly see Alabama in the "Elite 8."
Best Wins: 3-seed Arkansas 78-71 in the SEC Tournament, 5-seed Tennessee 78-65 (Feb. 13), 9-seed Missouri 86-80 (March 6)
Worst Losses: 2-seed Alabama three times (105-75, 78-60, and 80-79 in the SEC tournament championship game), 3-seed Arkansas 83-75 (Feb. 27), Georgia 91-78 (Feb. 23)
March Madness is as well-known for upsets as it is for the actual game of basketball. With that being said, any opponent has the opportunity to win any game. If a team is good enough to make the "Big Dance," then they are good enough to cut down the nets.
Alabama's "Round of 64" matchup against 15-seed Iona will tip-off at 3 p.m. Central Time on Saturday. Nationally, the game will be televised on TBS. Locally, the game can be heard on TIDE 100.9's sister station 95.3 The Bear.
All stats provided were courtesy of Sports-Reference.com
Alabama Basketball All-Time Scoring Leaders