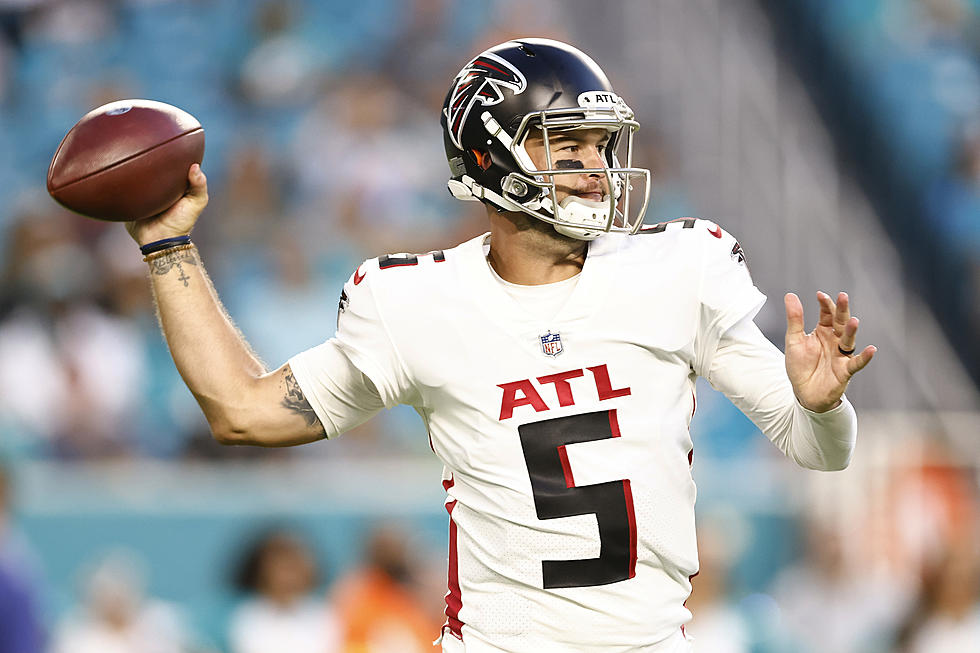 AJ McCarron Ready to Return to the NFL
Getty Images
Former Alabama quarterback AJ McCarron is healthy and ready to make a return to the NFL. McCarron appeared on the NFL Network's "Good Morning Football" Monday and spoke about his rehab process and getting to spend an extended period of time with his family.
The 31-year-old signal-caller is coming off a torn ACL he suffered in week two of the Atlanta Falcons preseason game against the Miami Dolphins in 2021.
"I feel great," McCarron said. "I was blessed to have a great team around me with Dr. (Lyle) Cane, our doctor at Alabama, and Kevin Wilk, who I did a bunch of my rehab with. I got cleared at four-and-a-half months out from surgery, so I've just been working on the strength and getting everything back normal, and I really feel great right now…
"You never know what your future holds, what it is in this game, so I'm just ready, waiting for a call. But right now, I'm enjoying my time off and being able to be a dad and being around my three boys for the first time in a while."
McCarron is currently a free agent, but the veteran quarterback remains confident in his ability to contribute to an NFL team
"I think I can always play," McCarron said. "I've never questioned that. But I think if you ask anybody that's been in the QB room with me, I've also been a fantastic teammate. Listen, whether it's teaching a young guy or being there for an older guy, I love being a part of the room. I feel like I'm a good personality, great teammate and good energy to have around."
McCarron was selected in the fifth round of the 2014 NFL Draft by the Cincinnati Bengals. Over the last seven years, McCarron spent time with the Buffalo Bills, Las Vegas Raiders and Houston Texans before signing with the Falcons last season.
In his career, McCarron has appeared in 17 games with four starts. He's completed 109-of-174 passes (62.6%) for 1,173 yards, six touchdowns and three interceptions.
The Top 10 Hottest Alabama Players from the 2021 Season
Alabama has seen its fair share of smoke shows and the 2021 team is no exception. We look back on the season and rank our top 10 hottest players; some we will see next year, and others we will mourn not seeing in Crimson again.
Crimson Tide Will Anderson Jr. 90s Playlist
Here are some songs that we think Alabama Crimson Tide player Will Anderson Jr. should add to his playlist, or better yet, he should just listen live on the free WTUG app.
Alabama's Ninth Spring Practice
The Alabama Crimson Tide hosted a special visitor at Monday's spring practice. The Tide was back in action after a scrimmage on Saturday trying to clean up the mistakes and continue to grow.