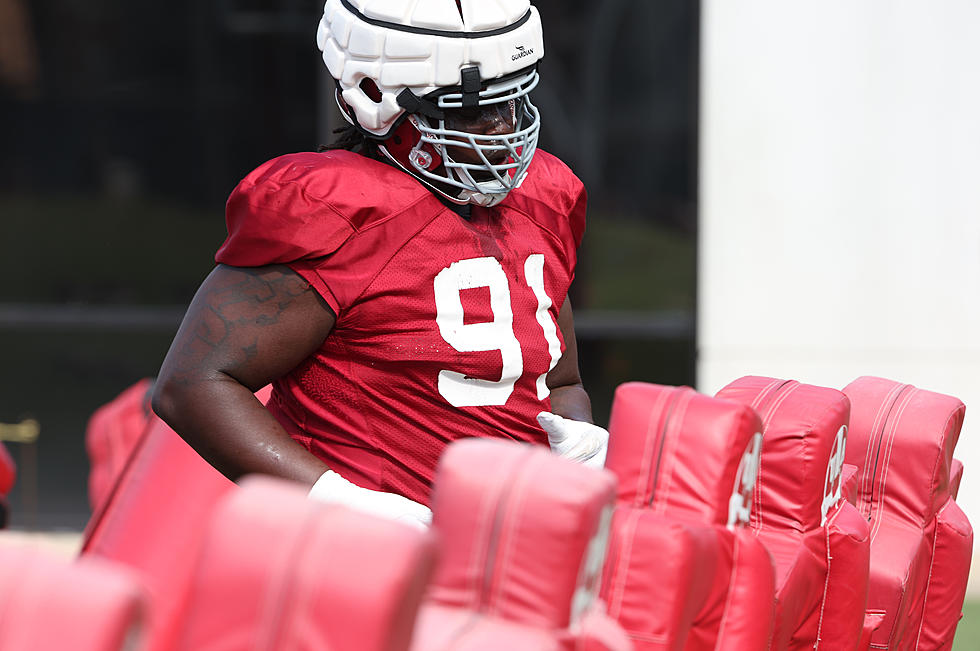 Alabama Freshman Shares Incredible Transformation Ahead of A-Day
Crimson Tide Photos / UA Athletics
Alabama's Jaheim Oatis is not a small individual.
Hailing from Columbia, MS, Oatis stands at an incredible 6-foot-6, 370 lbs. Typically one would expect someone with such outlandish size to be a fourth or fifth year player, possibly even a professional, but Oatis is just a freshman, joining the Tide in the 2022 recruiting cycle as a four-star prospect.
While his downright mind-boggling size should excite any college football fan, the most impressive part of all of it, is that Oatis is, in fact, down weight from his senior year of high school. According to a series of tweets shared by the freshman defensive tackle since joining the Tide, Oatis has been consistently shedding pounds since his arrival on campus.
In February, Oatis shared he was down 15 lbs.
Then, nearly two months after sharing his original update, Oatis again updated fans, posting to twitter about his nearly 50 lb. weight loss in just over three months.
Since his arrival in January as an early enrollee, Oatis has clearly taken his opportunity in Crimson very seriously, working his way into comfortable playing shape; however, in his days at Columbia High School in Mississippi, Oatis evidently had no problem playing comfortably above 400 lbs., doing so with ease.
On this play, Oatis (#90) is not only able to use his outrageous size by taking on two blockers, but also utilizes some extremely quick feet and shifts over to make the tackle and cause a fumble.
Here, Oatis (#90) completely blows past his would be blocker straight into the backfield and ends the play before it can even begin.
The swiftness of Oatis' footwork is something that cannot be understated. Now, with a near 50 lb. weight loss, expect the former four-star to be quicker than ever, and possibly even compete for playing time this season.
Even if Oatis does not find his way into the rotation as a freshman, there will likely be a role on special teams waiting for the Tide's modern version of Mount Cody.
Whether or not Oatis sees meaningful playing time is yet to be seen, but someone of his outstanding skillset and obvious level of dedication will be hard to keep sidelined.
Alabama Crimson Tide All-Time Sacks Leaderboard
Crimson Tide's NFL Draft First-Rounders During Saban's Tenure
Take a look back on the Crimson Tide's first round selections under head coach Nick Saban.
Highest Rated Recruits of the Saban Era By Year
Check out Alabama's highest-rated recruit from each Crimson Tide recruiting class during the Nick Saban era.