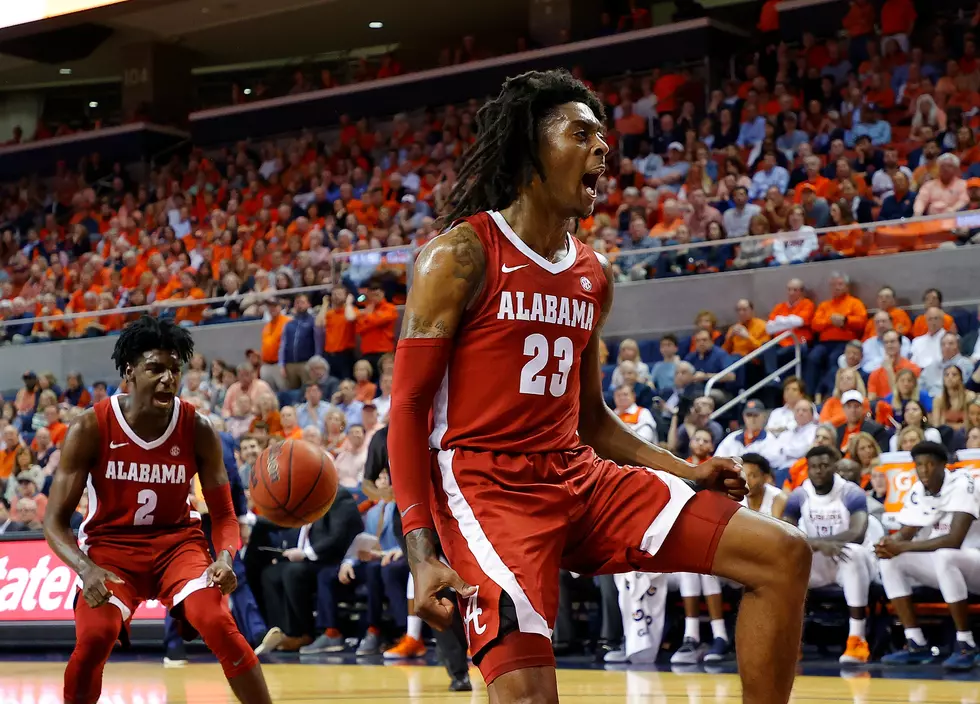 Alabama Men's Basketball May Surprise in March Madness
Getty Images
This content was produced in partnership with Gambler.Media.
Are you enjoying this period of success in Tuscaloosa?
The fall NCAA season was not too bad for Alabama, was it?
A Heisman Trophy, a national championship, about 100 draft picks in the upcoming NFL Draft (maybe I am exaggerating, but it might be true), and more success to come thanks to the best leader in college sports.
But, how about this winter season?
The Alabama Men's Basketball team looks like an SEC juggernaut right now and is currently projected as a second seed by ESPN's Bracketology in the upcoming 2021 NCAA Men's Basketball Tournament.
March might be just as mad as January for Crimson Tide fans.
Right now, Alabama is not getting a lot of love from bettors and sportsbooks, though: even though they might be a top-eight team, the Crimson Tide are just the 13th choice to win the NCAA title, with betting odds of +2500 suggested by several sportsbooks, including BetMGM Sports, which by the way, offers a bonus on the very first deposit.
Some of that could be the newness of this team near the top of the rankings, and maybe a little bit to do with how poor some of the SEC has been this season. But there are also two other things that are casting a massive shadow over this whole tournament.
One is a ferocious sleuth of Bears (did you know a pack of bears is called a sleuth or a sloth? Me neither), and the other is a pack of Bulldogs. And no, it is not that pack from Georgia.
Gonzaga and Baylor are both unbeaten heading into the last week of February and have seen their odds fall now down into the 200s. Baylor is the slight favorite with some books with odds of +250, with Gonzaga around +275. You can get the Bears with odds of up to +300 in some places as well.
In fact, with some books, you can get a prop bet giving you both these dominant teams at odds of -118, and the rest of the field, which is going to be 66 teams, at the same price.
You could probably throw in a mob of Wolverines as well to that lead pack (odds from +450 to +600). With Michigan rested and coming into this week with only one loss, the field bet could be a solid play. Imagine getting Alabama, Michigan, Ohio State, Villanova and all the rest of the teams against just two.
Although if you had Alabama and Clemson versus the field in football before the season began, at those same odds of -118 for each, I think the choice was pretty clear.
Can any team beat these two giants? We shall soon see.
If you or anyone you know has a gambling problem, call 1-800-GAMBLER.
Alabama Basketball All-Time Scoring Leaders