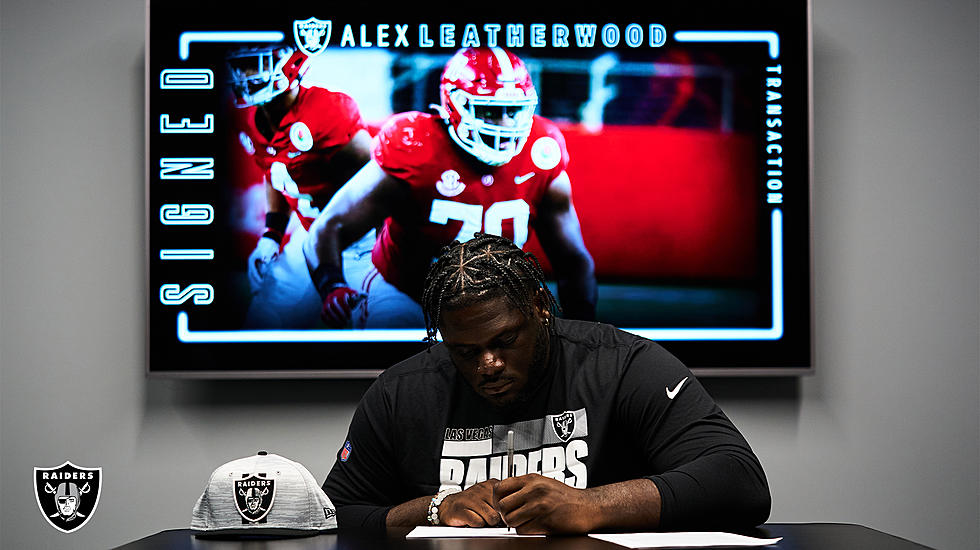 Alex Leatherwood Inks Rookie Deal with Raiders
Photo courtesy of @Raiders on Twitter
Former Alabama tackle and 17th overall pick in the 2021 NFL Draft, Alex Leatherwood,  came to terms with his new team on his rookie deal, the Raiders announced on Twitter May 24. Leatherwood, a three-year starter at Alabama, becomes the fourth Crimson Tide player to sign their rookie deal, joining Jaylen Waddle, Patrick Surtain and Najee Harris.
Leatherwood, a 5-star recruit out of Booker T. Washington High School in Pensacola, FL, came to Alabama in 2017 and quickly found his way onto the field, making an appearance in seven games his freshman year. Although most of his playing time was seen in blowout wins, Leatherwood was forced to replace an injured Jonah Williams in the national championship against Georgia and went on to allow just one sack and commit zero penalties; just a precursor of an impressive career that was yet to come.
In his sophomore season, Leatherwood was moved to right guard and secured a starting job, helping guide the Crimson Tide to the sixth ranked offense in the nation and earning a spot on the All-SEC Second Team.
2019 saw Leatherwood move back to left tackle where he started 13 games and earned All-SEC First Team honors, guiding Alabama to a third ranked offensive line unit that allowed just .92 sacks per game.
Over the course of his four seasons in crimson, Leatherwood made 48 starts, 41 of which being consecutive and was one of the top offensive lineman in the nation in his three years as a starter.
Despite some analysts projecting Leatherwood as a later round pick, the Raiders knew what they wanted and went and got it in Leatherwood. A feisty blocker with elite athleticism that succeeded at the highest level in college. Needless to say, the rookie tackle is ready to prove himself in Vegas.
Highest Rated Recruits of the Saban Era