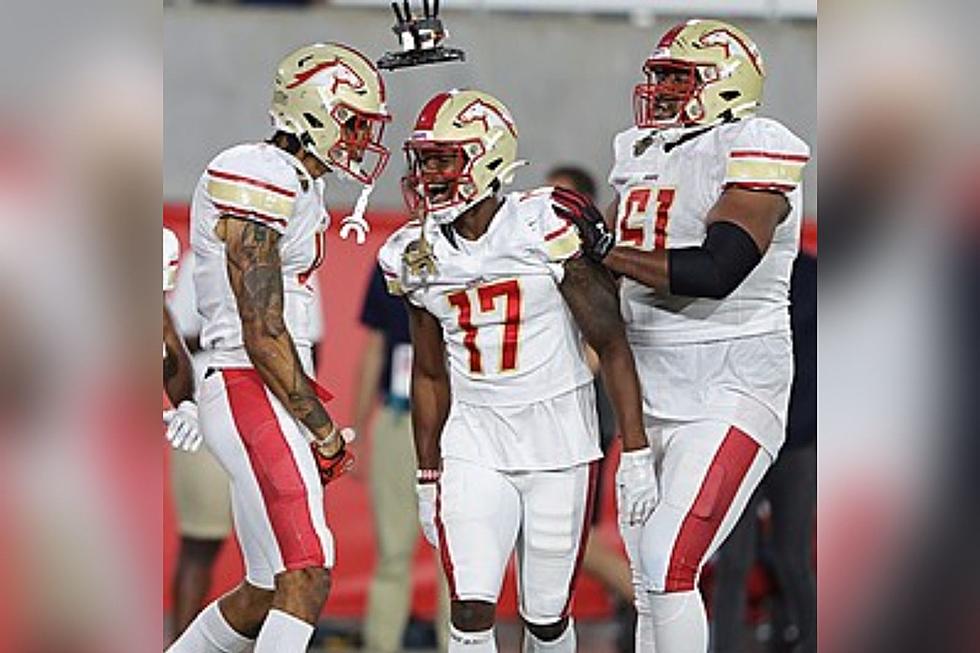 Birmingham Stallions Improve to 2-0 with Win Over Gamblers
Courtesy of @USFLStallions via Twitter
The Birmingham Stallions defeated the Houston Gamblers 33-28 on Saturday night to remain undefeated on the young USFL season.
In the week 2 matchup between the South division rivals, Birmingham overcame a five point halftime deficit by going on a 20-3 run between the third and early part of the fourth quarters to win the game. Stallions quarterback J'Mar Smith went 20 of 30 on passing, throwing for 229 yards, two touchdowns and one interception. However, a lot of the Stallions' victory should be credited to their defense, who intercepted Gamblers quarterback Clayton Thorson three times in the game.
The game started out with Stallions cornerback Brian Allen intercepting Thorson for a 48-yard pick-six on just the third play of the game. The Gamblers came back with a field goal and then a pick-six of their own, though they missed the extra point attempt, to take a 9-7 lead, before the Stallions kicked a field goal to end the scoring in the first quarter 10-9.
The second quarter ended up being the Stallions worst in the game, as the team's only score came from a field goal. On the other hand, the Gamblers took advantage by scoring a touchdown, though failing the two-point conversion, and a field goal to take the 18-13 halftime lead.
The Stallions responded to their poor second quarter by scoring a pair of touchdowns in the third, one passing and one rushing, the latter of which was by running back CJ Marable, who ended up rushing for 76 yards and one touchdown on the day. The Gamblers only ended up getting a field goal in the quarter.
Birmingham added on another touchdown near the beginning of the fourth quarter to take a 33-21 lead, before Houston immediately scored a touchdown of their own only 42 seconds later to bring the score to within five. The Gamblers had a chance on the final drive of the game, where Thorson pulled some heroics on fourth and 10 by running 12 yards to the Houston 38 yard line, before driving 34 more yards all the way to the Birmingham 28 yard line. Houston's momentum was stopped though as with 1:13 left, Thorson threw his third interception of the day to Lorenzo Burns, where Birmingham took over and ended the game with a few quarterback kneels.
The Birmingham Stallions will play the New Orleans Breakers, the only other undefeated team in the USFL, at Protective Stadium in Birmingham, Alabama next weekend.
Alabama Crimson Tide All-Time Receiving Leaderboard
Meet The 2021 Alabama Offense
The 2021 Alabama offense only brings back three returning starters from the 2020 squad. Get ready for the new season by getting familiar with this year's Crimson Tide offense.