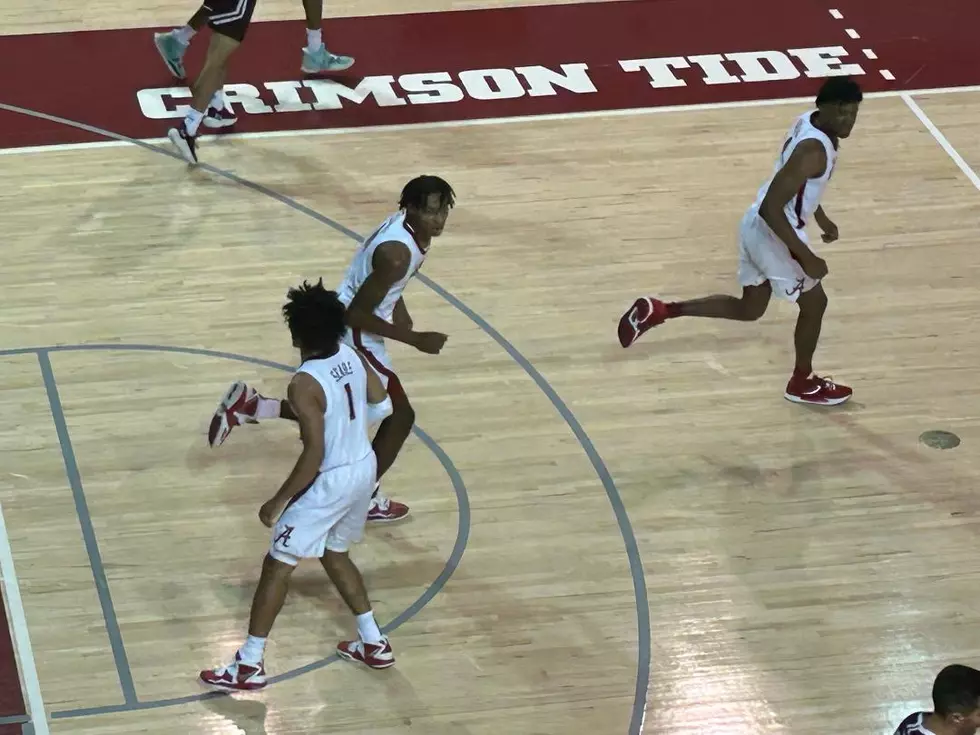 Breaking Down Alabama's Exhibition Win Over Southern Illinois
Photo Courtesy of Cary Clark
Nate Oats and his 2022-23 Alabama basketball team hosted Southern Illinois Saturday at Foster Auditorium on campus and beat the Salukis 73-64. Bama won the charity exhibition but did not finish strong as the Tide led 62-42 at the 7:55 mark.
Here's a look at how the nine available scholarship players [minus Charles Bediako, Darius Miles, and Jahvon Quinerly] looked in their Tuscaloosa debuts. Bear in mind that Bediako and Miles are in walking boots for now while Quinerly continues knee rehab. All three are expected back early in the season.
Oats started Mark Sears and Dom Welch at guard, Brandon Miller and Noah Clowney at forward, and Noah Gurley at center. The two starting Noahs did not help at all behind the arc, where Alabama shot 3-for-22.
"I thought we were passing up some three's that we should have taken," said Oats.
The only Tide player who made more than one shot behind the arc was true freshman guard Rylan Griffen, who was 2-of-5 and scored eight points. He seems confident in his shot but it's tough to say how much time he will get when Quinerly returned to the rotation.
Clowney won the team's "Hard Hat Award" by grabbing eight boards to go with six points. He can play inside and out and is advanced for a true freshman.
The star of this team is Miller, and he led Bama with 14 points. He missed all five of his three's but as Oats said, "He's a good shooter." His day behind the arc will come but has shown that in practice and he's a one-and-done guy. Miller drives to the hoop at will.
Adding 13 points and going one-of-three from behind the arc was Sears. He is the starting point guard until further notice and a good floor general. He would tell you, as Oats did post-game, that with four "he had too many turnovers." He had two assists. It's easy to tell that the name on the front of the jersey means something to the Florence native and Ohio transfer.
Clowney looks much improved and scored six points with eight boards. He seems more confident in the post and crashing the boards.
Nick Pringle is very athletic and scored ten with eight rebounds. He also seems to enjoy eating offensive glass and Oats needs that.
Jaden Bradley looks comfortable running the team. He doesn't force shots and most of his passes were crisp. He had two turnovers in 19 minutes. Oats said when Quinerly returns he will at times play two of his three-point guards at the same time.
Grad transfer Welch had three points, four boards, and three assists. He seems aware at all times on defense drew two charges and feeds the post well from the wing. Like Miller, his treys will begin to fall sooner than later.
Nimari Burnett wasn't hitting behind the arc like most of his teammates (0-3) but grabbed four boards and looked good in man defense. He will play a big role.
In sum, letting SIU close with a 12-0 run wasn't great but the team showed chemistry and togetherness that wasn't seen during much of last season. Southern Illinois is a top 100 KenPom team and not considered a slouch.
The three-point shooting and seven assists vs. 17 turnovers are things that must get better, and Oats and his team know this.
The Crimson Tides opens the regular season Monday, November 7, 2022, at home against Longview. Tip-off is set for 7:30 CT.
Highest Rated Recruits in Bama Hoops History
Take a look at the highest rated recruits to play for Alabama since 2000 according to 247Sports.