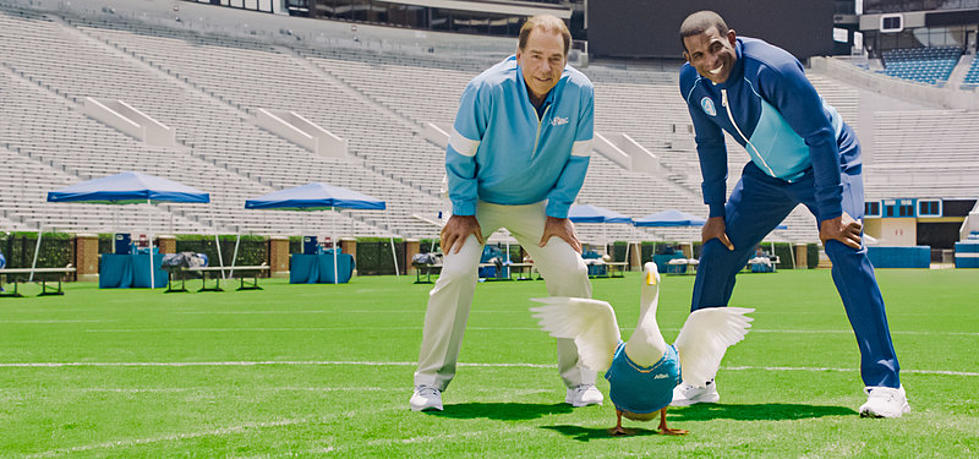 Coach Sanders and Saban Team up to Spotlight HBCUs
Photo Courtesy of @Aflac on Twitter
There's no question about the growth in popularity of Historic Black Colleges and Universities(HBCUs) in college sports particularly college football. Now with players turned coaches such as Eddie George, former Houston Oilers and Tennessee Titans running back, now at the helm. HBCU football should get a lot of eyes on it.
In a unlikely partnership, coaches Nick Saban and Deion Sanders partnered with AFLAC for a campaign to spotlight HBCUs. As a result of this partnership, AFLAC will donate $75,000 to Jackson State University where Sanders serves as head coach and the insurance company also will serve as the supporting sponsor for his football camp.
https://www.youtube.com/watch?v=d28bLFuHUnM&t=13s
This partnership may come as a surprise to some people as the former NFL and MLB star turned college football coach Deion Sanders was quoted famously saying "Treat me like Nick" after reporter, Nick Suss called him by his first name in an interview last month in which Sanders walked out of as he stated "You don't call Nick Saban, 'Nick'. Don't call me Deion. If you call Nick(Saban), Nick, you'll get cussed out on the spot don't that to me". Suss tried to make the case that in fact he call Coach Saban 'Nick' just before he stormed off.
On the Nick Saban side of things, Saban has a love and respect for minority coaches. He is even heavily involved in his former assistant coach and current Maryland head football Mike Locksley's minority coaching coalition which actively campaigns for more minority coaches across college sports.
Starting Alabama Quarterbacks Under Nick Saban
Here is every quarterback that has started for the Crimson Tide under Nick Saban.
The Crimson Tide in the Tokyo Olympics
The University of Alabama has produced many Olympic athletes over the years, and this Olympic cycle is no different. Here are the 20-plus current or former members of the Crimson Tide in the Tokyo Olympics.
Alabama's Top 10 Athletes - Fall 2021
The Alabama Crimson Tide boasts an extremely successful athletic department with amazing athletes playing multiple sports. The top 10 athletes include national champions, an Olympic athlete, SEC champions and various record holders.
Alabama Non Con Opponents