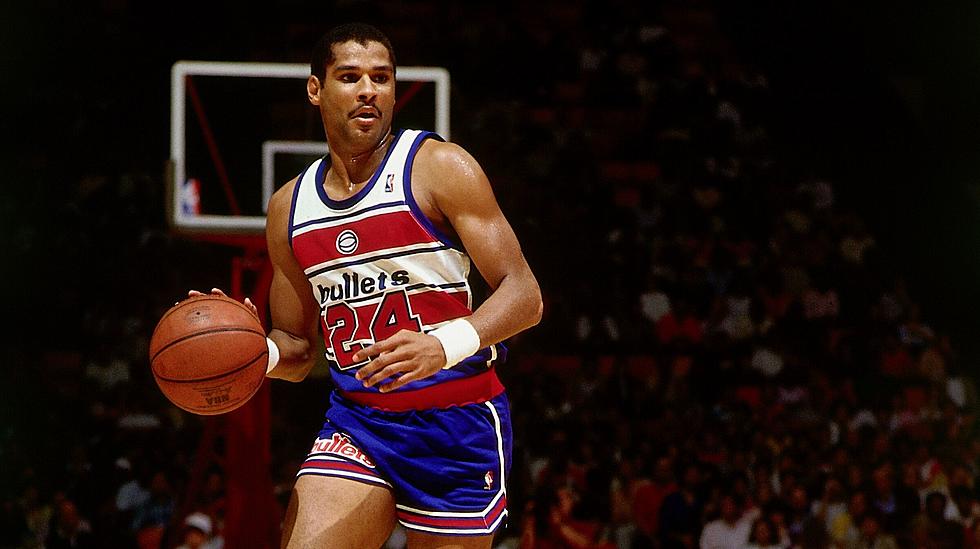 Happy 59th Birthday To Mobile, AL Native: Jeff Malone!
Photo Courtesy of Sports.Yahoo.com
Born on June 28th, 1961 in Mobile, Alabama, Jeff Malone is arguably one of the deadliest scorers in Washington Bullets history. Malone, the nephew of Vivian Malone Jones, turns 59 today. Malone Jones was the first African American graduate of the University of Alabama in 1965. 
Malone played his high school basketball in Macon, Georgia at Southwest High School under Coach Don "Duck" Richardson. His high school team only lost three games combined in Malone's junior and senior years. In his final season as a high schooler in 1979, he won the Georgia 4A State Basketball Championship and was named as an All-American.
The 6-foot-4 shooting guard made his next stop in Starkville, Mississippi where Malone would play for Coach Jim Hatfield and be named to the Freshman All-SEC team. He led the entire SEC in scoring in 1983 and still holds the Mississippi State University record for career points with 2,142. In his senior season, Malone was named SEC Player of the Year.
Jeff Malone was the 10th overall pick taken in the 1983 NBA Draft and he was selected to the Washington Bullets. He made the 1984 All-NBA Rookie team and was named a two time All-Star while in Washington. Malone is third on D.C.'s all-time scoring list only behind Bradley Beal and Elvin Hayes.
After the 1989 season, Malone was with the Utah Jazz where he would end up in the top 10 scoring list for their franchise as well. His next destination would be with the Philadelphia 76ers in 1994 before seeing time with the Miami Heat in 1996.
Also in 1996, Jeff Malone, along with 21 other NBA stars, would play himself in the Warner Brothers' movie Space Jam starring Michael Jordan.
In 13 NBA seasons, Malone scored over 17,000 points and grabbed 2,364 rebounds. His three-point percentage would need improvement in the modern NBA; however, posting a career .484  field-goal percentage and an 81% free-throw average, scoring was not an issue for the big guard. He averaged 19.0 points per game in a career that spanned 905 NBA games and was inducted into Georgia Sports Hall of Fame's 2009 class. In 2012, Malone was also inducted into the Mississippi Sports Hall of Fame for his career as a Mississippi State Bulldog.
For more coverage from J.R. and all the talented interns at Tide 100.9, be sure to tune in for Tide Tonight MWF 6:00-7:00pm. To stay up to date on all-things Alabama, listen to Tide100.9's fantastic content on the free Tide1009app!
Enter your number to get our free mobile app
Alabama Basketball Players Who've Played in the NBA