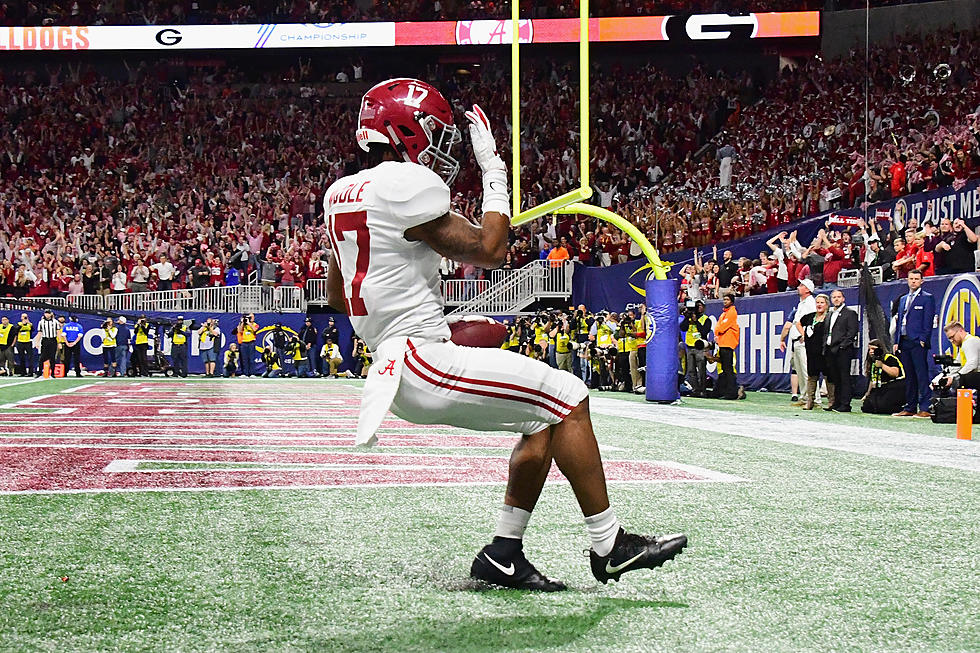 Harrison 2-Round Mock Draft 3.0 – Jaylen Waddle Steals the Show
Getty Images
The NFL Draft is right around the corner. It's the best time of year.
Okay, maybe that's an exaggeration, but nonetheless, speculating where the the top Crimson Tide prospects could land in the NFL Draft never gets old. I've reached a point where I can't mock a first round without including seven first-round selections from Alabama.
With just 10 days to go, now is as good as any to deliver on a two-round mock draft.
---
1. Jacksonville Jaguars - Trevor Lawrence, QB, Clemson
Jacksonville clinched the first overall pick on December 28, 2020. That's how long Trevor Lawrence has been a Jaguar.
2. New York Jets - Zach Wilson, QB, BYU
Zach Wilson has the arm and the athletic ability to make an immediate impact for Gang Green. I like the moves the Jets have made this offseason and the BYU product is the cherry on top for New York.
3. San Francisco 49ers (From MIA via HOU) - Justin Fields, QB, Ohio State
More and more draft analysts are agreeing that the Mac Jones to San Francisco talk was just a smokescreen. I've been there for a while. Justin Fields has a relationship with 49ers head coach Kyle Shanahan already and has had his pro days influenced by the offensive guru, while Jones did not. Trey Lance is still an option, but Fields is finally getting the praise he deserves and should hear his name third.
4. Chicago Bears (From ATL) - Trey Lance, QB, North Dakota State
TRADE: Chicago trades its 20th, 83rd, 2022 1st and 2nd round picks for Atlanta's fourth overall pick.
All I'm saying is the Chicago Bears are desperate. General manager Ryan Pace and head coach Matt Nagy are dangling by a thread and have to make a push to find the answer at quarterback to accommodate the spectacular defense that drug the team to the 2020 playoffs. The duo was willing to sell the farm to trade for Russell Wilson and now the same effort has to be made in two weeks.
Trey Lance has all the potential in the world and given time can be a superstar in the NFL. Chicago can be patient with Nick Foles and Andy Dalton on the roster, but don't be shocked to see a similar maneuver as Miami's switch to Tua Tagovailoa in this scenario.
5. Cincinnati Bengals - Ja'Marr Chase, WR, LSU
I certainly don't think Ja'Marr Chase is the best non-quarterback in this class, nor do I believe this is the most pressing need for Cincinnati. However, the talk on this one feels much more genuine, and Joe Burrow could definitely use an elite weapon.
6. Miami Dolphins (From PHI) - Kyle Pitts, TE, Florida
An absolute no-brainer for Miami which just needs playmakers in this draft that can grow with Tua Tagovailoa. Pitts is the best non-quarterback in the class.
7. Detroit Lions - Jaylen Waddle, WR, Alabama
On last Friday's Off The Edge I said my first real bold prediction for the 2021 NFL Draft is Jaylen Waddle will be drafted before DeVonta Smith. I won't fully commit to Waddle being the first Alabama prospect period, but I certainly won't be surprised if it happens.
This was the pick in my 2.0 mock and it won't change unless a better option falls. The Lions have to give new QB Jared Goff a legitimate shot and a dynamic weapon like Waddle gives him the best opportunity to win the city over.
8. Carolina Panthers - Penei Sewell, OT, Oregon
Sam Darnold or Teddy Bridgewater, it doesn't really matter, whoever quarterbacks this team needs protection to get the ball downfield to Robby Anderson and DJ Moore. Penei Sewell gets some flack for his stocky build as a tackle, but he's got the technique and the tenacity to be an elite tackle in the league.
9. Denver Broncos - Micah Parsons, LB, Penn State
I'm married to this pick. Micah Parsons revamps a once-proud Denver defense inside while giving versatility as a pass-rusher for unique attacks.
10. New England Patriots (From DAL) - DeVonta Smith, WR, Alabama
TRADE: New England trades its 15th pick and Stephon Gilmore for Dallas's 10th overall pick
The Patriots have been rumored for some time to being open to the idea of trading Stephon Gilmore. Dallas needs a cornerback and has no qualms in making sure the New York Giants don't select DeVonta Smith.
I've long argued the New England Patriots will trade up in this class for a dynamic weapon. The offseason moves tell me the franchise wants to get back to winning right now. A reliable receiver like Smith gives the offense a much needed boost.
11. New York Giants - Kwity Paye, EDGE, Michigan
New York Giants fans will no doubt be irked by the Patriots sniping Smith away, but with the signing of Kenny Golladay, the real need on this team is edge rusher. Kwity Paye has the least amount of red flags on his game among the EDGE class and is an easy guy to root for.
12. Philadelphia Eagles (From MIA via SF) - Patrick Surtain II, CB, Alabama
Philadelphia lucks out as the best cornerback is still on the board. Patrick Surtain pairs incredibly well with Darius Slay, giving the Eagles one of the best cornerback tandems in the league instantly.
13. Los Angeles Chargers - Rashawn Slater, OT, Northwestern
Rashawn Slater is a dude. If Justin Herbert's rookie season was any indication, the Chargers offense can do special things. Give Herbert a protector like Slater and watch the fireworks.
14. Minnesota Vikings - Azeez Ojulari, EDGE, Georgia
While nothing has been finalized, Danielle Hunter has one foot out the door and Yannick Ngakoue didn't stick around. Finding the right EDGE in this class will be tricky, but Azeez Ojulari is a tenacious defender that can flourish in Mike Zimmer's defense.
15. Dallas Cowboys (From NE) - Christian Barmore, DT, Alabama
After effectively spending the 10th pick on 2019 NFL Defensive Player of the Year Stephon Gilmore, the Cowboys can look to the defensive front with Christian Barmore. Dallas has never shied away from boom-bust guys.
16. Arizona Cardinals - Jaycee Horn, CB, South Carolina
I've seen Arizona mocked a wide receiver here quite often, and I really don't get it. The Cardinals need cornerback help immediately and Jaycee Horn routinely falls this far. Just pull the trigger.
17. Las Vegas Raiders - Alijah Vera-Tucker, OL, USC
You don't purge the best pieces of the offensive line and not spend a first rounder on an offensive lineman. Well, at least you shouldn't.
18. Miami Dolphins - Kadarius Toney, WR, Florida
Kadarius Toney has inexplicably fallen out of many first-round mocks, and I can't disagree more. Tua Tagovailoa would welcome having a player that can take a pop-pass, screen, or slant to the house and that's exactly what Toney does. That makes two dynamic playmakers for Tua in this draft.
19. Washington Football Team - Mac Jones, QB, Alabama
Washington doesn't need to trade up for their guy here. Mac Jones won't have the pressure of playing right away and also fits the mold of what Ron Rivera appears to like in his quarterbacks.
20. Atlanta Falcons (From CHI) - Trevon Moehrig, S, TCU
I get the feeling the Atlanta Flacons feel like with a few key pieces on defense the offense can rebound and return to a competitive state. I don't know how realistic that approach is, but if that's the direction the team takes, Trevon Moehrig is a great starting point.
21. Indianapolis Colts - Rondale Moore, WR, Purdue
Rondale Moore doesn't leave my first round mocks. The Colts are good offensively, but another gear with Moore in the slot is exciting.
22. Tennessee Titans - Greg Newsome II, CB, Northwestern
The Titans have made defensive moves, but the loss of Adoree' Jackson will hurt if not addressed immediately. Greg Newsome is a name on the rise and Tennessee seems to be a perfect fit.
23. New York Jets (From SEA) - Asante Samuel Jr., CB, Florida State
The Jets have nothing at cornerback. Asante Samuel Jr. isn't on his dad's level yet, but after suffering through senior's tenure in New England for a decade, the Jets aren't about to watch junior take his talents elsewhere.
24. Pittsburgh Steelers - Najee Harris, RB, Alabama
I'm usually on the side of finding value at running back later in the draft, but the Steelers have failed in that avenue since losing LeVeon Bell. Najee Harris is the best back in the class, fits the offense and is the kind of physical freak Pittsburgh has targeted with its first picks in the past few drafts.
25. Jacksonville Jaguars (From LAR) - Jeremiah Owusu-Koramoah, LB, Notre Dame
Jacksonville has a general need for defensive playmakers. While the core of Myles Jack and Joe Schobert is the strength of the defense, Jeremiah Owusu-Koramoah can be a nickel backer that will evolve into a premiere player in Duval.
26. Cleveland Browns - Jamin Davis, LB, Kentucky
There's not much the Browns need after a fantastic free agency period. Not much except for athletic linebackers. Jamin Davis turned heads with his pro day and the film backed it up.
27. Cincinnati Bengals (From BAL) - Christian Darrisaw, OT, Virginia Tech
TRADE: Cincinnati trades its 2nd and 2022 2nd for Baltimore's 27th overall pick.
Trading is very uncommon for the Bengals, but Christian Darrisaw just continued to fall. Selecting Darrisaw at 27 allows Cincinnati to plug him in at right tackle unopposed, giving Joe Burrow the protections he needs.
28. New Orleans Saints - Caleb Farley, CB, Virginia Tech
New Orleans has a need at cornerback, but it isn't so pressing that the team can't take advantage of Caleb Farley's plummeted stock after his back surgeries. Should he heal up, this is a steal for the Saints.
29. Green Bay Packers - Landon Dickerson, C, Alabama
Losing Corey Linsley hurts, but replacing him with Landon Dickerson is a match made in football heaven. Dickerson fits the personality of the franchise beautifully.
30. Buffalo Bills - Zaven Collins, EDGE, Tulsa
It's really not fair that Zaven Collins is likely going to be just sitting here for an elite team to snatch up late in the first round. Collins gives the Bills a versatile option where he can rush the edge or come off the ball in run fits. He's a do-it-all player with elite athleticism. It's not so much about finding a spot for him as it is just putting him on the field.
31. Kansas City Chiefs - Jaelan Phillips, EDGE, Miami
I've seen Jaelen Phillips argued as the best pass rusher in the class if not for injuries. If that's the case, Kansas City is the kind of team that can wager the risk of injuries against production.
32. Tampa Bay Buccaneers - Gregory Rousseau, EDGE, Miami
Back-to-back Miami edge rushers is how we close the first round. I wouldn't be overly shocked to see Tampa trade this pick, but if the Bucs stay put it makes sense to grab EDGE depth. Jason Pierre-Paul isn't getting any younger.
---
ROUND 2
---
33. Jacksonville Jaguars - Pat Freiermuth, TE, Penn State
Tyler Eifert is the only reliable tight end on the roster and between his age and injury history, it's no surprise the Jaguars need an outlet for Trevor Lawrence moving forward. Freiermuth is the best tight end in the class not named Kyle Pitts.
34. New York Jets - Teven Jenkins, OT, Oklahoma State
Not everyone can be a first-rounder. Teven Jenkins is one of my favorite players in the draft, but he just falls out of day one. Still, he lands with a team that will plug him in at right tackle to form a nasty bookend on the offensive line.
35. Atlanta Falcons - Jayson Oweh, EDGE, Penn State
Jason Oweh didn't record a single sack in the Big 10's reduced season. Still, he's a physical freak with loads of potential. Atlanta is in dire need of his services once fully developed.
36. Miami Dolphins (From HOU) - Travis Etienne, RB, Clemson
Perfect value for Miami to find its franchise running back.
Miami didn't make the most of its picks last year to surround Tagovailoa with weapons and rectifies that mistake at the top of the 2021 draft. This pick makes three playmakers for Tua in this draft.
37. Philadelphia Eagles - Rashod Bateman, WR, Minnesota
Jalen Hurts needs weapons too. Rashod Bateman has the goods to be a number one option down the road.
38. Baltimore Ravens (From CIN) - Joe Tryon, EDGE, Washington
Trading back didn't allow the Ravens to find a value at receiver to fit its offense. Joe Tryon can help with the pass rush though after losing Matt Judon.
39. Carolina Panthers - Kelvin Joseph, CB, Kentucky
It may be early to find depth, but Kelvin Joseph is the best defender on the board. This was too much to pass up for Carolina.
40. Denver Broncos - Samuel Cosmi, OT, Texas
Samuel Cosmi can compete with Ju'Wuan James for the right tackle spot and eventually give the Broncos solid tackle bookends for Drew Lock.
41. Detroit Lions - Levi Onwuzurike, DT, Washington
The Lions luck up and find rare defensive tackle value in this draft class. Levi Onwuzurike is the first step in rebuilding the middle of the Detroit defense.
42. New York Giants - Terrace Marshall Jr., WR, LSU
After missing on DeVonta Smith in round one, Terrace Marshall is a similar build receiver that can be a welcome consolation prize for the Giants.
43. San Francisco 49ers - Eric Stokes, CB, Georgia
Before trading up to the third overall pick, the 49ers were mocked almost exclusively cornerbacks. The second round is where San Fran will find its corner. Eric Stokes is a guy who has crept into some first round mocks and provides excellent value for general manager John Lynch and his front office.
44. Dallas Cowboys - Richie Grant, S, UCF
The Cowboys filled the holes at corner and defensive tackle and now hope Richie Grant can do the same at safety.
45. Jacksonville Jaguars (From MIN) - Jay Tufele, DT, USC
It may not be the best value pick, but the Jaguars do need help on the defensive interior, though not at an immediate pace. Jay Tufele can contribute while growing into a true starter for the Jags.
46. New England Patriots - Ifeatu Melifonwu, CB, Syracuse
Melifonwu is another favorite of mine. He's a big rangy corner that can post up at safety if needed or if cornerback doesn't work out. In that way, the Patriots can't lose seeing as the team has needs at both positions.
47. Los Angeles Chargers - Tyson Campbell, CB, Georgia
Chris Harris is just one guy. The Chargers need cornerback help pretty desperately. Tyson Campbell is the best one available in a deep class.
48. Las Vegas Raiders - Pete Werner, LB, Ohio State
The Raiders need linebackers that can help in the passing game. While JOK in the first round would fit that need better, Pete Werner is the next best thing, even if a significant gap exists. At the very least, the Raiders have veteran linebackers that can cover up for Werner early on.
49. Arizona Cardinals - Elijah Moore, WR, Ole Miss
I said I didn't get taking a receiver in the first, but I wasn't necessarily disregarding the long-term need at wide receiver. Elijah Moore fits head coach Kliff Kingsbury's offense like a glove and will make an immediate impact.
50. Miami Dolphins - Ronnie Perkins, EDGE, Oklahoma
After stacking up on playmakers for the offense, now it's time to find a pass rusher to fill the void left by Kyle Van Noy. Ronnie Perkins is a high ceiling guy with room to develop.
51. Washington Football Team - Alex Leatherwood, OT, Alabama
Alex Leatherwood isn't just a good fit for Washington because of the Alabama ties, but because he can fill in wherever Washington feels he fits best on an offensive line that is getting older and needs some help.
52. Chicago Bears - Dillon Radunz, OT, North Dakota State
Pure coincidence that Radunz reunites with Trey Lance in Chicago, but nonetheless, the Bears need an answer on the offensive line.
53. Tennessee Titans - Wyatt Davis, OG, Ohio State
Last year the Titans spent its first-round pick on Isaiah Wilson and he's already out of the league. This year Tennessee gets Wyatt Davis, the best pure guard in the draft, in the second round.
54. Indianapolis Colts - Liam Eichenberg, OT, Notre Dame
Indianapolis needs someone to compete for the right tackle spot. Liam Eichenberg is a big tackle with solid technique making him a great fit long-term for the Colts.
55. Pittsburgh Steelers - Creed Humphrey, C, Oklahoma
How lucky would the Steelers be to sit at 55 and see Creed Humphrey still available? The Steelers like Humphrey and he's an acceptable replacement for Maurkice Pouncey at center.
56. Seattle Seahawks - Joseph Ossai, EDGE, Texas
Seattle can't miss on another pass rusher. There's little option outside of taking offensive linemen, but after the run on offensive linemen up to this pick, the Seahawks have no choice.
57. Los Angeles Rams - Nick Bolton, LB, Missouri
The Rams have a really solid team but a true mike linebacker is the kind of player LA needs to round out the defense. There aren't many better than Nick Bolton.
58. Baltimore Ravens - Amari Rodgers, WR, Clemson
While Baltimore really needs a traditional number one option, the Ravens have missed out on the best candidates in this class. All things considered though, any help is better than none and Amari Rodgers is an underrated weapon that can give Lamar Jackson a spark downfield.
59. Cleveland Browns - Tutu Atwell, WR, Louisville
This is a gluttonous pick. Cleveland has compiled an impressive roster from top to bottom. Tutu Atwell needs time to fill out and become a premiere receiver, which he certainly is capable of being. With the depth and experience in Cleveland's receiving corp, he'll have every opportunity to be successful.
60. New Orleans Saints - Dyami Brown, WR, North Carolina
Similar to the Browns before, the Saints need at wide receiver isn't pressing but grooming Dyami Brown for future use is a perfectly reasonable option.
61. Buffalo Bills - Javonte Williams, RB, North Carolina
What a perfect fit for Buffalo. Javonte Williams is a nasty runner and could be the exact boost head coach Sean McDermott wants from his offense's rushing attack.
62. Green Bay Packers - Amon-Ra St. Brown, WR, USC
The Packers are long overdue in drafting receivers for Aaron Rodgers. Amon-Ra St. Brown's brother, Equanimeous, also plays for Green Bay.
63. Kansas City Chiefs - Jalen Mayfield, OT, Michigan
The Chiefs need at tackle isn't as pressing as many believe thanks to last year's draft and free agency. However, insurance is a valuable thing to grab in the draft.
64. Tampa Bay Buccaneers - Davis Mills, QB, Stanford
I usually avoid finding Tom Brady's heir-apparent because he's probably going to play until he's 60, but Davis Mills is a smart quarterback with a cannon arm that would eventually fit Bruce Arians's vertical scheme if ever given the chance.
Harrison's Fantasy Draft: All Alabama 2021 Mock Draft
What if the 2021 Draft only consisted of the 69 current Alabama alumni in the NFL and the 12 prospects on their way to the next level? Let's take a look with a fantasy mock draft!