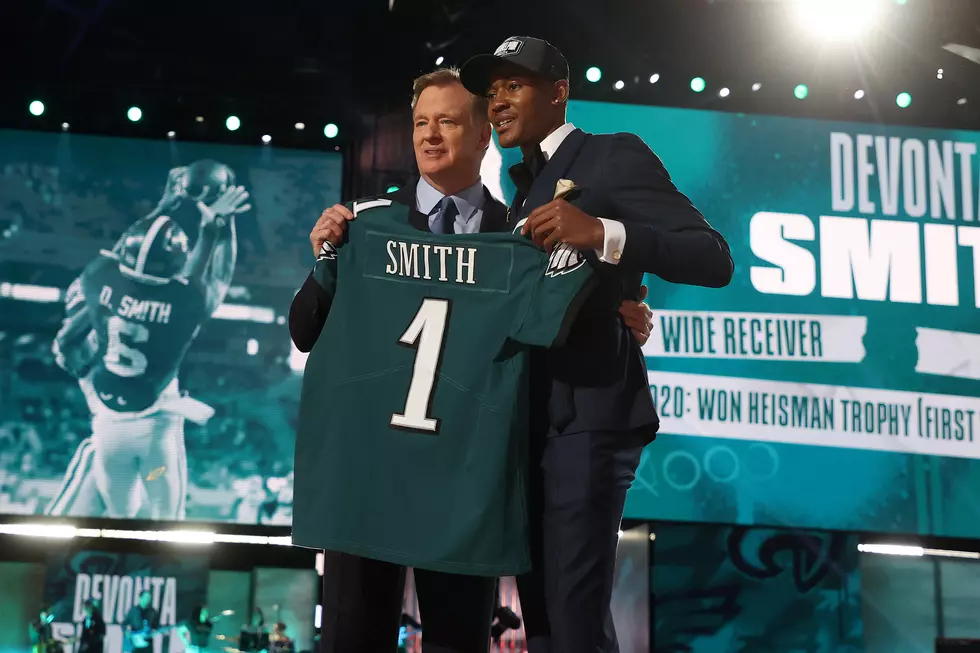 How Devonta Smith Was Almost A New York Giant
Getty Images
As many former Alabama coaching staffers made the move to the NFL, landing various coaching jobs with the New York Giants, former Alabama wide receiver Devonta Smith was told the fit was a "no-brainer" during the 2021 NFL Draft.
"I knew it was going to be New York," said Smith to the New York Post's Ryan Dunleavy. "If Philly didn't trade up, I was going to be in New York... people on the coaching staff were on the coaching staff at Alabama when I was there or getting recruited, so that's how I knew it."
Smith was a hot commodity in the 2021 NFL Draft, being one of the top receivers in the class overall. At Alabama, he was an unstoppable force that had opponents questioning their abilities in coverage. His final season with the Tide was full of many accomplishments as he compiled 117 receptions, 24 touchdowns, and 1862 yards from scrimmage during the 2020 season.
The Giants were prepared to add Smith even with the signing of Kenny Golladay not too long before. Joe Judge, the head coach of the Giants at that time, spent some time on Nick Saban's staff, even though he didn't necessarily work with Smith as that was before his time there. Burton Burns, Rob Sale, and Jeremy Pruitt all had worked for Alabama previously, and then moved on to the Giants.
He was aware of the many coaching connections and was starting to prepare for a career in New York, but not before Philadelphia wound up trading ahead of the Giants in the draft, selecting Smith at No. 10 overall.
Smith put together a very successful rookie season in the NFL as he had 64 catches for 916 yards and scored five touchdowns in 17 games. He took a step forward in his second season with the Eagles, catching 95 passes for 1,196 yards and seven touchdowns.
Now, in his third season in the NFL, Smith played a major role in the reason why the Eagles will be making their fourth Super Bowl appearance in franchise history this weekend, as the Jalen Hurts-Devonta Smith connection was just too much for the rest of the NFC to handle this year.
Alabama vs Florida - Feb 8, 2023
The Alabama Crimson Tide hosted the Florida Gators Feb 8, 2023 and came out on top 97-69.
Northridge vs TCHS
Central vs Paul Bryant