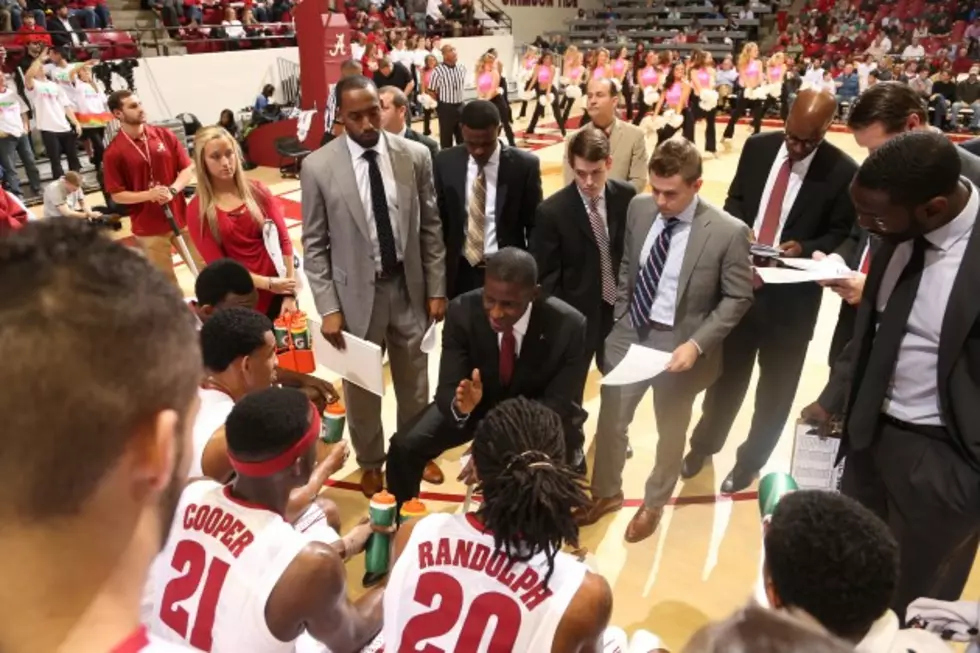 Injury-Riddled Alabama May Be Forced To Shake Up Lineup Against Vanderbilt
(Kent Gidley/University of Alabama Athletics)
Alabama at Vanderbilt
When: 3 p.m.
Where: Memorial Gym in Nashville, Tenn.
Records: Alabama 17-11, 7-8 SEC; Vanderbilt 16-12, 6-9 SEC
TV: Fox Sports South
Radio: 95.3 The Bear
In the second half of Tuesday night's 59-51 win over South Carolina, four Alabama starters played the full 20 minutes. For the foreseeable future this season, that could become the norm.
When Alabama tips off at Vanderbilt on Saturday afternoon, it will likely be doing so without up to three of its top players.
Forwards Shannon Hale (foot) and Michael Kessens (knee) are questionable, though "in all likelihood" Hale will not be available, Alabama coach Anthony Grant said during Thursday's press conference. Kessens is listed as day-to-day and will be a game-time decision.
"The foot injury actually originally happened, I think, sometime in late October, early November," Grant said. "We were able to manage that. Now that he ruptured the plantar fascia, his progress hasn't been, in terms of being able to be available, as speedy as he would've liked. We thought maybe it could happen for him. But the decision was made to go ahead and take care of the knee issue and let the foot heal. We all felt that was the best thing moving forward."
Without Tarrant, and potentially Hale and Kessens, Alabama's available depth will take a severe hit against the Commodores. After it was announced Hale would sit out the second half against South Carolina due to injury on Tuesday, the Crimson Tide was down to six players who receive regular minutes in the rotation.
But at times, that number dropped to as low as five when sophomore forward Jimmie Taylor got into foul trouble, leaving 5-foot-10 freshman point guard Justin Coleman as the only practical option left for Grant on the bench.
"With Shannon out and maybe possibly having a limited rotation, it will be really important this game to try to keep him out of foul trouble. Some things are out of our control," Grant said. "Like we had the other day with South Carolina, different guys had to be in position to play different roles, so we'll prepare as best we can to make sure everybody understands the different situations they could be in."
An Alabama team missing the majority of its regular front court players would cause more than just depth issues against Vanderbilt, though. In the teams' last meeting, a 76-68 Commodores win at Coleman Coliseum in Tuscaloosa two weeks ago, center Damian Jones bullied the Crimson Tide in the paint with a game-high 20 points on 7-of-11 shooting and seven rebounds.
"Vanderbilt runs great action to try to take advantage of personnel and matchups like that," Grant said.
Grant didn't specify how the lineup will change if Hale, a regular starter, is unable to play, but it's probable that Norris would fill the void as his replacement.
Since it last played Vanderbilt on Feb. 14, Alabama has gone 2-1, winning away at Auburn and most recently against the Gamecocks.
Watch the video of Thursday's press conference below: