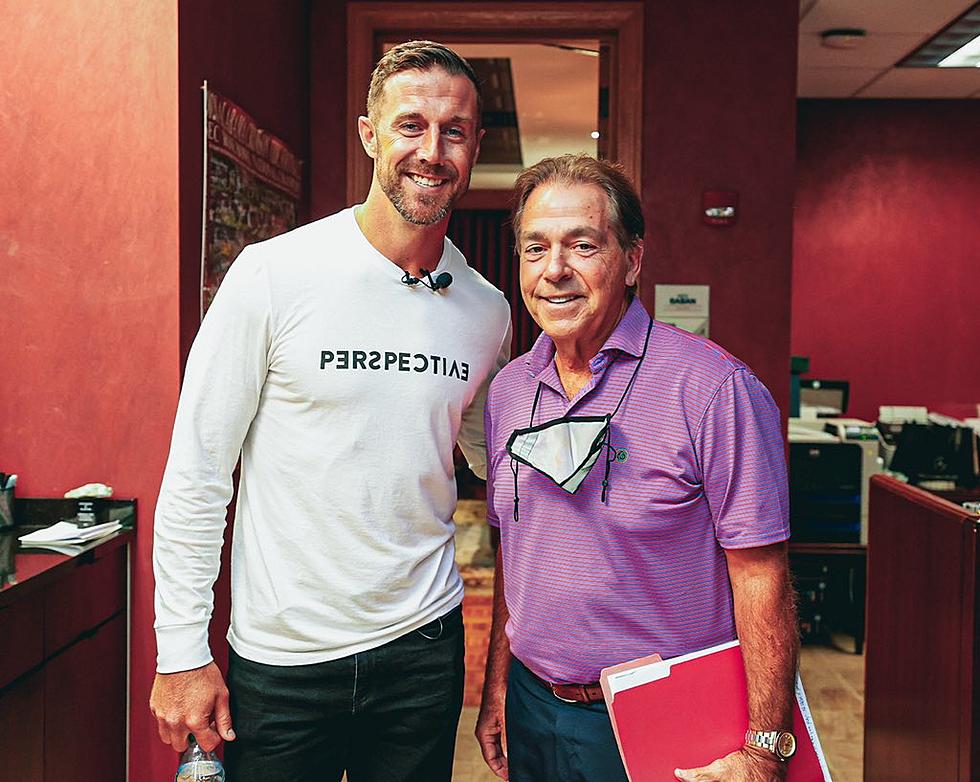 INSPIRING: Former NFL QB Alex Smith Speaks to Alabama Football
Photo Courtesy of @AlabamaFTBL on Twitter
The No. 1 Alabama Crimson Tide and coach Nick Saban seem to always start their seasons off with slates of powerful, inspirational speakers, and this year is no different. Already, the team has been joined by Medal of Honor marine Kyle Carpenter, sportscaster Ernie Johnson and MLB all-star Alex Rodriguez. Recently, 'Bama featured NFL quarterback Alex Smith, who shared his story on overcoming a life-threatening injury.
Smith, who has played for 16 seasons in the NFL with three different teams, suffered a serious leg injury during the 2018 season during his time with Washington. After being sacked, he was diagnosed with a spiral and compound fracture on his right tibia and fibula, an injury close to quarterback Joe Theismann's career-ending injury.
During his recovery, Smith developed a flesh-eating disease that almost caused him to amputate his leg. Regardless, Smith overcame the illness and injury and returned to the playing field in 2020, after missing the entire 2019 season. This resulted in the quarterback being named AP Comeback Player of the Year, months before he retired.
In his message to the Crimson Tide, Smith preached perseverance.
"I'm proud that I made it back onto the field, but I'm really more proud of what got me there," Smith said. "Not the physical journey, but the mental one. You know, I learned that so much of the anxiety that holds us back in life, it's self-inflicted. We make it worse on ourselves."
With Smith's injury being as bad as it was, he was given a very small chance to make a comeback in the NFL.
"What got me through that experience and ultimately back out onto the field were a lot of the lessons I learned the hard way in my career," Smith said. "Lessons about dealing with expectations, the pressure to perform, but dealing with anxiety and self-doubt, the stuff that every athlete deals with whether they admit it or not."
Smith later elaborated on the mindset that he adopted when he attempted to return to the NFL.
"I'm going to take that [challenge] on. I'm not living like that anymore. I'm not dragging the last play with me, I'm not doing any of that other stuff. For me, it was about accepting that I was in a bad place. I was, I had all this anxiety. I was trying to be perfect, trying to please everybody and then, you know, flipping it," Smith said. "This is what makes it hard, all that stuff… And again, how does it affect you, what do you choose to do with it? Locking it in on what you need to do and living."
Smith will start his sportscasting career this football season when he joins ESPN's SportsCenter and Monday Night Countdown as an analyst.
Alabama's season will begin on Saturday, Sept. 4 when the Tide travels to Atlanta to take the No. 14 Miami Hurricanes.
Power Through 2020 with These 8 Nick Saban Quotes
Photos from Alabama's Fall Practice on Monday, Aug. 16
The Alabama Crimson Tide took to the practice field on Monday to prepare for their season opener against No. 14 Miami in Atlanta.
Here's Why Every SEC Team is Inferior to Alabama
The 2021 Alabama Football Schedule in Photos