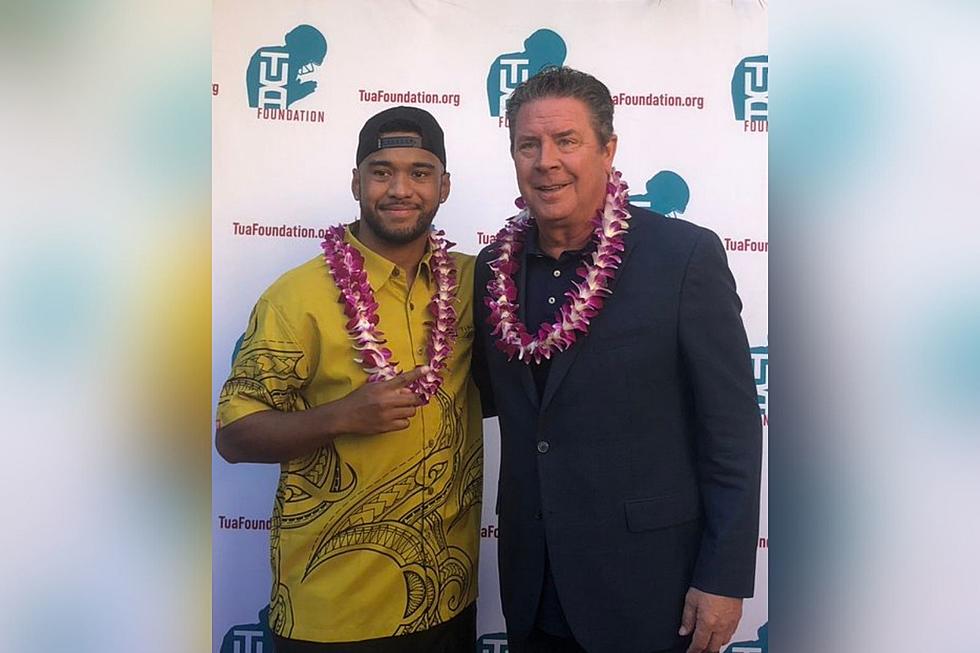 LOOK: Tua Tagovailoa's Star-Studded Charity Luau
Photo courtesy of @Safid_Deen on Twitter
Former Crimson Tide quarterback and current signal caller for the Miami Dolphins Tua Tagovailoa hosted the first "Luau with Tua" in South Florida this past weekend, an event organized by the Tua Foundation aimed at raising money for local charities.
The "Luau with Tua" began in 2021 in Tuscaloosa, and will make its return to the Druid City on April 13, 2022. This was the first South Florida event for the foundation, taking place at the Hard Rock Hotel in Miami.
The event consisted of plenty of Hawaiian food and festivities as well as an auction that raised over $25,000 for Big Brothers and Big Sisters of both Miami and Broward County.
In attendance were some of Tagovailoa's current teammates as well as several of his coaches, including new Dolphins head coach Mike McDaniel, who even got in on the festivities himself.
Tagovailoa commented on the importance of seeing all of his coaches there in support of such a personal cause, saying, "To be able to have our [offensive coordinator], quarterbacks coach and head coach here in support of this, to me, I've never witnessed that."
While McDaniel's participation was the highlight of the night, Tagovailoa's former Alabama teammate, Jaylen Waddle, may have stolen the show with his impressive performance on the drums.
Waddle and McDaniel certainly fought for the most memorable moment of the night, but for Tagovailoa, his most important moment was caught much earlier in the evening, and on camera. During a brief interview ahead of the event kicking off, Tagovailoa stopped right in the middle of answering a question in order to greet none other than the legendary Dan Marino.
The Tua Foundation was founded in February of 2021 as a non-profit organization aimed at supporting youth initiatives, health and wellness and many other charitable endeavors in South Florida, Alabama and Hawaii.  According to Tagovailoa, the foundation has raised over $500,000 in grants for education, foster care and youth athletics since its inception.
Since being drafted fifth overall in 2019, Tagovailoa has thrown for nearly 4,500 yards with 27 touchdowns, completing over 65% of his passes and is poised for a breakout season. With a revamped offense around him, Tagovailoa's third season could prove many doubters wrong.
Crimson Tide's NFL Draft First-Rounders During Saban's Tenure
Take a look back on the Crimson Tide's first round selections under head coach Nick Saban.
Starting Alabama Quarterbacks Under Nick Saban
Here is every quarterback that has started for the Crimson Tide under Nick Saban.
Highest Rated Recruits of the Saban Era By Year
Check out Alabama's highest-rated recruit from each Crimson Tide recruiting class during the Nick Saban era.