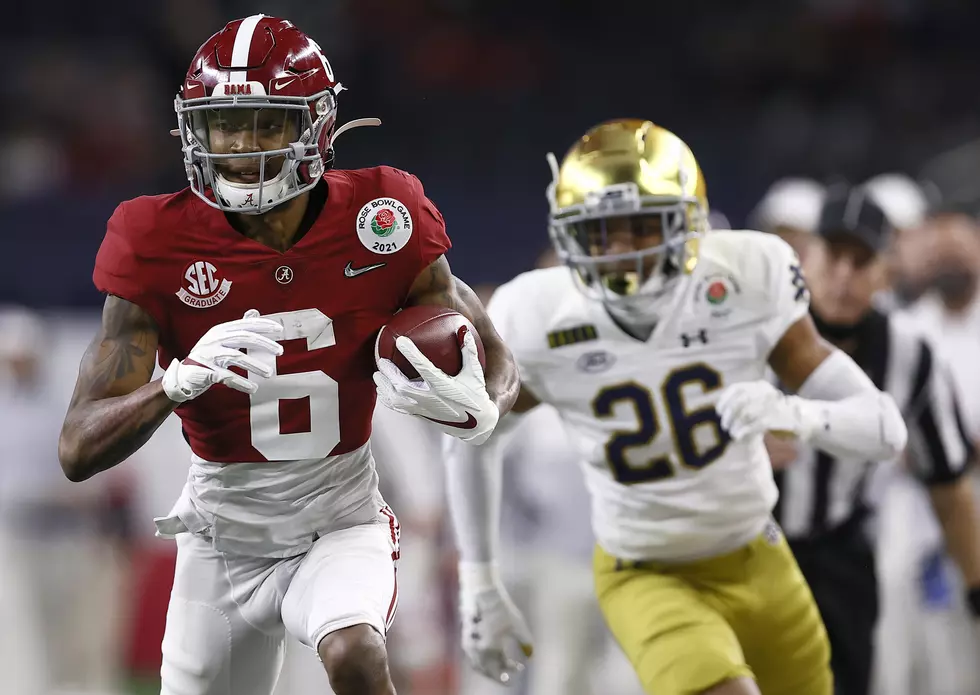 McShay Mocks Six Tide Prospects in Round One of NFL Draft
Getty Images
NFL Draft season is just about a month away in all reality but with the NFL Playoffs locked in and just one more college football game left on the schedule, mock drafts for the 2021 NFL Draft are beginning to heat up. With the top 18 selections locked in place, analysts can get a slightly clearer idea of which prospects teams could expect to have available to them.
ESPN's Todd McShay released his first mock draft of the new year Wednesday. With an 11-0 Alabama Crimson Tide team headed to another National Championship appearance against the Ohio State Buckeyes, it should come as no surprise Crimson Tide prospects fill the first round of this mock. McShay placed six Alabama players in the first round, two more than Alabama has ever seen selected in program history. That number would also tie Miami's record for most first-round selections by one school in the first round of a single NFL Draft.
3rd Overall: Miami Dolphins (via HOU) - DeVonta Smith, WR
It really should come as no surprise, but DeVonta Smith's decision to stay another year in Tuscaloosa will make him a ton of cash. Taking home the Heisman Trophy proved yet another example of why Smith is in play to be one of the top five players selected in April.
Should Miami make this choice, Smith would be reunited with his former quarterback Tua Tagovailoa, who appeared desperate for offensive weapons in his rookie season.
"He is quick off the line, excellent on vertical shots and able to haul in anything thrown in his direction," McShay said of Smith. "Miami managed just 7.1 yards per attempt when targeting a wide receiver this season (27th in the NFL), whereas Smith piled up more than 1,600 receiving yards and 20 touchdowns in 2020..."
The familiarity with Tagovailoa would set both young superstars up for massive success. Coming off a 10-win season and holding the third overall pick is a luxury few teams ever find themselves in. Miami would relish the opportunity to make such a pick.
10th Overall: Dallas Cowboys - Patrick Surtain II, CB
Though he hasn't officially declared for the NFL Draft, Patrick Surtain has long solidified himself as the top corner in the 2021 NFL Draft class.
"...Considering Surtain is still available, and Dallas hasn't had a shutdown corner in years, this seems almost too easy," McShay said. "It wasn't Surtain's best season, but he has strong instincts and can redirect wideouts where he wants them."
Surtain would also find himself reunited with a crucial teammate: Trevon Diggs. Diggs and Surtain formed a ridiculously strong combo at cornerback and considering Diggs early success in his first year, the duo could reclaim that past success at the next level.
17th Overall: Las Vegas Raiders - Jaylen Waddle, WR
Jaylen Waddle's NFL Draft stock has dipped since his unfortunate ankle injury, but there is no doubt Waddle is still a top draft pick come April. Don't be surprised if Waddle skyrockets up these mock drafts again should he suit up in Monday's National Championship game.
For now, McShay has Waddle heading to Las Vegas to help grow the Raiders' young offense into a competitor to the likes of the Kansas City Chiefs. Again, Waddle would also call Henry Ruggs III and Josh Jacobs teammates once again. The three were vital parts of the 2018 Alabama Crimson Tide team that finished 14-1 and just short of an 18th National Championship for Alabama.
So long as Waddle chooses to declare, his and DeVonta's inevitable first-round selections would mark the first time ever two players from the same school playing the same position were selected in separate first rounds, whether consecutive or otherwise.
21st Overall: Indianapolis Colts - Mac Jones, QB
Mac Jones had an uphill climb becoming a first-round caliber quarterback. McShay has said on multiple occasions he didn't have Jones ranked at all for the upcoming NFL Draft. Nonetheless, Jones is one of five quarterbacks expected to hear his name called within the first 32 selections in April.
McShay sends the Joker to Indianapolis where he'd either join Philip Rivers or compete with 2020 selection Jacob Eason to be the next signal-caller of the franchise deep in the tradition of quarterback excellence.
27th Overall: Tampa Bay Buccaneers - Christian Barmore, DT
Christian Barmore hasn't declared for the 2021 NFL Draft yet either. Public perception is still rather split on the young interior defensive lineman. Some see him as a bonafide first-round talent while others would like to see more out of him.
Regardless, Barmore is overflowing with untapped potential that could make him a real problem in the NFL. That's really saying something considering Barmore currently has seven sacks with a game remaining in his sophomore season.
Sending Barmore to Tampa Bay in this mock draft is an interesting decision by McShay, but only on the surface. As he mentions in his analysis, the Buccaneers could see a lot of defensive starters leave in free agency simply because of the salary cap and timing. The Bucs will still have superstar Vita Vea manning the nose tackle though, and pairing Barmore up with talent like Vea could unlock all of that aforementioned potential and then some.
28th Overall: Pittsburgh Steelers - Najee Harris, RB
Najee Harris will leave the Alabama Crimson Tide with a ton of records behind him. However, being a first-round selection would be something the last guy to have a Crimson Tide career like him didn't do. Derrick Henry was that guy, and even he had a Heisman Trophy following him into the Spring.
Harris may need a strong combine to prove it to scouts, but just taking into his account to find the hole and explode for chunks of yards should prove enough. If not, look to his leadership skills and hurdles. Harris is practically a professional already in those regards.
Pittsburgh Steelers fans have already started to voice their excitement at the possibility of seeing Najee Harris don the Black & Gold. While the Steelers may need more help on the offensive line, the franchise has never shied away from taking talent it believes can make a serious impact over immediate need.
Enter your number to get our free mobile app
If you have an ESPN+ account, you can check out McShay's full 2021 first-round mock draft here.
Alabama Football Players in the Hall-of-Fame