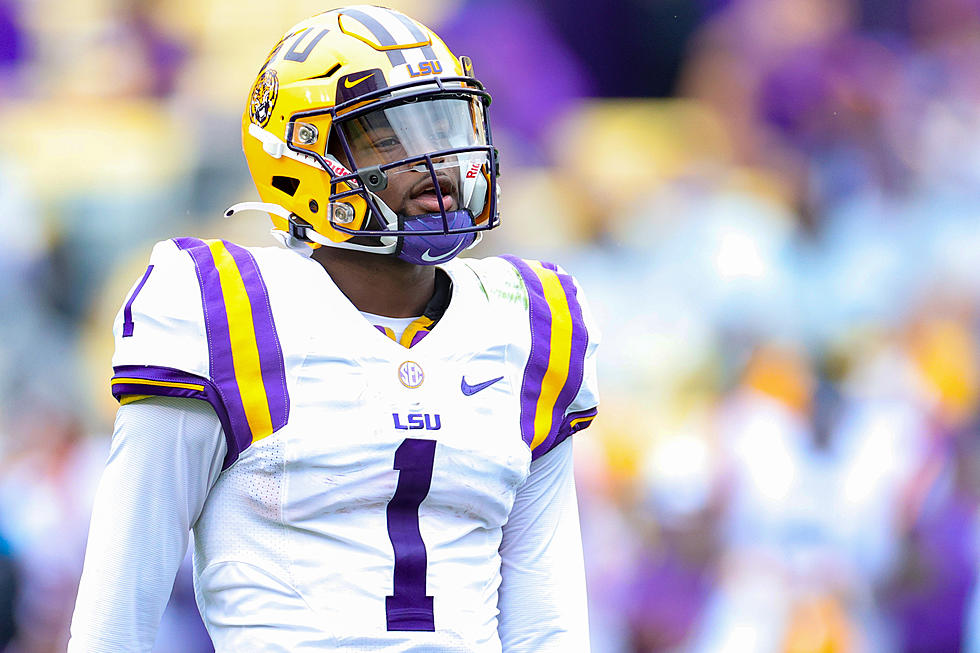 No, Kayshon Boutte Isn't Transferring to Alabama… Yet
Getty Images
Rumors have swirled for some time that LSU wide receiver Kayshon Boutte may follow his fellow Bengal Tiger, CB Eli Ricks, to Tuscaloosa via the transfer portal. While that may happen, it hasn't just yet despite a tweet that made the rounds among Crimson Tide fans.
Our friend over at On3 Sports, Clint Lamb, clarifies why.
Even with all the talk surrounding Boutte, Lamb is right, he's not in the transfer portal just yet. 
Fans of the Crimson Tide were justifiably excited when Ricks announced his transfer to Alabama, and Boutte followed suit by liking and retweeting Ricks's commitment to the Tide. Lost in that shuffle may have been the fact that Boutte did the same for his former quarterback, Max Johnson, when he announced his transfer to Texas A&M.
Still, Boutte liked several tweets in a congratulatory fashion of Alabama quarterback Bryce Young after he became the first quarterback in Alabama football history to win the Heisman Trophy as well as Young's tweet welcoming Ricks to Tuscaloosa.
Liked tweets and social media follows can often indicate coming changes in sports, but this is a space where the speculation is getting ahead of the actual situation.
Many coaches have called out a trend of tampering in today's college football as one of the most unpredictable off-seasons in college football history begins to unravel before we've even named a national champion or played the first down of the College Football Playoff. If Alabama head coach Nick Saban or any of his recruiting staff were interacting with Boutte at this moment, that'd be the exact example of tampering these voices are crying out over since Boutte is not officially in the portal.
Barring one cryptic tweet from Boutte about stress and mental health, the Tigers leading receiver in 2021 (despite playing in just six games) has been rather quiet on social media. His most recent public appearance was watching his high school alma mater win the Louisiana state championship where he was pictured holding up the LSU "L."
The book isn't closed on Boutte joining the Crimson Tide, but that has more to do with the fact that the book is imaginary right now.
PHOTOS: Alabama Celebrates #18