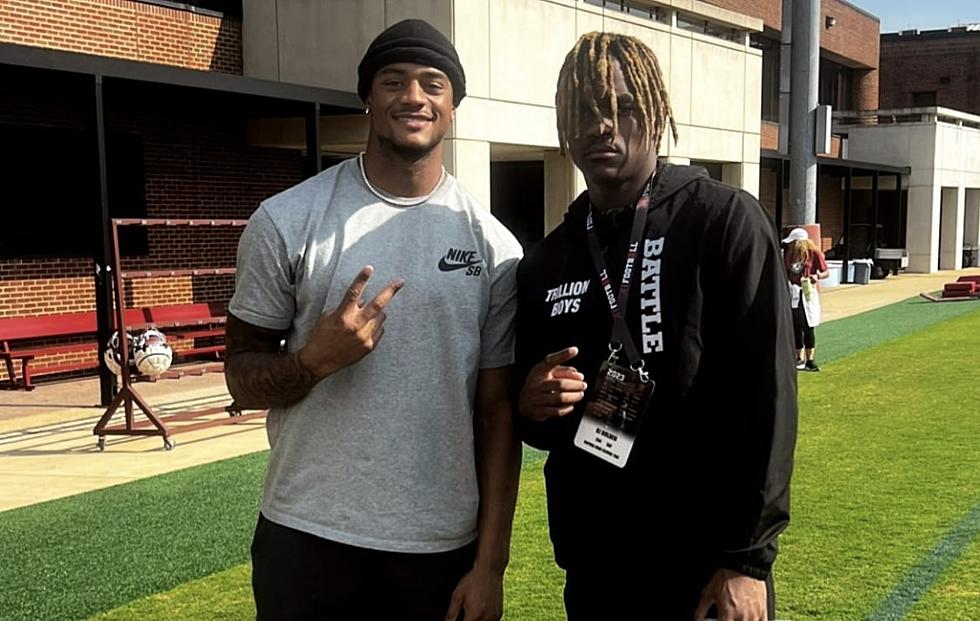 Patrick Surtain II Recruits Nation's Top Safety
Photo Courtesy of KJ Bolden Instagram
Nick Saban emphasizes recruits coming back to visit Tuscaloosa after their collegiate career is over, something Denver Broncos cornerback  Patrick Surtain II did Wednesday afternoon.
Surtain made headlines, taking a picture with five-star Alabama target KJ Bolden. Bolden is a top-five recruit in the 2024 recruiting cycle, playing for powerhouse Buford High School in Buford, Georgia.
Bringing Surtain to practice is a strategic plan by Saban, showing recruits the players they can become if they come to Alabama. Like Bolden, Surtain was a top-10 recruit that Alabama targeted heavily.
Surtain made a major impact at Alabama, playing three years before turning pro. He was one of three Alabama players selected in the top ten picks of the 2021 NFL Draft, alongside Jaylen Waddle (No. 6) and DeVonta Smith (No. 10).
Alabama ended up defeating LSU for Surtain's commitment in 2019, while Alabama will have to fight off the in-state Georgia Bulldogs for Bolden's commitment. Saban landed Bolden's former Buford teammates Jake Pope and Isaiah Bond in 2022, and Justice Haynes in 2023.
Bolden couldn't finish his visit without meeting with coach Saban in his office. On Bolden's Instagram story, he showed his admiration for Saban, captioning the picture with the goat emoji.
Alabama has been in heavy pursuit of the nation's top safety for two consecutive years, landing fellow Georgia native Caleb Downs in 2023.
Crimson Tide Class of 2023 Commits
A look at all Alabama commits from the class of 2023.
Highest Rated Recruits of the Saban Era By Year
Check out Alabama's highest-rated recruit from each Crimson Tide recruiting class during the Nick Saban era.