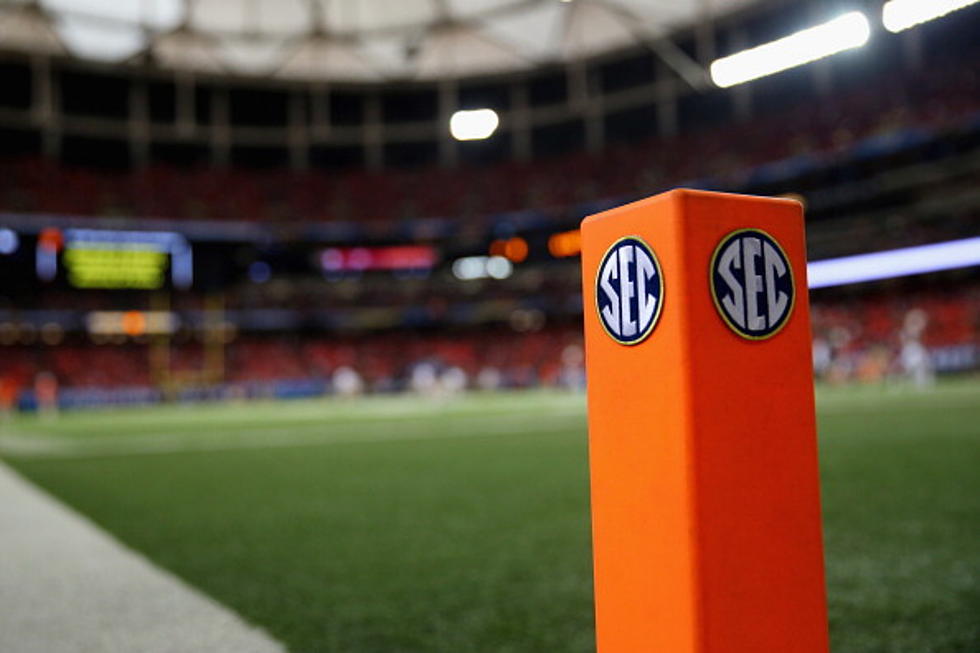 Predicting the 2021 SEC Standings
Getty Images
We've heard from every coach. We've heard from the top stars from each program. SEC Media Days are over. "Talking Season" is nearing its end. The 2021 college football season beckons nearer and nearer.
With just a few weeks remaining in this talking season, it's time to put our chips on the table and put what we've learned this offseason into action.
Here's how the SEC shakes out in 2021... In my opinion, of course.
East
Georgia Bulldogs: 11-1
Florida Gators: 10-2
Kentucky Wildcats: 9-3
Missouri Tigers: 7-5
South Carolina Gamecocks: 5-7
Tennessee Volunteers: 4-8
Vanderbilt Commodores: 3-9
Quality QB Play Gives Bulldogs an Edge
Say what you will about Kirby Smart, his Bulldogs are ready to get back to Atlanta. JT Daniels commands an offense that carries a potent rushing attack. Smart's defenses always reload, and losing eight starters won't be a problem as the season progresses.
I expect Georgia to lose its season opener against Clemson in a tight battle, but after that, the season will be a light breeze outside of the Florida contest. As of right now, JT Daniels helps eliminate some of the concerns in the passing game because of his poise and accuracy, aspects I'm not confident in with Emory Jones due to his experience.
Georgia was throttled last year because of the quarterback situation. If Daniels stays healthy and cures the offenses ailments in the passing game, there's no stopping the Dawgs on the path to Atlanta.
Florida Loses Too Much Explosion, Falling to the Mighty
Florida will be outmatched by Alabama and Georgia. The only hope for Gator fans is that Emory Jones is one of the most elite players in the country to combat what has been lost since last year.
Defensively, the Gators return five starters from a historically awful defense. Dan Mullen is keeping his faith in coordinator Todd Grantham, but there's nothing here to change public opinion on this side of the ball until it takes the field.
If the defense drastically improves and Jones plays like a Heisman contender, don't count out the Gators in stealing the SEC East.
Kentucky Is Just a QB Away
Joey Gatewood is the best quarterback Kentucky has had in years. The offensive line has been consistently one of the best in the league for years. The running game is potent. The defense makes up for a lack of skill with tenacity. Mark Stoops has a squad that can annoy elite teams.
A 9-3 season is just what Kentucky needs to continue to climb in the East. The biggest question mark is still the quarterback. The passing attack in Kentucky has ranked below 116 each of the past three seasons. If Kentucky wants to reach its ceiling in 2021, Gatewood has to prove he's the answer as a passer and help the Wildcats put points on the board.
Can Drinkwitz and Bazelak Make Some Noise?
The Missouri Tigers aren't awful, but the team is far from ready to compete in the East. Still, Eli Drinkwitz is a great offensive mind and his sophomore quarterback Conner Bazelak was Co-SEC Freshman of the Year in 2020. The Tigers return eight starters but need more out of receivers Keke Chism and Tauskie Dove to capitalize in big matchups.
Slow Start For Shane Beamer
Shane Beamer won SEC Media Days, but that doesn't count toward the record in 2021. Luke Doty is a player to watch for his athleticism, but as a sophomore his skills as a passer are in doubt. He'll play behind an experienced o-line, but it won't be enough.
Beamer has a bright future, and starting 5-7 isn't as bad as it sounds with the national contenders on the schedule.
Tennessee is Still Bad
It doesn't matter who the coach is, who the quarterback is, or where the SEC games are played; Tennessee is terrible. Its best players are either in the NFL or transferred with the exception of guard Cade Mays.
Josh Heupel is a good offensive mind and maybe with time he can right the ship in Knoxville, but it won't be this season.
Oh Vandy, Vandy, Vandy...
Thanks for the GPA and the baseball success Vanderbilt.
Chris Lea takes over an SEC program that didn't win a single game in 2020 and ranked 72 or worse in every major statistical category on offense and defense. Vandy's only wins this year could very well come against non-FCS programs, with Colorado State being a complete toss-up. Colorado State should never be a toss-up.
Good luck, Chris, you're gonna need it.
West
Alabama Crimson Tide: 12-0
Ole Miss Rebels: 11-1
Texas A&M Aggies: 10-2
LSU Tigers: 7-5
Arkansas Razorbacks: 6-6
Auburn Tigers: 6-6
Mississippi State Bulldogs: 4-8
It's Nick's World and We're Just Living In It
Alabama's Power 5 schedule isn't easy. Alabama has just three offensive starters returning. It doesn't matter.
Alabama's offensive scheme remains intact with offensive coordinator Bill O'Brien and quarterback Bryce Young taking the reins while the defense is stacked with immense talent and depth. Alabama's talent level is too superior to question any position while the coaching is unmatched by any program in the country.
Miami's D'Eriq King will pose a threat, while Lane Kiffin's schemes will push the Crimson Tide to its limits again. However, it's never wise to bet against Alabama.
It's Lane Kiffin's Time to Shine
Lane Kiffin pulled out his whole bag of tricks in Oxford last year to take the Crimson Tide deep into the fourth quarter. Don't be surprised if he does it again. Now, the Rebels' lone defeat in this prediction is to the Alabama Crimson Tide in Tuscaloosa, but his schemes and quarterback talent with Matt Corral will be enough to topple the likes of Texas A&M and LSU.
The true question still lies on the defensive side of the ball. Ole Miss ranked 101 or worse in every major defensive statistic in 2020. If that doesn't improve, the Rebels may not even reach nine wins.
Jimbo's Aggies Fall Just Short
There's no doubt about it, 10-2 isn't good enough for Jimbo Fisher. After sniffing the College Football Playoff in 2020, the Aggies want it bad. The fact of the matter is no matter how much Fisher talks up his team, it's still just short of Alabama.
Losing to Ole Miss is a bold prediction of mine that I'm holding onto, but it's worth noting that the Aggies carry a great offensive line, the best tight end in the country and a dynamic running game. On the defense, it's more of the same as nine defensive starters return.
Coach O's Final Stand
It's all too much in Baton Rouge. With the outside noise and the question marks at every turn on the roster, Ed Orgeron's seat gets warmer by the day and a 7-5 season is enough to set it ablaze.
Myles Brennan and Max Johnson are both quality quarterbacks, but neither is a proven winner. Neither has taken the job either, and the saying goes, "if you have two quarterbacks, you have zero quarterbacks." Regardless, the offensive line is experienced and the running backs are reliable.
Defensively, Derek Stingley and Eli Ricks carry the torch as premiere athletes. At the end of the day, it won't be enough.
Arkansas Is Close
Boy, did Sam Pittman make 3-7 look good in 2020 or what? He'll make 6-6 look pretty respectable too, with wins over Auburn and LSU.
The Razorbacks return 19 starters and quarterback KJ Jefferson is an exciting young talent. If not for four brutal games against Texas, Alabama, Ole Miss and TAMU, it wouldn't be too outrageous to think Arkansas could be competitive in most of its games. Don't be surprised if they are more of a nuisance to those programs anyway.
No Voodoo Here as Auburn Sputters
I like Bryan Harsin. I like the Mike Bobo and Derek Mason hirings. Tank Bigsby is a great running back. The offensive line looks solid. The defense has some great peices.
So why are the Auburn Tigers struggling to 6-6? Two things: Bo Nix and scheme change. One offseason isn't enough to undo the damage done to Nix's development as a passer and an offensive scheme change won't help. For every time we'll see Nix brand new, he'll take a step back and it'll cost Auburn a game or two.
Still, Auburn is on an upward swing. They're just at the absolute bottom of the swing.
The Pirate Needs Help Setting The Sails
I'm not a believer in Mike Leach, no matter how entertaining he is. His ability to get the most out of outcast players is commendable, but his style is just not plausible in the SEC, as we all bore witness in 2020.
His quarterback situation is solid. Either Will Rogers or Jack Abraham could spark some excitement. The bottom line though is there is virtually no talent around them outside of running back Jo'quavious Marks, who's really just a dump-off option if the pass rush is too strong (and it always is.)
The Bulldogs will score more than the 21 points per game from last year, but that's only thanks to non-conference opponents. The SEC will have its way with Mississippi State yet again.
More SEC Throwdowns: Who else Should Join the SEC
The 2021 Alabama Football Schedule in Photos
SEC Mascots
Alabama Crimson Tide All-Time Passing Leaders