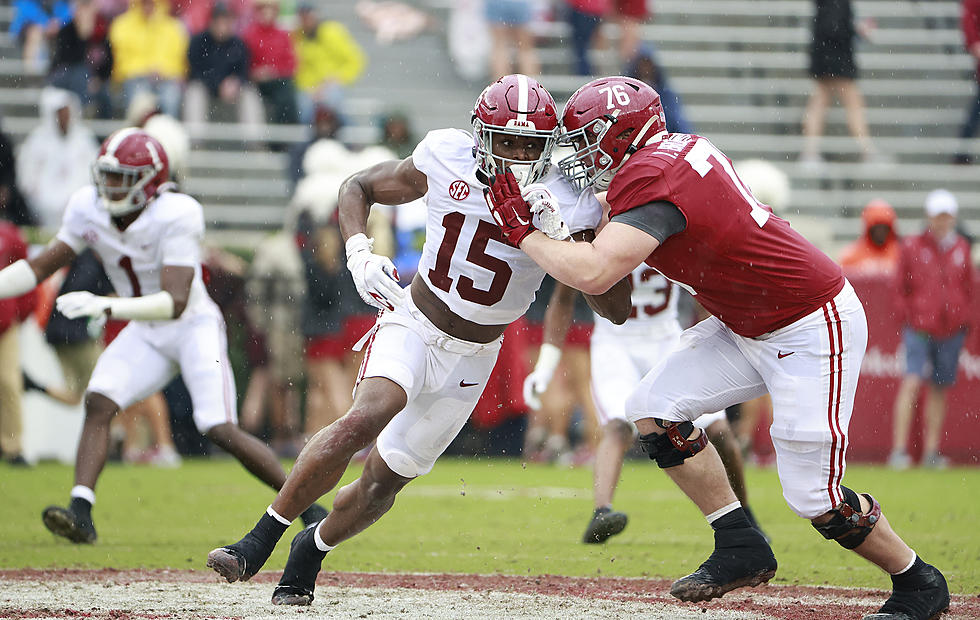 Ryan Fowler's Good, Bad & Ugly: A-Day 2022
Crimson Tide Photos / UA Athletics
Every Monday, Nick Saban spends part of the afternoon showing his players the good plays, bad plays, and ugly plays from the previous Saturday.
The good section highlights what the team did well in the game; individual plays, series of plays, and moments of the game that were good for the Crimson Tide.
The bad section focuses on plays that were run incorrectly, maybe a play designed to pick up more yardage but failed. It might include simple mistakes, a turnover or just a simple missed block or tackle.
The ugly section could also be called the disaster section, plays that went completely wrong or injuries. Ugly plays are learning moments for the team. Part of discussing the bad and ugly plays includes thinking through what they could have done differently.
Crimson vs. White
Good
Alabama walked out of A-Day with no significant injuries or at least none that were addressed during Saban's press conference following the game. With Alabama's injury luck for the last few years, this is a big win for Bama fans.
Crimson Tide fans never disappoint, not a record-setting crowd but many fans showed up to support the Tide for their 15th spring practice during a nasty weather day in Tuscaloosa. Fans deserve an A- for the strong performance shown throughout the afternoon inside Bryan-Denny Stadium.
Backup quarterbacks showed promise, partly because of the limitations of the defensive scheme. Jalen Milroe continues to improve as a passer and Ty Simpson showed some skills for a true freshman.
The Tide front seven will create nightmares for opposing coordinators and quarterbacks throughout the 2022 season. How will teams choose to attack this elite defense? Will Anderson did not play in the 2nd half just to give the offense a chance and that was confirmed by Nick Saban during a halftime interview.
Depth at secondary will be another strength for this team, which I think will increase the sack numbers for both Will Anderson and Dallas Turner in 2022. The Tide also has a surplus of defensive linemen which should pay off huge dividends this season.
Bad
Missouri and Kentucky baseball was aired during the time window on the main SEC Network, while fans were searching for SEC Network plus. I know those teams that have a combined 10 conference wins and occupy the bottom two spots in the SEC East draw huge ratings. But, may I ask, how busy was the SEC Network alternative channel or maybe there is a different motive that I am still trying to learn from the folks in Bristol or at the conference office.
Alabama's offensive line was not the highlight of the afternoon, which confirms what Saban has said via his spring press conferences and the rumblings throughout t-town for the last month. I did not expect this unit to push around the top front seven in college football. However, I thought they would at least put up a fight and I did not see it in this group. There were times you could see some talent at certain positions, but if this team does capture hardware in Pasadena, California next January it will be because this unit did not get fixed by the new offensive line coach, Eric Wolford.
Saban mentioned coming out of the 2nd scrimmage that the wide receivers had too many dropped passes, this was not fixed in the last three practices of spring 2022 and will continue to be a hangover for the next 140+ days. Many would make an argument that if those drops vs. Georgia were caught in Indianapolis there might be a different champion in college football. Maybe that is why Saban continues to hang the help wanted sign in Tuscaloosa for receivers.
Ugly
Alabama fatigue has been a problem since the Crimson Tide captured the 2nd National Championship in the Saban era in 2011. This will continue and will give those who are tired of seeing Alabama win at a consistent level plenty to yell at in the coming months. I understand people want a different flavor, but I think college football is better when the blue bloods of the game are at the top of football.
Coming up Monday on The Game with Ryan Fowler on Tide 100.9, we will discuss the good, bad, and ugly, starting at 2 p.m. on Tide 100.9 and on the free Tide 100.9 app.
How Do Fans Sing 'Dixieland Delight' in Tuscaloosa, Alabama?
Alabama football fans add
a few extra lyrics
to 'Dixieland Delight' when it's played on the speakers in Bryant-Denny in Tuscaloosa, Alabama. What are they singing? And Why?
Top Offensive Lineman in Saban Era