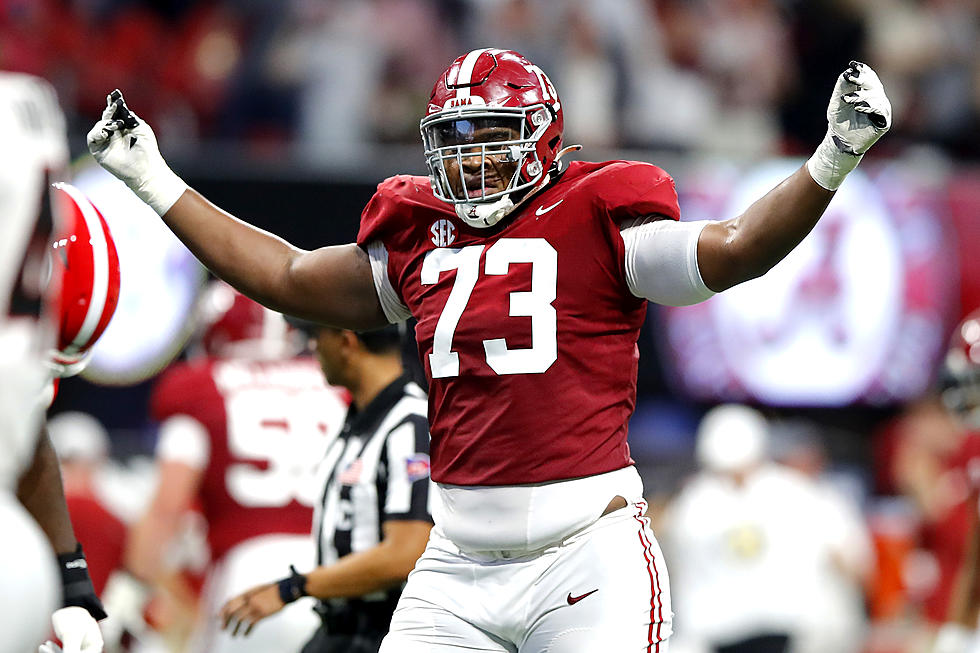 Saban's Final First: Could Evan Neal Be a No. 1 Pick?
Getty Images
Nick Saban has done it all.
From national championships, to Heisman winners and even a multitude of first round picks, the legendary coach has made quite the mark on football in his time at Alabama.
Entering the 2021 season; however, there were two very specific achievements Saban had yet to accomplish as head coach at Alabama: fielding a Heisman Trophy winning quarterback and a first overall draft selection.
As many of you likely know, Bryce Young took home the 2021 Heisman Trophy in a landslide victory, leaving just a single stone unturned for Saban: a first overall selection.
Alabama has seen plenty of talented players selected in the first round of the NFL Draft, dating all the way back to Saban's second season as head coach when Andre Smith was selected sixth overall by the Bengals.
In 15 seasons as head coach, Saban has produced 37 first round picks, but somehow, someway, the first overall selection has managed to elude the 70-year old coach.
Many fans, and draft analysts alike, will gravitate toward two names that will likely occupy the same draft class when discussing who could be the one to break the first overall curse for Alabama. Bryce Young and Will Anderson, Jr. are both undoubtedly the best players at their positions and will likely compete for the first overall selection in 2023, but there is a good chance both could miss their shot at being the first under Saban.
Evan Neal is the top left tackle prospect in the upcoming NFL Draft, a position that first overall selections are frequently reserved for. Neal's combination of goliath-like size with elite footwork and quickness in both pass and run sets make him a very highly sought after player for franchises all across the league.
One franchise in particular, the Jacksonville Jaguars, should take special interest in Neal who, after the recent surge from the Detroit Lions, could fall right into their lap. Barring any late season heroics from interim head coach Darren Bevell, the Jags will come out of the hellscape that is their 2021 season with yet another first overall selection.
With their first overall selection, there is no better pick to make than to lock up the man that could protect Trevor Lawrence's blindside for years to come.
The first season of the Jags' young, talented quarterback's development was unfortunately wasted with a bad hire and some questionable moves in the draft, but picking a player like Neal is as close to a guarantee as you can get in drafting.
A two-year starter, one at left tackle, Neal has proven time and time again his ability in both the pass and run game with how he uses his size and quickness to his advantage. On 532 pass blocking snaps in 2021, Neal has allowed just a single sack and has been instrumental in creating running lanes for Alabama's strong but inexperienced backs.
While Young and Anderson are rightfully praised for their incredible play, don't overlook Neal who has been equally as dominant even if quietly so.
Top Offensive Lineman in Saban Era
Crimson Tide's NFL Draft First-Rounders During Saban's Tenure
Take a look back on the Crimson Tide's first round selections under head coach Nick Saban.
Alabama Football Players in the Hall-of-Fame