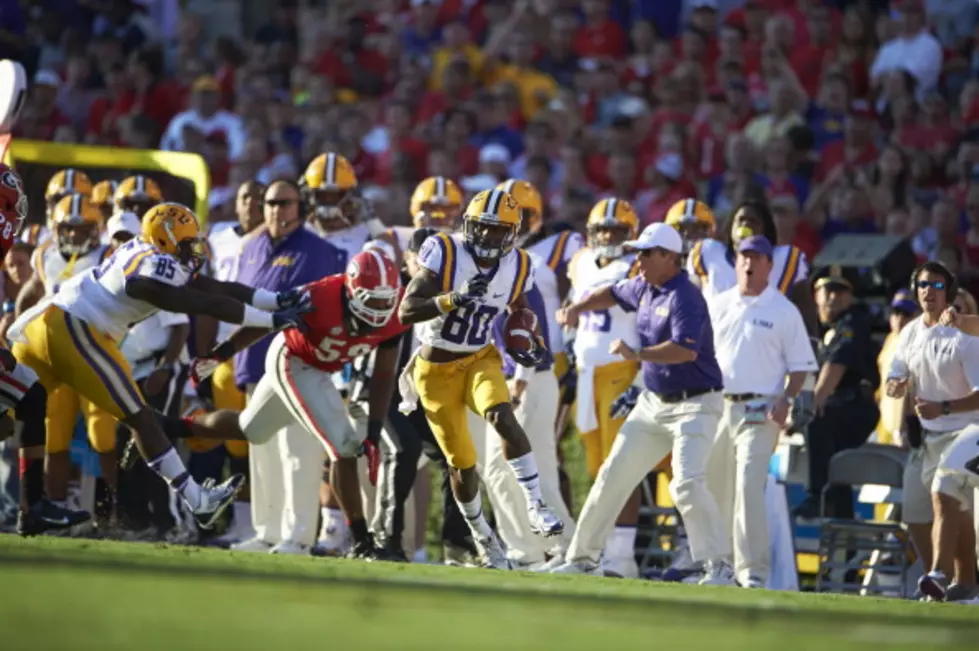 SEC Preview: No.17 Florida and No.10 LSU Clash in Death Valley
Photo by Bill Frakes /Sports Illustrated/Getty Images
Last season Florida was 4-0 against top 10 teams, but can it continue that success? This question will be answered Saturday when the 17th ranked Gators square-off against with the 10th-ranked LSU Tigers in Baton Rouge.
During the game, LSU will be celebrating the 10-year anniversary of the 2003 team that won the National Championship which was coached by Nick Saban. The defensive coordinator for that 2003 team was now Florida head coach Will Muschamp.
The Tigers will be looking for revenge after losing to the Gators last year 14-6 in Gainesville. In that game last year, LSU quarterback Zach Mettenberger completed only 11 of 25 passes for 158 and an interception.
Mettenberger has vastly improved from last year, though. So far this season he has thrown for 15 touchdowns, which is three more than had had all of last season. His completion percentage is also up from last year as he's completed 68.2 percent of his passes.
A big part of Mettenberger's success this season has been the performance of his two play-making wide receivers, Jarvis Landry and Odell Beckham. Landry and Beckham have been one of the best receiver tandem's in the entire country this season. Beckham has caught 35 balls for 686 yards and six touchdowns, while Landry has 42 receptions for 616 yards and seven TDs. Both receivers are a deep threat down the field as well. When these three are on the same page the Tiger offense can really get rolling.
Putting points on the board won't be as easy as it sounds for LSU because it will be facing a Florida defense who comes into the game ranked 2nd in the country in total defense. The Gator defense is only giving up 217 yards per game. Florida's defense is ranked 5th in the country in passing yards per game (153) and ranked 2nd in the country in rush defense, holding opponents to just 65 yards on the ground.
The biggest factor in this game will be Florida quarterback Tyler Murphy and how he responds in a hostile environment like Tiger Stadium in just his third career start. Murphy took over the reins as the Gator starting quarterback after Jeff Driskel broke his leg against Tennessee on September 21st.
Since taking over Murphy has lead Florida to three straight wins while completing 39 of 54 passes for 530 yards and five touchdowns. This will be his biggest challenge yet, can Murphy handle going on the road and facing a top 10 team?
Expect this game to be similar to last years matchup between these two with strong play defensively. Both teams need to win if it wants to stay in the BCS conversation.
This game will be on CBS at 3:30 ET.