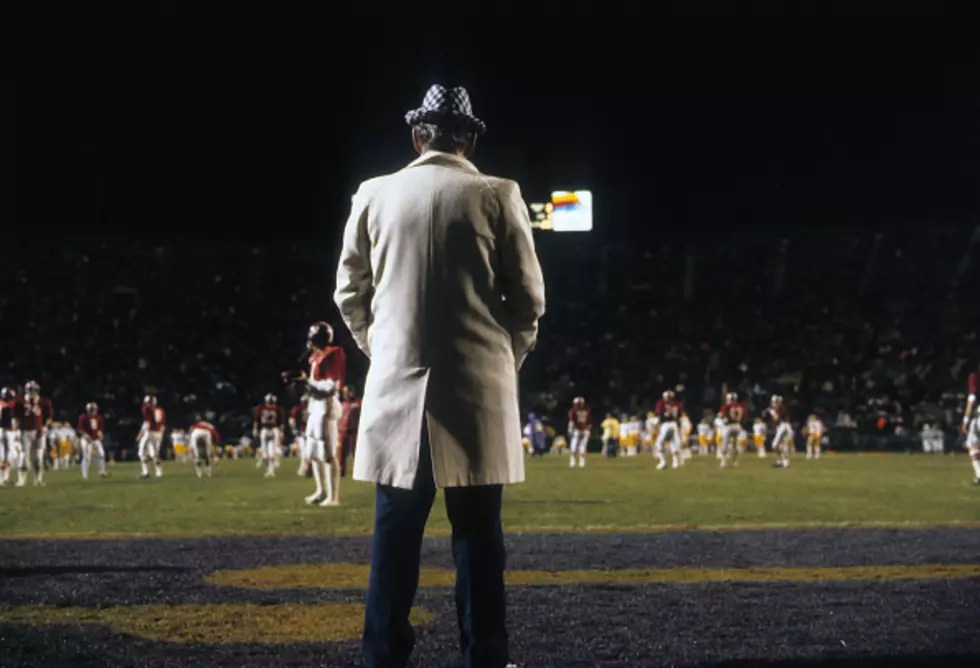 The Last Day of Coach Paul "Bear" Bryant
Sports Illustrated/Getty Images
On January 26, 1983, the college football world went silent as Coach Paul William "Bear" Bryant passed away at the age of 69. The day before Coach Bryant passed away, he visited the home of one of his doctors at the time, Dr. E. Gaylon McCollough.
Before becoming a physician, McCollough actually was recruited and played for Bryant from 1962-1965. When you are a college athlete you do not build a personal connection with a coach and Dr. McCollough knew Bryant as his coach. However, after medical school and the years that ensued, Gaylon became good friends with a man named Ellis Taylor. Mr. Taylor was in the inner circle of friends who Bryant trusted and invited McCollough to go on a golf trip with him, Bryant, and other members of the coach's inner circle.
During that trip, he started getting to know the man instead of the coach. Other golf trips and a surgical procedure that Dr. McCollough performed on Bryant brought them closer together.
According to Dr. McCollough, the six-time national champion coach and legend had been very sick for the past two years and had many concerns when he came to visit him. At the time, Coach Bryant had just coached his last game for the Alabama Crimson Tide, in the 1982 Liberty Bowl, but was still the athletic director.
The main thing on Bryant's mind during the visit was his health in the latter part of his career, Alabama had not been as effective in recruiting, and other coaches, like Pat Dye of the Auburn Tigers, were taking advantage of the situation.
After talking football for a while, Dr, McCollough gave his former coach an idea. He stated that after Bryant's retirement from coaching, he should remain as athletic director, focus on his health, and maybe become a professor. To which, the coach said, "what the hell could I possibly teach".
Dr. McCollough responded that he should just teach his students about life. No one would have better stories to tell than the greatest coach of all time. Your class of football players and other enrollees would be full quickly and we would have to hold your lectures inside Foster Auditorium. You wouldn't have to teach every class. You could go through your contacts and ask a Who's Who of coaches, generals, successful businessmen, and former presidents to talk to the students. When Bryant heard this idea, he agreed and loved the idea.
Previously, Bryant had another concern that he had discussed with his friend, doctor, and friend.
He reminded Bryant of a Christmas morning, four or five years before, when Bryant got a call from a doctor who told him about a child who was probably going to die that day and all he wanted to do was meet "The Bear". So, on Christmas morning, Bryant drove from Tuscaloosa to the Birmingham hospital where the child was bedridden. He spent three or four hours with this lad instead of spending time with his own family. Sadly, the child died later that day but seeing Bryant put a smile on that child's face.
As the visit came to a close and Bryant approached the front door a type of chest pain caused by a reduction in the blood flow to the heart.
It's been 40 years since Paul W. Bryant passed on and his legacy is still imprinted all around Tuscaloosa, Ala. Without Bryant, Alabama would not be what it is now. Football and the man who wore a houndstooth hat put the University of Alabama and the city of Tuscaloosa on the map. Even today when you walk around The Capstone you can still see houndstooth everywhere. His statue stands outside of Bryant-Denny Stadium, keeping watch.
Maybe if Bryant could walk around The University of Alabama today, visit the Bryant Museum, and see all the people he has impacted in one way or another, then maybe he would not have been so hard on himself.
Alabama Football's Record Against the SEC & Other Major Opponents
The Alabama Crimson Tide is 929-331-43 all-time in college football. See how the records fall against the Tide's SEC rivals and other top programs in the nation.
Alabama vs Auburn 2022