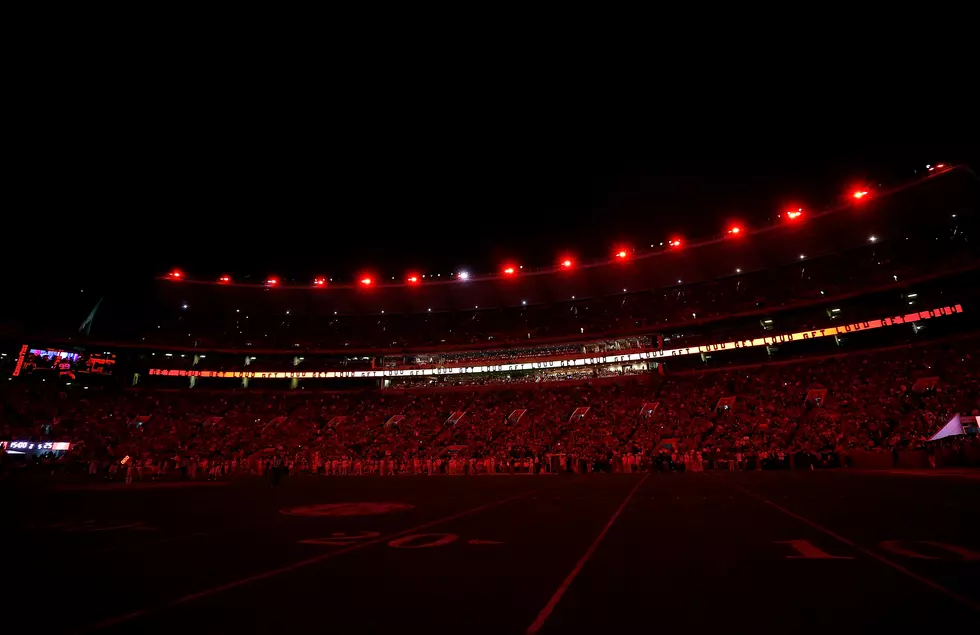 Transfers for Alabama Amid Season Cancellations
Getty Images
The Big 10 and PAC-12's overwhelmingly unpopular decision to cancel the 2020 college football season for their respective conferences leaves a difficult decision in the coming weeks for many high-caliber players in the Power 5. For some, the decision has been made for them: proceed to the next stage by declaring for the 2021 NFL Draft. But for many others the decision isn't so easy.
For many players the final opportunity (or only opportunity) to deliver quality film to the scouting offices of the NFL clubs has been stripped away. For others the final campaign at his alma mater has been stripped away. For all, the future of his football career is completely in question.
Notwithstanding another in a long line of bogus ideas from the cancelling conferences and the NCAA itself preventing these players to continue their college football careers this fall, the likeliest option will be to transfer to favorable situations. Whether it be for playing time to impress NFL scouts, join a championship caliber squad for the enjoyment, get a jump start on graduate school, or any other extenuating option, the Big 10 and PAC-12 are on the verge of a mass exodus of players.
Alabama isn't a program that often scours the transfer portal for the next best thing. Admirably, Saban and staff work with what they have for the benefit of the future and "The Process." That's not to say the team outright refuses transfers. Landon Dickerson is a feature player on the starting offensive line after graduating from Florida State and former North Carolina tight end Carl Tucker looks to compete in an unproven position group for the Crimson Tide.
As such, Alabama could very well offer up a few spots to shore up a questionable positions.
Now the purpose of this column is not to overhaul the Crimson Tide football roster. I respect "The Process." I would never suggest bringing in the likes of Justin Fields, Penei Sewell, or Shaun Wade to needlessly upgrade filled positions. Not only is it unrealistic from the standpoint that each of those and many other players like them will enter the 2021 draft class, but it's not the Alabama way.

No, the purpose of this column is to look at players that could realistically join Saban's squad in the effort to win a championship, improve their draft stock, or simply ensure they have a place to play this coming fall.
With all of this in mind, here are four players that could benefit themselves and the Crimson Tide by transferring to the University of Alabama.
Hamilcar Rashed Jr., Oregon State EDGE
Oregon State's premier pass rushing threat Hamilcar Rashed Jr. is a well respected name in the NFL Draft class. His 14 sacks last year were second in the FBS overall. That said, he would greatly benefit from playing his final season of eligibility.
Coming from a not-so-respected Beavers program, Rashed could solidify his draft stock as a top-5 EDGE prospect and maybe even leapfrog another prospect or two. That of course would be wholly determent on him producing similar numbers in the SEC.
Not that many succeed in the effort, it is worth noting that Penei Sewell shut him out in the Civil War game in 2019. His game logs also indicate he grabs sacks in bulk against weaker teams. This is college football though, and there aren't 14 Sewells in the SEC, let alone even one.
What Rashed would bring to the Crimson Tide is Power 5 experience and a drive for success. It's not a secret that Oregon State isn't good. The opportunity that would lay before Rashed is extraordinary. With it, he'd have the chance to prove to NFL scouts he can hang with big time players and produce.
Regardless of whether you are persuaded Rashed would fit with the Crimson Tide's defense, consider this: the Crimson Tide defense returns just one and a half sacks from the edge position and would otherwise rely on a freshmen rotation with Chris Allen following an unprecedented offseason and training camp. Experience wins.
Daniel Faalele, Minnesota,OT
Do I really have to sell you on an athletically gifted 6'9" 400lb right tackle? Yes? Okay:
All jokes aside, the Crimson Tide lost one key piece on the offensive line to the 2020 NFL Draft in Jedrick Wills. If you liked Wills for his relentless power and shifty feet, you'll certainly love Minnesota's Daniel Faalele.
Faalele has impressive, even comical, tape. Still, his mammoth size is sure to raise concerns. What better way to prove his size is nothing but a benefit to him than by playing in the scorching heat of a September noon game in Bryant-Denny Stadium against the SEC's best?
The addition of Faalele would also keep from scrambling the offensive line to find the right combination yet again. How does this line sound: Leatherwood | Neal | Dickerson | Brown | Faalele.
By the way, this one is very realistic. Faalele made three collegiate visits before heading to Minnesota. One of them was to Tuscaloosa.
Crimson Tide fans have a habit of ringing in to the Tide 100.9 airwaves in the offseason clamoring for the offense to get back to smashmouth football. Well Tide faithful, here's your wish.
Enter your number to get our free mobile app
This one, admittedly, isn't the sexiest of the bunch. But I have to give the rub to Tide 100.9 Brand Manager Joe Gaither for pointing this one out because it is by far the most realistic.
In his first season in the Big Blue, Hill saw most of his action on special teams, most notably converting a fake punt against Army, featured above.
I said it wasn't the sexiest.
Still, the safety position is the biggest question mark for the Crimson Tide in 2020. Sophomore Jordan Battle will pick up one slot, but the other is free game. Whether Hill is prepared to take up that sort of roll is just as big of a question.
But at the end of the day, and as we learned all too well last season at inside linebacker, depth is the name of the game. Depth is why the Crimson Tide has sustained its dynasty for over a decade, reloading year after year.
Hill may have been a five star that got away a recruiting class ago, but his return could prove valuable to him and the Crimson Tide defense.
Jake Ferguson, Wisconsin TE
Wanna crowd the tight end group even more? I mentioned earlier that Carl Tucker transferred in to compete with Miller Forristall and Major Tennison for playing time. However, there is no proof that Tucker is significantly better than the incumbent set.
And this isn't a dig at any of those guys. None are bad players. None lack experience.
Wisonsin's athletic receiving threat is a significant upgrade to the position that has been lacking since Irv Smith traded in his tusks for viking horns in the 2019 NFL Draft.
In just two years, Ferguson has 69 receptions for 863 yards and 6 touchdowns. Those numbers, with the exception of touchdowns, exceed the combined career numbers of the top three tight ends on the team.
Ferguson may not be the blocker the other three are, but that's the joy of having (in this scenario) four experienced tight ends. Ferguson is a breed of the new age tight end that can be used across the field and still pitch in as a blocker when needed. That versatility gives quarterback Mac Jones just one more viable threat the defense must account for, rather than forget about.
Ferguson was primed for a massive 2020 season. He needs this season to stay relevant in the first quality tight end class the NFL Draft has seen in some time. He'd have it in Tuscaloosa.
Career Statistical Leaders: The Alabama Football Record Book