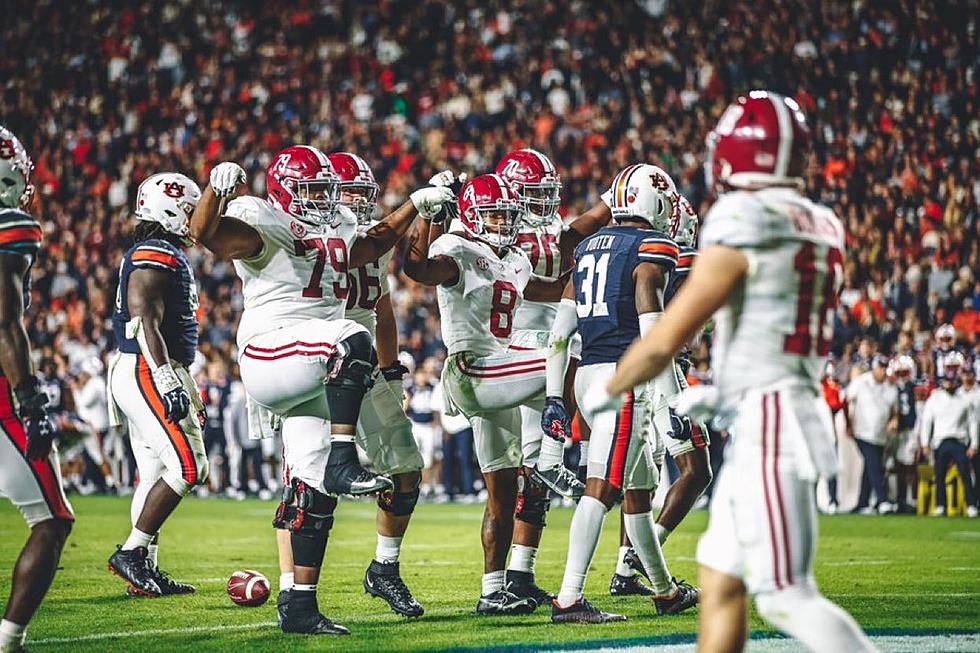 Wax On, Wax Off: The Emergence of the Crimson Crane
Photo Courtesy of @AlabamaFTBL on Twitter
Entering 2021, Alabama was fresh off of losing another two, star wide receivers and was faced with a crop of excellent, but inexperienced, wideouts to replace them.
Enter Jameson Williams.
The former Ohio State Buckeye transferred to the Crimson Tide and burst onto the scene immediately in week one, hauling in four catches for 146 yards and a touchdown.
While the first few weeks of the season saw Williams easily impose his will on opposing cornerbacks, a signature celebration took some more time to iron out.
Finally, in week four, against Southern Miss, "The Crimson Crane" was born. Williams fielded a Golden Eagle kickoff at the 17-yard line and, like a bolt of lightning, took it 83 yards for a score, debuting what would soon be his and the Tide's signature move.
Since then, most of Alabama's scoring drives can be seen capped off by the celebration and the move has become synonymous with a Crimson Tide touchdown.
In the 86th edition of the Iron Bowl, Alabama was held scoreless through the first 52 minutes, meaning "The Crane" was not seeing as much use as usual.
After nailing his second consecutive punt inside the five yard line (Voodoo much?), Auburn punter Oscar Chapman took it upon himself to mock Alabama with their own signature celebration.
Shortly after Chapman's ill-advised decision, Bryce Young led Alabama on it's first touchdown drive of the night, tying the game, and, well, I'll just let you watch what happened in overtime.
John Metchie, forced to step up due to a Williams ejection, hauls in Young's pass and returns the celebration to it's rightful owner.
Chills.
After the game, Metchie commented on what looked like a celebration with extra emphasis, saying simply with a smile, "All I'll say is Roll Tide. We Won."
In the subsequent days since Alabama's legendary come-from-behind victory, the celebration has taken off like wildfire.
The bench of Alabama's men's basketball team was seen busting out their own version of the celebration in the Tide's 96-64 win over Miami on Sunday.
As well as Quinnen Williams, who broke it out after sacking Tyrod Taylor.
The Tide are in Atlanta this weekend, taking on the first ranked, 12-0 Georgia Bulldogs who have stifled opposing offenses all season with their incredible defense. Though they have yet to face an offense as high caliber as Alabama, what Georgia has done this season defensively is remarkable.
Jamo and company are going to have their work cut out for them on Saturday if they want to break out their signature touchdown celebration.
Here's Why Every SEC Team is Inferior to Alabama
Alabama Crimson Tide All-Time Receiving Leaderboard
Lies Auburn Fans Tell Themselves About Bama Football