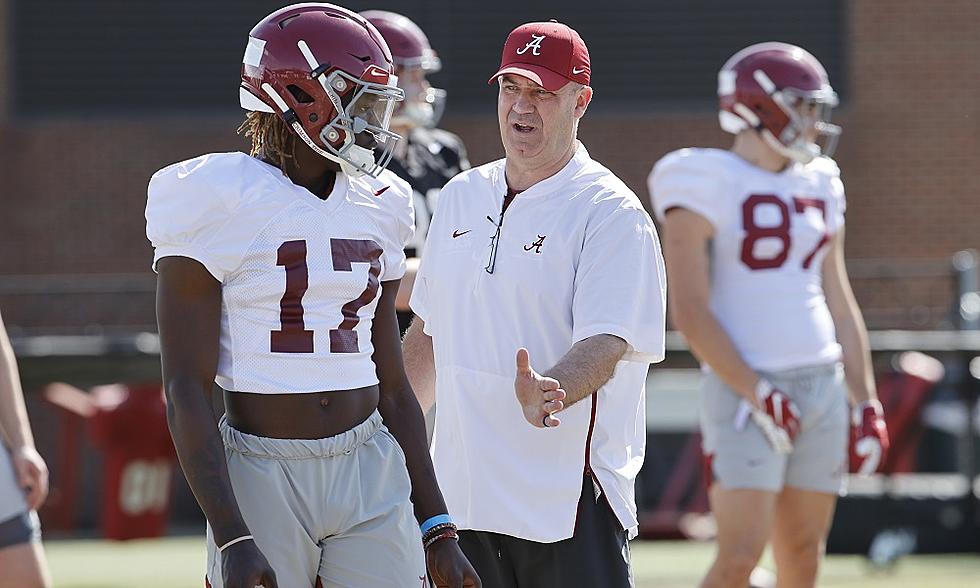 Agiye Hall: Alabama's Newest Addition to WRU?
Crimson Tide Photos / UA Athletics
Three things are certain in life - death, taxes, and a consistent stream of incredibly talented Alabama receivers. This statement was reinforced on Saturday when "number 17" for the "Crimson Team" was outrunning everybody during the annual A-Day game.
And no, that wasn't Jaylen Waddle returning to run a few routes. That was none other than freshman receiver Agiye Hall, a native of Valrico, Florida. But who is this "fresh face" and will they continue the legacy that was originally set up by 'Bama legend Julio Jones.
Here's the scoop on the new star.
Alabama's official website lists Hall as 6'3" and 195 pounds. In addition, the profile also reveals that the freshman graduated from Bloomingdale High School, just outside of Tampa.
According to his MaxPreps profile, Hall went off in high school. He recorded 2,688 total receiving yards and 33 touchdowns. In his senior year, he averaged almost 20 yards per reception. This led to Hall and the Bloomingdale Bulls only losing one game in the 2020 season.
Moving to the Capstone, Hall was a part of the early National Signing Day last December. He was rated four stars and was considered the No. 14 receiver in the class. Hall chose the Crimson Tide over Georgia, LSU, Michigan, Miami and Oregon, according to RollTide.com.
Hall was already expected to be a valuable target, but due to a crowded receiving corps with the likes of John Metchie III, Javon Baker, Slade Bolden, and more, many analysts didn't expect a large role.
He proved these notions wrong by providing an impressive stat line for A-Day. Hall finished the day with four receptions for 72 yards and an average of 18 yards per reception.
Off the field, Hall most notably welcomed his first child, recently.
Spring football in Tuscaloosa, Alabama might be over, but when the Crimson Tide takes on Miami in Atlanta in September, No. 17 will be a receiver that you won't want to miss.
The 2021 Alabama Football Schedule in Photos