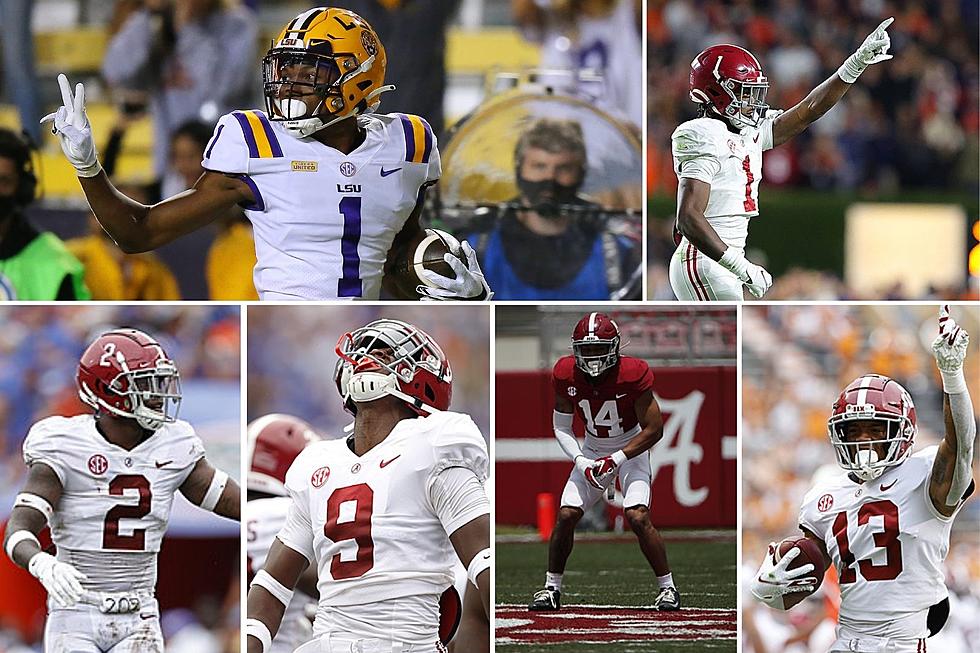 Crimson Tide Position Preview: Defensive Backs
Each week leading up to Alabama's A-Day game, I will highlight two position groups and preview both the presumed starters and key depth pieces, as well as players that could challenge for a starting role this season. Today, let's look at possibly the best defensive backfield in all of college football. 
Starters
Kool-Aid McKinstry, Cornerback
A former five-star, top rated player at his position out of Pinson Valley High School, Kool-Aid McKinstry joined the Crimson Tide in 2021 and was a difference maker in his freshman season. After an exciting spring game performance, McKinstry saw time in all 15 games and made possibly the most important play of the season, breaking up Auburn's final two-point conversion attempt and sealing the win for Alabama in the Iron Bowl. In his role as a rotational player in 2021, the Pinson, AL native played well, finishing the season with 25 tackles, an interception and two pass deflections.
Entering his second year with the program, McKinstry will continue to build off of a promising freshman season and could blossom into one of the SEC's top corners.
Eli Ricks, Cornerback
Eli Ricks, a former LSU Tiger that transferred to Alabama this offseason, enters his third season in college football and has already proven to be one of the top defensive backs in all of college football. Ricks joined LSU in 2020 as a five-star from California and put together one of the most impressive freshman campaigns in recent memory, finishing the year with 20 tackles, five pass deflections and four interceptions. Injuries kept the Rancho Cucamonga native sidelined for his sophomore year, but expect the junior to be healthy for this spring for his new team.
Ricks is widely regarded as one of college football's best cornerbacks and was one of the most sought after players in the transfer portal. Alongside McKinstry, Tuscaloosa will officially become a no-fly zone this season.
Jordan Battle, Strong Safety
Jordan Battle is one of the most experienced members of the Tide secondary, having joined the program in 2019 and start nearly every game since the beginning of his sophomore season. In his two years as a starter, Battle has compiled nearly 100 tackles, seven pass deflections and four interceptions, three of which he returned for touchdowns. Taking on the role of a more traditional box safety, Battle is a hard-hitter who is not afraid to get involved in the run game if necessary.
Battle passed on the opportunity to enter the NFL Draft this season, instead opting to return for a senior year and be a part of what could be college football's best defense.
DeMarcco Hellams, Free Safety
DeMarcco Hellams, like Battle, joined the program in 2019, but failed to work his way up to a starting role quite as fast. Instead, for Hellams' first two seasons, he was reserved as a rotational player, playing mostly on third down and also seeing time on special teams. In his junior season, 2021, Hellams took on a larger role within the rotation, seeing time in all 15 games even starting a few, recording 87 tackles, three interceptions and six pass deflections.
Expect Hellams to take on a consistent stating role this season, providing deep zone coverage alongside the hard-nosed play of Battle.
Brian Branch, Money
Brian Branch joined the Crimson Tide in 2020 as a four-star from Tyrone, GA and was an impact player in his freshman season, seeing time in twelve games and starting three. Since his first season in the program, Branch has compiled 82 tackles, two interceptions and 18 pass deflections and has become a staple of the Bama secondary. The former four-star's coverage instincts make him one of the top at his position in college football, and he's been tabbed by many of his teammates as the team's hardest hitter.
Branch will only continue to build on the two impressive seasons he has put up thus far in Crimson.
Malachi Moore, Star
Malachi Moore, after a very impressive freshman season akin to that of WiIll Anderson, struggled in his second year, dealing with nagging injury throughout 2021. Though appearing in 15 games, Moore's time on the field took a decline from 2020, where the freshman started 11 games. Taking on a smaller role; however, Moore was still a solid defender, finishing the season with 17 tackles, an interceptions and a pair of pass deflections.
Now with another offseason under his belt and enough time to get healthy again, expect Moore to return to his place as a starter in 2022.
Challengers
Khyree Jackson, Cornerback
Khyree Jackson has had an interesting journey to Tuscaloosa, beginning in 2017 when Jackson went mostly unrecruited out of High School and opted to try his luck in the Junior College route. Before his first season even began at Arizona Western, Jackson quit football until 2019 when he got another chance to play, this time in Kansas for Fort Scott Community College. An impressive season made Jackson a sought after target and he moved to East Mississippi Community College for 2020, where his season would ultimately be cancelled. Despite just a single season of college football, Jackson was recruited by the Tide and several other top coaches around the country ultimately choosing to come to Alabama.
DeVonta Smith, Cornerback
The cornerback by the same name of Alabama's top receiver in program history certainly has some unique expectations. Smith joined the team in 2021 as a four-star prospect from La Salle High School in Cincinnati after flipping his original commitment to Ohio State. . In 2021, as a freshman, Smith saw time mostly on special teams but saw his playing time increase as the season progressed. Though he will likely remain in a more rotational or backup role this season, Smith is a could certainly find his way into competing for more playing time at the corner position.
Jahquez Robinson, Cornerback
Jahquez Robinson is a junior out of Jacksonville Florida that joined the program in 2020 as a four-star prospect. Since joining the Tide, Robinson has been mainly used as a reserve and on special teams, but could take on a larger role this season. Now with two full years of experience under his belt, Robinson could certainly find his way into the rotation for 2022. A lengthy, athletic cornerback, that stands at nearly 200 lbs., Robinson is a very physical defender who can affect receivers with his size.
Trequon Fegans, Cornerback
Trequon Fegans is one of the most exciting prospects of the 2022 cycle for the Crimson Tide. Hailing from Thompson High School in Alabaster, AL, Fegans joined the program as a four-star prospect with lofty expectations. Fegans has excellent instincts in coverage and uses his big frame well to alter receivers and throw them off their routes. Though sitting behind some very solid names in the cornerback room, Fegans' combination of size with his skillset make him someone that could likely compete for playing time as a true freshman.
Terrion Arnold, Safety
Terrion Arnold joined the team in 2021, but was redshirted in his freshman season. Now, with a chance to move into a larger role within the defense, Arnold should do exactly that. The former four-star from Tallahassee has excellent athleticism and utilized it well in coverage throughout high school, shutting down opposing receivers and completely taking away the deep zone. While he will likely still be used in a rotational role, expect Arnold to work his way up the depth chart this season and find way onto the field.
Kristian Story, Safety
Kristian Story is a redshirt sophomore out of Lanett, AL, standing at 6-foot-1, 211 lbs. Since joining the program as a four-star prospect in 2020, Story has seen time in 12 games, mostly being used on special teams, but worked his way into the coverage rotation late in his redshirt freshman season. Someone who played both quarterback and safety in high school, Story is an extremely versatile athlete that knows the ins and outs of both offense and defense. Expect the former four-star to continue seeing more and more reps within the rotation this season.
Kaine Williams, Safety
Kaine Williams was a four-star prospect from Marrero, LA that joined the Crimson Tide in 2021 and immediately redshirted, only seeing time on special teams in the Tide's final game of the year against the Georgia Bulldogs. Now, entering his second season with the team, Williams looks to be poised for a bigger role. Featuring a big frame, standing at 6-foot-2, 203 lbs., Williams will almost certainly provide reps on special teams this season, but could also work his way into the coverage rotation.
Reserves
Brylan Lanier, 6-foot-1, 170 lbs.
Jacobi McBride, 6-foot-1 143 lbs.
Highest Rated Recruits of the Saban Era By Year
Check out Alabama's highest-rated recruit from each Crimson Tide recruiting class during the Nick Saban era.
Crimson Tide's NFL Draft First-Rounders During Saban's Tenure
Take a look back on the Crimson Tide's first round selections under head coach Nick Saban.