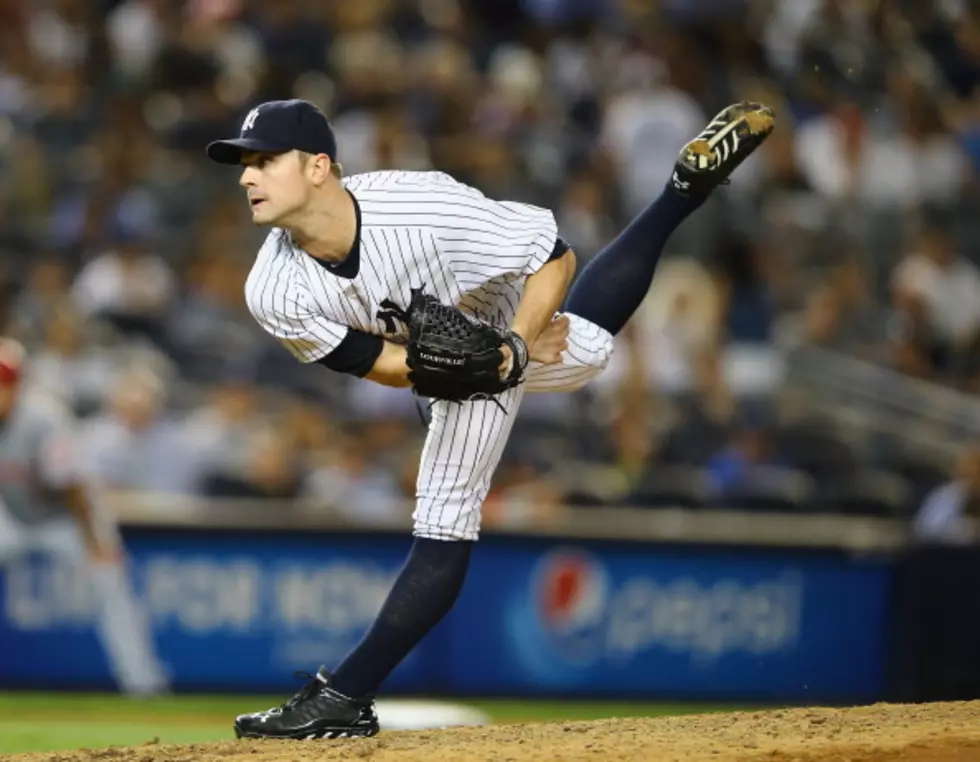 Former Alabama Baseball Pitcher Says Saban Is Better Leader Than Yankees' Girardi [VIDEO]
(Photo by Al Bello/Getty Images)
Add David Robertson to the list of people Nick Saban has turned into a believer.
Robertson, a former Alabama baseball pitcher and current closer for the New York Yankees, chose Saban over his own manager, Joe Girardi, when asked who he thought was a better leader live on ESPN's "SportsCenter" Thursday.
"That's a tough question, you're putting me on the spot on that one," Robertson replied to ESPN's Linda Cohn. "This is nothing against Joe Girardi, but I'm going to have to give it Nick Saban because he has three national championships with Alabama."
Robertson, a native of Tuscaloosa who pitched for both Central and Paul W. Bryant high schools before a two-year career with the Crimson Tide, has played under Girardi with the Yankees for all seven seasons of his MLB career, including the 2009 Yankees team that won the World Series. In August 2013, Saban had Girardi visit Tuscaloosa as a motivational speaker for his team, as he saw similarities between the Yankees organization and his own program.
"They have great expectations for the tradition that they have in their organization: the number of championships that they've won and how they try to sustain that and the distractions that come with that," Saban said in a live interview with ESPN, according to AL.com.
Robertson appeared in studio on the show to discuss his role in Yankees shortstop Derek Jeter's walk-off single in his final game at Yankee Stadium.
With a 5-2 lead over in the top of the ninth inning, Robertson gave up two home runs -- a two-run homer and then a solo shot with two outs -- to allow the visiting Baltimore Orioles to tie it at 5-5 before Jeter's heroics won it in the next half inning.
"I went from an all-time low to an all-time high. It was the best worst day of my life," Robertson said. "I just didn't think it was going to happen, it was terrible."
This season, Robertson finished third in the American League with 39 saves, marking only the second time since 1997 that someone other than legendary Yankees closer Mariano Rivera, who retired last season, led the team in saves.
With Rivera's retirement last season and Jeter's this year, Robertson is now the longest-tenured Yankee after making his debut for the team in 2008. In seven seasons with New York, Robertson is 25-19 with a 2.81 ERA in 402 career appearances, though he is set to become a free agent once the World Series ends.
Until then, Robertson will enjoy watching Saban's third-ranked Crimson Tide play on Saturdays.
I'm excited about it," Robertson said when asked about Alabama's upcoming matchup at Ole Miss. "I'm finally going to get to watch one. I feel like I've missed all the games this year because the schedules aren't the same."
Robertson didn't need to go too far into details about why he thinks Alabama will come out victorious.
"Because they're good. I mean, they got Nick Saban as a coach," he said.