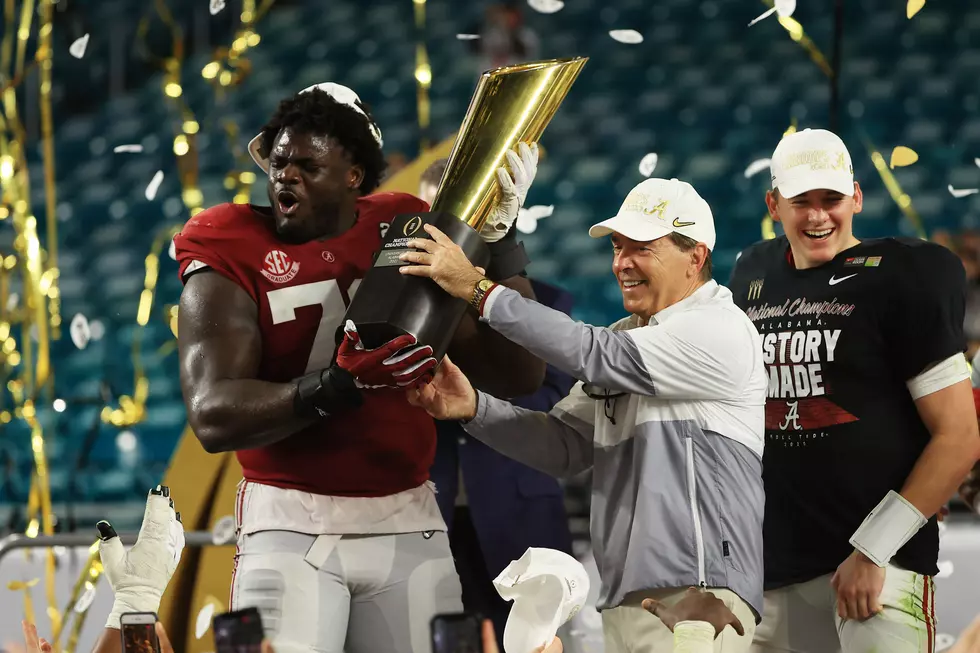 Has Saban Overtaken the Bear as the Greatest Coach Ever?
Getty Images
Last night, Nick Saban and the No. 1 Alabama Crimson Tide (13-0, 10-0) secured their 18th national championship in a 52-24 beat down over the No. 3 Ohio State Buckeyes (7-1, 6-0). This title was even bigger than most for Saban- the legendary coach won his seventh overall championship, which allowed him to surpass Alabama coaching great Paul "Bear" Bryant.
This brings up the annual debate- is Nick Saban better than "Bear" Bryant?
To most, the historical significance of Bryant's prowess cemented Alabama as the top college football program in the country, so this question might always be answered as "No."
When their coaching stats are compared, however; many fans might need to take a second look.
Enter your number to get our free mobile app
National Championships:
With last night's addition, this statistic seems obvious. Since Nick Saban stepped off the plane in Tuscaloosa in 2007, the West Virginia native has won six national titles with the Crimson Tide. Along with Saban's title at LSU, this totals to seven.
"Bear" Bryant, while still impressive, won six titles- all with the Crimson Tide. Bryant's Crimson Tide became the team of the '70s by instilling dominance across the southeast.
Advantage: Nick Saban
Conference Titles:
It has become a trend in recent years that college football coaches are constantly shuffling from school to school after a year or two of struggle. This was certainly not the case for "Bear" Bryant in the middle of the 20th century. Bryant coached a whopping 25 years, which resulted in 13 SEC championships during his time at the Capstone (14 total).
Nick Saban has now completed his 14th season with the Crimson Tide, so his success hasn't been as grandiose. Still, during the Saban era, the Crimson Tide have won the conference title seven times (nine in total for Nick Saban).
Advantage: Paul "Bear" Bryant
Heisman Winners:
For many college football blue-bloods like Oklahoma, Ohio State, and Michigan, Heisman winners are commonplace.
During his time at Alabama, Coach Bryant always emphasized national titles over individual awards. Because of this, a member of the Crimson Tide never won the sought-after award.
That changed in 2009 when running back Mark Ingram won the university's first Heisman trophy. 11 years later, Alabama has won two more Heisman trophies, along with countless other awards. A new revolution in Alabama offenses has allowed Crimson Tide fans to experience heights never thought of before.
Advantage: Nick Saban
Legacy:
It's almost impossible to measure the influences that the legendary "Bear" Bryant has had on the University of Alabama. Every game day, thousands of fans walk across the Quad, wearing replicas of Coach Bryant's houndstooth hat, passing buildings named after the icon.
Families raised kids idolizing Bryant, which is seen in the countless children named after him- including me.
Nick Saban has had quite the influence on the school, too. Prospective college applicants across the country have chosen the Capstone due to the national exposure caused by Saban's teams.
Still, the "Bear's" influence is unmatched.
Advantage: Paul "Bear" Bryant
The Crimson Tide has been blessed to host the two greatest football coaches in history on their campus. While both coaches have made an impact on the school, it's practically impossible to choose which one is best.
Coach Saban seems to be in the prime of his time at Alabama and still must coach 11 more seasons to match Coach Bryant's number of seasons. It is unknown if Saban will coach for that long, but one thing is certain- if he continues, Alabama fans will surely be in for a treat.
Career Statistical Leaders: The Alabama Football Record Book